Baby Brabbel – Huilen
Een nieuw rubriek is geboren op mijn blog "Baby Brabbel"  Elke week zal deze terug keren met een nieuw thema of gewoon een leuk stuk over Daan en het moederschap. Er komen vast nog weleens tips naar voren voor andere mama,s. Maar vast ook wel vragen naar andere mama,s… Opvoeden doe je vanuit je gevoel, en je hoopt maar dat je het goed doet. Welke moeder is niet eens onzeker of het wel het juiste is voor je kindje. Ja ik ben best onzeker over veel dingen. Maar een goede moeder mag dat zeker zijn. Zelfs daar twijfel ik weleens over of ik wel een goede moeder ben. Maar ik heb een erg tevreden mannetje, dus dan zal dat vast wel goed zijn wat ik doe.
---
Huilen dat hoort nu eenmaal bij baby,s. Ze huilen als ze honger hebben, een volle luier hebben of ergens niet mee eens zijn. Natuurlijk ook als ze pijn hebben. In het begin weet je niet waar al die huiltjes voor staan. Hoe hou je ze uit elkaar. Na 12 weken weet ik het nog altijd niet. Wel merk ik als hij boos is hoe hij dan huilt. Maar ons mannetje laat ook niet merken als hij honger heeft. Heeft echt met het stukje down te maken. Zoiezo huilde Daan maar weinig. Heerlijk hoor zo,n kind.
Natuurlijk huilt hij wel en is ook heel normaal. Maar ik als mama vind dat best wel moeilijk. Zodra hij huilt pak ik hem meteen op. Ben ook van mening dat je hem tot nu toe nog niet verwend ermee. Vind het dus heel moeilijk hem te laten huilen. Het komt weleens voor dat hij huilt en ik me handen vol heb omdat ik aan het koken ben of aan het eten. Weet me dan echt geen raad. Het liefst pak ik hem op, want dan is het ook gelijk weer over. Ben toch wel benieuwd hoe jullie dat doen en hierover denken…?
Sinds een week huilt Daan ineens veel meer en echt af en toe tot scheeuwend toe. Dit is niet normaal voor hem. Echt helemaal uit het niets zo erg huilen. Pak je hem op is het in orde. Zodra ik hem weer neerlegde was het mis.
Nu achteraf weet ik waar het vandaan komt. Het gaat niet zo goed met onze kleine man. Z,n hartje heeft het aardig te verduren. En daarom is hij niet zichzelf. Hij is dan ook opgenomen in het ziekenhuis. Plasmedicatie zijn ze gestart in de hoop hiermee nog een paar weekjes zijn operatie uit te stellen. Eigenlijk moet hij nog wat gaan groeien.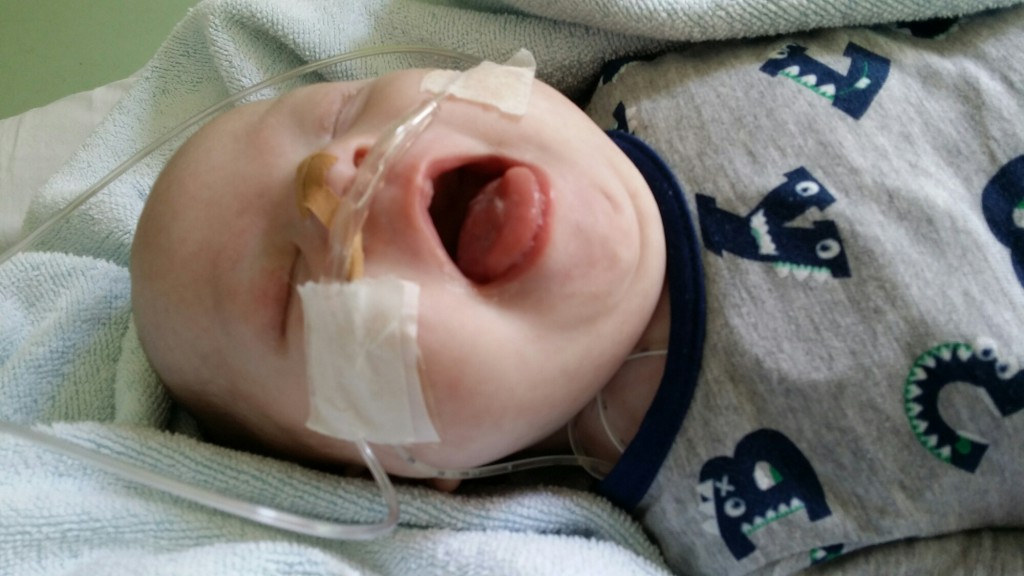 Maar mijn idee, ik denk dat het niet heel lang gaat duren voordat hij zijn operatie krijgt. Maar dat is even afwachten wat er nu gebeurd tijdens zijn opname.
Maar goed het ging over huilen… laten jullie weleens je kindje gewoon huilen? Of kunnen jullie het net als mij niet aan om je kindje te laten huilen?
Comments
comments