Knus en warm in huis
Het zomerse weer komt ten einde en het wordt weer tijd voor gezelligheid in huis. Lekker op de bank met een dekentje kruipen, met een kop thee en Netflix of een leuk boek. Want met de aankomende regen ga je denk niet graag naar buiten. Maar maak je het thuis lekker knus.
Een echte huismus
Ik ben best wel een echte huismus, alleen door mijn peuterzoon kom ik veel meer buiten dan ik gewend was. Hij is echt een buitenspeelkind, en dat is voor deze mama heel erg goed om lekker vaak buiten te zijn. Maar als het weer omslaat naar regen en straks misschien wel kou dan ben ik toch echt liever wat meer thuis. En dan is het wel zo fijn om het warm en gezellig te maken in huis. Mijn peuter maak ik blij met lekker spelen met van alles, puzzelen, kleien en boekjes lezen. De boekjes lezen doen we meestal alleen voor het slapen gaan, maar misschien kunnen we dat net even wat vaker straks gaan oppakken als we meer thuis zullen zijn. Ik zie het al voor me samen lekker op de bank, dekentje over ons heen en dan lees ik hem voor uit een leuk boek.
Fantasie slaat toe
En dan slaat mijn fantasie een beetje op hol, ik hou van leuke warme kleine hoekjes om in weg te kruipen. Het liefst om lekker wat te schrijven of misschien zelf wel een fijn boek te lezen. Jaren terug kwam ik op zo,n plek waar ik me altijd veilig voelde. Een plek waar ik heen ging als ik me niet fijn voelde. Thuis voelt gelukkig ook veilig sinds we in dit huis wonen, maar mis soms wel warme en knusse plekje waar ik kwam. Vaak zat ik daar buiten met het lekkere weer, maar er waren ook fijne plekjes in het huis. Als ik denk aan een heerlijk knus lees of schrijfplekje denk ik aan een hangstoel in het huis. Je ziet dat wel eens in die geweldige woonbladen of op tv. En dan droom ik even weg. Want die mogelijkheid is er hier niet in huis, maar wat zou het leuk zijn.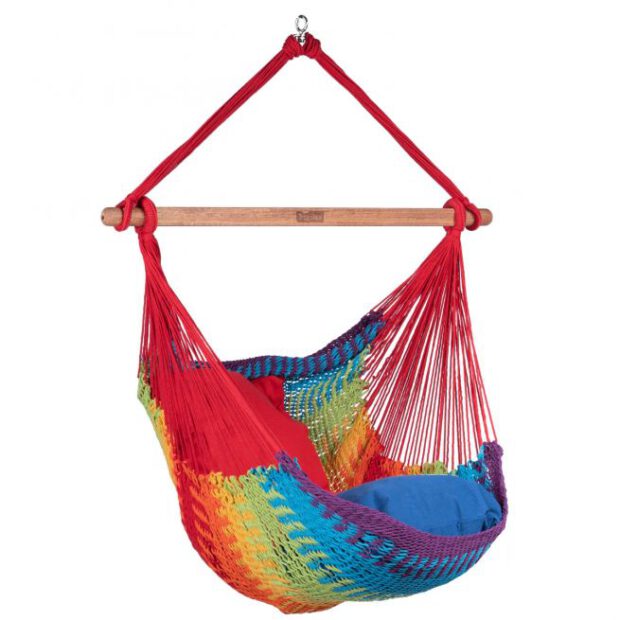 Hangmatten
En als ik dan denk aan hangmatten, denk ik vaak aan buiten in de zomer. Maar je kan ze natuurlijk ook binnen gebruiken, mits je de ruimte hebt. Tijdens mijn opname samen met mijn zoontje toen hij nog baby was. Stond er in de woonkamer daar een hangmat. Ik zag er dan een moeder in liggen en ik dacht alleen maar wat zou het heerlijk zijn om daar even in te liggen. Maar ik deed het niet. Waarom niet, ik durfde niet daar op dat moment met andere moeders in de hangmat mijn rust te pakken. Wel heb ik mijn zoontje er eens opgelegd en hem zachtjes heen en weer laten wiegen. Daar kon ik al van genieten. Ik hou het thuis maar bij de bank met een dekentje over mij heen.
Maar ben jij wel iemand die graag een hangstoel of hangmat zou gaan gebruiken thuis?
Comments
comments