Samen slapen met je kindje
Jullie zijn geschrokken van een stukje tekst over het wennen in zijn eigen kamer slapen. Nou ik ben geschrokken van alle meningen van moeders die zeggen dat je kindje gewoon bij je moet nemen en niet laat huilen. Nou huilen liet ik hem zeker niet echt doen, want als dat gebeurde stond ik al naast zijn bedje. Ondanks mijn mening niet echt veranderd is, is het hier zeker wel veranderd. Mijn gevoel gaf iets heel anders aan en nee niet door al die meningen. Wel was ik daar heel erg van overstuur, ik ben al zo onzeker over of ik het allemaal wel goed doe en dan al die meningen maken het er echt wel moeilijker op. Maar ja ik blog er zelf over, dus probeer het een beetje naast me neer te leggen. Ik dacht toch echt dat het beste was om echt helemaal mee te gaan in het advies van het consultatiebureau, nou daar ben ik nu wel wat op terug gekomen. Ik kan het beste gewoon mijn eigen gevoel volgen. Want ik kreeg het advies om Max zoveel mogelijk overdag in zijn kamer te laten slapen en dus niet beneden in de box waar hij eigenlijk de hele dag lag. Nu dacht ik zij weten vast wat ze zeggen, dus ben ik dat gaan proberen. Ja hij sliep prima overdag in zijn eigen kamer. Maar ik begon te merken dat hij mooi alles aan het omdraaien was. Want na elke nacht voeding begon hij te huilen en wist toch niet waarom. Dit deed hij eerder niet. Nou kreeg ik van de dokter te horen dat hij gewoon mama honger heeft, want als hij je overdag niet hoort of even ziet en knuffelt gaat hij dat s,nachts vragen. Ja stom, waarom volg ik niet gewoon mijn eigen gevoel. Dus hij ligt nu gewoon weer lekker in zijn box bij ons in de woonkamer.
Samen slapen
Maar de meningen gingen over de nachten om je kindje gewoon bij je te hebben. Zo dicht mogelijk samen slapen. En dus niet nu al zo vroeg laten wennen in eigen kamer. Ik voelde al dat ik dat ook niet wilde, maar ik wilde hem eigenlijk ook niet bij ons in bed. Nou wilde wel, maar vond het ergens heel eng. Toch ben ik dit gaan doen toen mijn partner in de nachtdienst zat. Want het begon emotioneel op te breken steeds naar hem toe te moeten hem te troosten. Ik vond het echt vreselijk. Dus liet ik hem op een voedingskussen (met kussensloop eroverheen) naast me in bed slapen. Dit was zo fijn gevoel, de angst verdween niet maar het gevoel hem bij me te hebben was sterker dan die angst dat er iets mis zou gaan. Toch wilde ik echt veilig slapen met hem en wel dichtbij elkaar te zijn.
Co-sleeper
Ja natuurlijk had ik hier al van gehoord en dit leek me echt geweldig. Maar wij hebben amper ruimte naast ons bed. Zelfs voor ons met uit bed stappen is al aardig krap. Dus deze optie viel al gelijk af. Toch is dit het meest ideale beeld die ik heb als het om samen slapen gaat.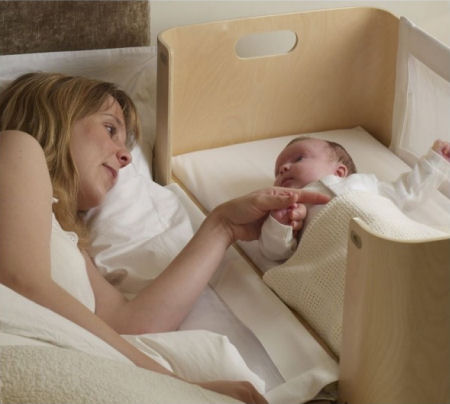 In de kinderwagenbak
Inmiddels ben ik helemaal overgestapt van zijn eigen kamer naar naast mijn bed slapen. Hij heeft nu zijn eigen plekje in de kinderwagenbak naast mijn kant van het bed. Dit past echt net naast het bed. En ik voel me hier echt heel tevreden over. Niet meer elke avond hem te moeten laten wennen in zijn eigen kamer. En dus heen en weer moeten lopen om hem te troosten. Dit sloopte mij echt heel erg. En vond het zo zielig voor hem dat hij daar echt niet wilde slapen. Maar mijn nachtrust ging er ook helemaal aan. Nu dat hij naast me ligt in zijn eigen plekje, gaat het prima.
(Er zijn nu ook momenten waarop hij nog steeds echt dichterbij me wilt slapen, soms het liefst bovenop me. Maar ook nog momenten dat hij tussen ons in op de voedingskussen slaapt) De nachten zijn gewoon zwaar, niet alleen vanwege de onderbrekingen van de voedingen. Maar Max is in de avond en nacht regelmatig onrustig.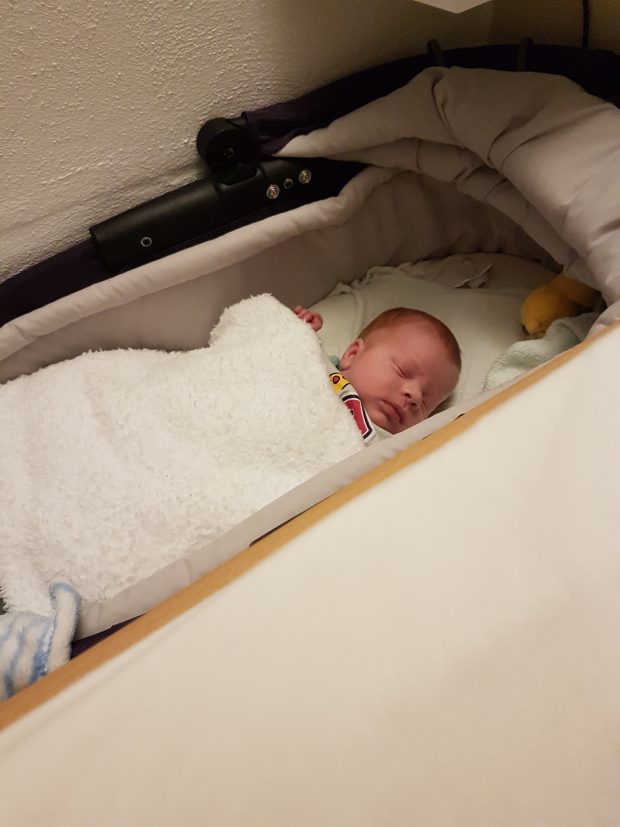 Dus van een mening die ik had, is het gevoel toch vele malen sterker geworden. En laat ik hem voor nu lekker naast mij slapen in zijn kinderwagenbak, of als hij dat echt niet wilt tussen ons in op de voedingskussen. Geen onnodige huilmomentjes meer, met de tijd als het goed voelt gaat hij lekker naar zijn eigen kamertje. Misschien dan ook eerst met kinderwagenbak in zijn bed. Want ben niet van plan hem tot aan zijn eerste jaar bij ons op de kamer te hebben. Hoop niet dat het nodig zal zijn.
Ik ga dus maar eens meer naar me eigen gevoel luisteren, want die heeft het denk altijd gewoon goed als het om je kindje gaat.
Slaapt jouw kindje in zijn eigen kamer of bij jouw op de kamer?
En op welke manier dan bij jullie op de kamer?
Comments
comments