Take a look at my life 44
Verslaafd aan foto,s maken. Elke dag weer mijn mobiel uit me zak halen en foto,s maken van de dingen die ik mee maak of tegenkom. Er zijn al zoveel mensen die gebruik maken van instagram en het dan later in een blog verwerkt. Dat doe ik dus ook elke week. En we zijn weer aangekomen in een nieuwe week. Dus kan je weer lezen wat ik de afgelopen week heb gedaan en mee heb gemaakt.
---
Maandag 27 oktober 2014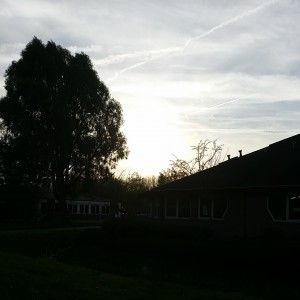 Vroeg in de ochtend ging ik weg, moest naar de huisarts, en omdat de huisarts wilde dat ik vaker naar buiten ging wilde hij dat ik op tijd weg ging en even een wandelingetje ervan maakte. Ik maakte braaf een klein rondje, tot het tijd was voor mijn afspraak.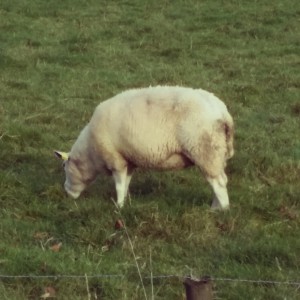 Dan ook even een kiekje maken van een schaapje achter het gezondheid centrum.
Helaas moest ik in de middag weer terug erheen, die afspraak stond al weken er om mijn bloeddruk te laten meten. En de huisarts wilde dat niet aanpassen om dezelfde redenen dat ik vaker eruit moest. Maar eerlijk gezegd ben ik van bijna niks naar teveel doen doorgeslagen. Ben nog beetje mijn balans aan het vinden.
Dinsdag 28 oktober 2014
In de ochtend had ik een afspraak staan op de kinderboerderij. Even praten over het terug keren om daar weer paar uurtjes te gaan werken. En ja vanaf vrijdag ga ik elke week 2 uurtjes weer beginnen.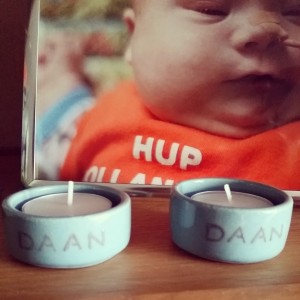 En in de middag had mijn man een afspraak gemaakt om de urn op te halen bij de maakster. Dat vond ik wel een moeilijk momentje. Daarna zijn we doorgegaan naar het crematorium te informeren over het vullen en sluiten. En we mochten hem gelijk daar laten, geen rekening mee gehouden. Het liefst had ik hem nog even thuis gehad. Maar op dat moment dachten we des te eerder kunnen we hem echt gaan plaatsten. Helaas hebben ze nog niet gebeld voor een afspraak daarvoor. Deze waxinelichthouders maakte ze er ook bij. 1 blijft er dus staan hier, en de andere gaat naar het plekje van Daan*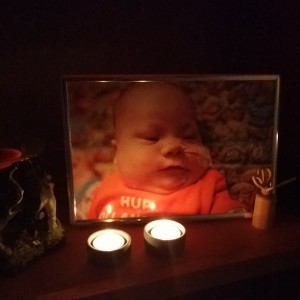 Natuurlijk moesten ze de avond even aan voor onze lieve mannetje.
Woensdag 29 oktober 2014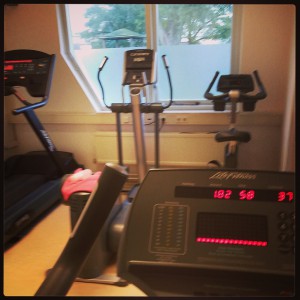 Woensdag is het fysio tijd, en dus even lekker bewegen. Best wel lekker, maar had best veel pijn aangezien ik de pijnstillers aan het afbouwen ben. De rest van de ochtend ben ik bij het CJG geweest, gezelligheid opgezocht.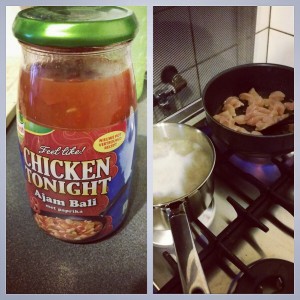 Lekker makkelijk eten maken…
Donderdag 30 oktober 2014

Eerst maar eens even een gezonde smoothie gemaakt voor het ontbijt. daarna moest ik voor het eerst naar de psycholoog toe. Was benieuwd of er een klik was, maar geloof dat het wel goed voelde. Volgende week mag ik terug komen en dan hoor ik ook of we verder gaan met de gesprekken. Dat hoop ik namelijk wel heel erg.
Zoals jullie al begrijpen heb ik veel behoefde aan praten over alles wat me bezighoud nu en wat ons is overkomen. Maar het lijkt niet genoeg te zijn. Daarom bezoek ik ook vaak de chat op van Humanitas. Zo kan ik lekker anoniem met hulpverleners mijn verhaal vertellen. En even er bij stil staan, lekker mijn emoties laten gaan.
Vrijdag 31 oktober 2014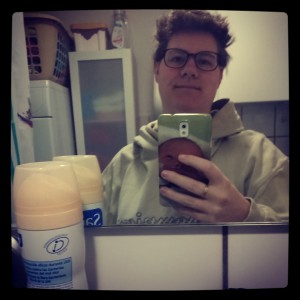 Lekker duffe kop, maar had vandaag best moeite om eruit te komen. Niet zo,n goede nacht gehad. Maar ja ik zou weer gaan werken, dus dan moet je wel.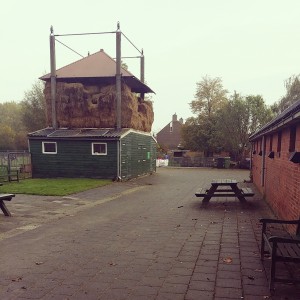 Mijn vertrouwde werkplekje, ondanks het toch even ongemakkelijk voelde. Maar al snel was ik gewend en het was wel weer fijn daar. Heb de geiten hokken schoongemaakt. En ze waren erg blij met mij.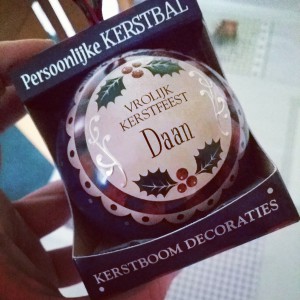 Die middag zijn we nog even naar het crematorium gereden even het plekje opgemeten, want is wel handig voor sommige ideetjes uitwerken voor het plekje mooi te maken. Daarna reden we door naar Tuinland, ik had online iets gezien wat ik daar graag had willen zien en misschien wel kopen voor het plekje van Daan*. Maar helaas het bleek een zomer product te zijn en hoorde niet meer op de webshop thuis. Ze verkochten het dus niet meer. Wel kwamen we deze kerstballen tegen, en vonden deze dan ook met de naam van onze zoon erop. Dan is hij toch een beetje bij als we kerst gaan vieren. Hij zal elk jaar in de boom gehangen worden.
Toen moesten er ook nog even boodschappen gedaan worden, dus een drukke dag gehad.
Zaterdag 01 november 2014
Ik had me zinnen gezet om naar een uitvaartbeurs te gaan. Ja het klinkt afschuwelijk ik weet het. Maar had eerder deze week iemand aan de telefoon van thuiszorg, zij kwam veel voor Daan* om zijn sonde erin te brengen. En heb zoveel met haar, geen idee waarom. Maar zij vertelde over de beurs en dat zij daar ook zou staan. Maar raadde me niet aan alleen te gaan. Toch geprobeerd Bert te vragen en ja wilde wel mee. Helaas had hij een rot nacht, waardoor hij te ziek was de dag mee te gaan. Ik probeerde iemand, die helaas niet te bereiken was. Op het moment dat ik alleen weg wilde gaan kreeg ik contact met haar. En ze zou met mij meegaan. Daar ben ik heel dankbaar voor. En toch had ik gehoopt meer te vinden daar op het gebied van verwerken. Maar het was fijn, ik werd gehoord. En heb fijn gesproken met mensen en ook met degene waar ik al mee aan de telefoon was. En even heerlijk een paar keer met haar geknuffeld. Binnenkort komt ze nog eens langs, dat had ze al beloofd na de uitvaart waar ze ook bij was.
Zondag 02 november 2014

En alweer is mijn man aan het spoken geweest de nacht, waardoor ik al de hele dag alleen zit en hij op bed ligt. Hopelijk eet hij vanavond wel mee, want heb begrepen dat hij aan het spugen was vannacht. Heb dan toch maar wel het eten alvast gemaakt voor vanavond, zodat het zo de oven in kan.
Comments
comments