Teardrop – Give away
Een tijdje terug vond ik op een openbare plek een zakje waar een muts in zat. Er zat een briefje bij dat het speciaal gemaakt was voor de vinder. Ik nam het pakketje mee. Hier was ik echt heel blij mee het maakte mijn dag helemaal goed. Op het briefje stond "De anonieme sjaal" Het bleek een facebook pagina te zijn. Dus heb me aagemeld, bedankt voor het leuke pakketje wat ik vond.
Maar zo kwam ik nog veel meer dingen tegen die mensen wilde gaan droppen voor de vinders.
Zo onstond er een hele discussie over de Teardrops die hieronder afgebeeld staat. De een vond het niet kunnen om die te droppen terwijl een ander het juist een mooi gebaar vind. Want wat als je een baby verloren hebt, doet dat dan geen pijn om dit te vinden. Ja, maar ik zou er heel erg veel troost aan kunnen hebben. Zo mooi vond ik dit dat ik deze vrouw een prive berichtje stuurde om hier iets mee te doen. Ik geloof echt dat er sommige hier misschien echt moeite mee hebben. Zeker als je een baby verloren bent.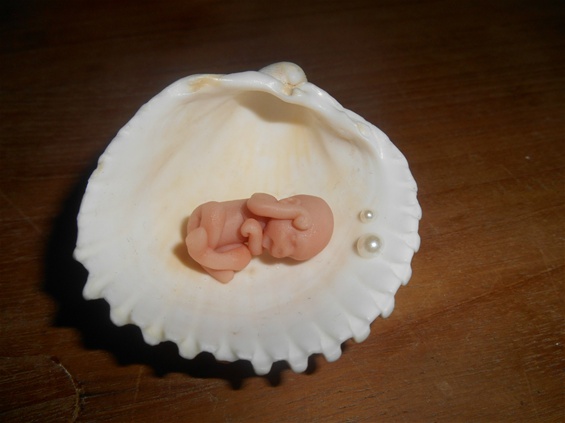 Elianne vertelde me dat ze als kind al graag naar de poppenbeurs ging. Als tiener werd ze verliefd op alle mooie baby poppen die daar gemaakt werden. En op haar 18e wist ze het dit is iets wat ik ook kan en wil. Ze ging met verschillende materialen aan de slag maar het lukte niet. Ze hield vol, maar toch was ze niet tevreden erover.  Later ging ze de popjes in het klein maken, dat was iets wat wel lukte. Soms maakt ze in opdracht popjes naar gelijkenis van baby,s die overleden zijn. Wat is zoiets toch prachtig dat dit kan. Maar ook maakt ze fantasie popjes. De teardrops die ze maakt worden voornamelijk besteld als herrinering aan een zwangerschap of een miskraam.
Zelf werd ik verliefd op de kleine baby popjes, toen ik verder keek op de site vond ik echt nog veel mooiere dingen. Wat zou het geweldig zijn een popje die op Daan* lijkt. Een mooier herrinering kan je niet krijgen toch.
Ik mag aan 1 van jullie lezers een teardrop weg geven.
Het enige wat ik wel aan je vraag is me te vertellen waarom jij deze teardrop zou willen winnen?
En graag even deze winactie delen op facebook of twitter, dit kan je doen via de onderstaande knoppen.
De actie loopt tot 8 april, deze dag zal ik de winnaar een mail sturen.
Comments
comments