~~Weekly Diary 18~~
[social_share]
Er is weer een nieuwe week voorbij, de maand mei is alweer begonnen. En eindelijk begint er steeds wat meer zon te schijnen, en kan je weer je zomerkleding te voor schijn halen. Vandaag heb ik zelfs alweer voor het eerst me zomerjas aan gedaan. Maar eerst gaan we terug naar eind april omdat daar mijn week begon. Helaas heb ik niet veel foto,s en de reden ervan is dat ik mijn iphone 2 dagen niet in mijn bezit had.
Zondag 28-04-2013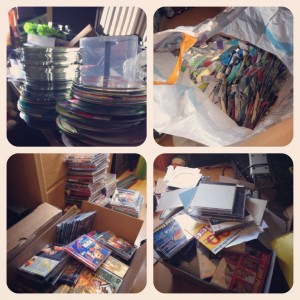 Mijn vriend begon ineens te rommelen in de computer kamer, en is begonnen met de kast leeghalen. Ben hem gaan helpen en we hebben samen denk wel zo,n duizend cd,s van hem versnipperd. De rest heeft hij in onze webshop gezet, en een paar wil hij zelf houden. Dat ruimt al lekker op, maar er moet nog veel meer opgeruimd worden in dat kamertje.
Maandag 29-04-2013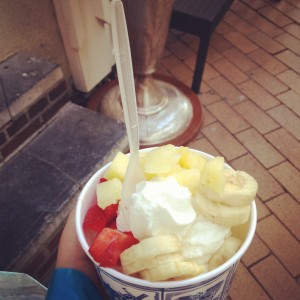 Heerlijk even de stad in geweest, ben eigenlijk maar in 1 winkel zo,n beetje blijven hangen want vond het lastig nieuwe kleding uit te zoeken als je zoveel kilo kwijt bent. Je weet niet welke maat, en werd erg onzeker wat nou leuk zou staan. Dus heb ik me laten helpen, en thuisgekomen met 1 mooie broek en een shirt erop. Omdat het lekker weer was, en tijd voor een tussendoortje dacht ik ga nu toch eens dat winkeltje zoeken waar je Frozen yoghurt kan kopen. Had hier al zoveel over gehoord maar nog nooit zelf gegeten. En wat was dat lekker zeg, daar ga ik zeker nog wel vaker heen.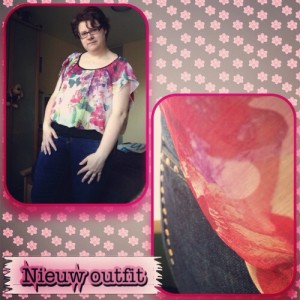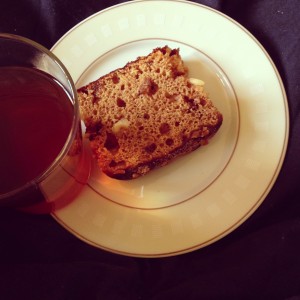 S,avond lag ik lekker op bed tv te kijken, was het echt een beetje zat en toen kwam mijn lieve vriend een kopje thee brengen met een plak notenkoek.
Dinsdag 30-04-2013
Lekker een luie dag gehad, tv kijken internetten en verder eigenlijk weinig.
Woensdag 01-05-2013
Mijn iphone werd vandaag opgehaald, de aan/uit knopt werkt al een tijdje niet naar behoren. Dus benieuwd of hij gemaakt wordt bij apple of dat ik een nieuwe krijg.
Donderdag 02-05-2013
Even weer me eraan toe zetten om wat in het huishouden te doen. Heb de woonkamer stofvrij gemaakt, en de stofzuiger is overal langs geweest in huis. Nog even de wc een opfrisbeurt gegeven en toen had ik het wel weer gezien. Het ziet er weer en stuk frisser uit hier.
Vrijdag 03-05-2013
Op tijd opgestaan vandaag en even richting de kinderboerderij gefietst. Nee hoefde niet te werken maar verveelde mij en dacht daar even buurten, lekker een tijdje zitten kletsen. Daarna doorgefietst naar de supermarkt even wat boodschapjes halen.
Jeeeeh pakje, mijn iphone is terug… en heb gewoon een nieuwe gehad dus niks gemaakt wat een super service. En dat ook zo super snel.
Later kwam ik er natuurlijk achter dat ik vergeten was om verjaardagskaarten te kopen. Dus ben ik later die middag nog even weg geweest om ze te kopen, neem ik wel stickers mee met de adressen vergeet ik een pen om er iets in de kunnen schrijven. Dus weer naar huis en de kaarten in orde maken en ze daarna eindelijk op de post te kunnen doen. Ja wat heb ik er veel voor over gehad deze dag om kaartjes te sturen naar mijn broers die zaterdag jarig zijn.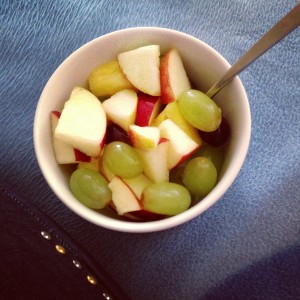 Na al dat gedoe met die kaarten was het tijd voor rust en nam ik lekker een bakje vers fruit. Daar kan ik zo van genieten, zo lekker.
Zaterdag 04-05-2013
Boodschappen dag…
S,avonds heerlijk met mijn mannetje tv gekeken.
Comments
comments