Access BARS
Iets nieuws op mijn pad
Een tijdje terug kwam er iets nieuws voor mij op het pad. Ik was al een tijdje vastbesloten dat ik Reiki wilde gaan leren. Tot ik in aanraking kwam met Access BARS. Ik ging me hierin verdiepen online. En mede doordat ik een lotgenoot (ouder van overleden kind) leerde kennen die dit doet, ben ik nog meer nieuwsgieriger geworden. Ik stap hier helemaal blind in, maar het voelt zo goed. Dat dit op mijn pad terecht kwam, is met een reden dat voel ik echt aan alles. Altijd blijf ik het spannend vinden nieuwe dingen ontdekken, maar dit keer loop ik er niet voor weg. Vaak dacht ik "ja leuk" Maar dat kan ik toch niet. Nu denk ik, ik ga het gewoon aan en we zien wel hoe het gaat lopen. Ik heb dus totaal geen ervaring er nog mee, zelfs geen sessie gehad hierin. En toch ga ik dit gewoon leren. Zodat ik het zelf kan gaan geven. Hoe mooi is dat, een beetje liefde verspreiden door middel iets nieuws te leren. Misschien klinkt het zweverig voor jullie, maar ik voel dat ik op de wereld ben gekomen om wat liefde te brengen aan de mensen.
Access BARS
Je zult nu wel denken waar heeft ze het toch over, want wat is Access BARS nou dan. Dat ga ik je nu uitleggen.
Access Bars is een energetisch lichaamsproces voor iedereen die meer rust, ruimte en ontspanning in lichaam en geest wil ervaren. Zeker in de drukke maatschappij van tegenwoordig is het fijn als er weer meer balans is tussen inspanning en ontspanning. Access Bars zijn 32 drukpunten die energiebanen vormen door en om het hoofd. Hierin liggen al je ideeën, gedachten, overtuigingen en emoties opgeslagen. Ieder drukpunt staat voor een specifieke context in je leven. Zo heb je drukpunten die staan voor het lichaam, geld, controle, communicatie, vreugde, verdriet, dankbaarheid, daadkracht, heling, veroudering, creativiteit enz…
Door deze punten (bars), in verschillende combinaties, zachtjes aan te raken ontlaadt alle informatie die daar ligt opgeslagen. Hierdoor ontstaat er meer rust in je hoofd, komt er ruimte en ontspanning in je lijf en creëer je nieuwe mogelijkheden in je leven. Je haalt als het ware oude blokkades weg om ruimte te maken voor nieuwe mogelijkheden. Om in computertermen te spreken. Je defragmenteert je harde schijf. Dit zorgt voor ruimte om meer helpende overtuigingen en emoties te installeren. Zo kun je het leven gaan leven dat je altijd al graag hebt willen leven, met meer gemak, vreugde en overvloed.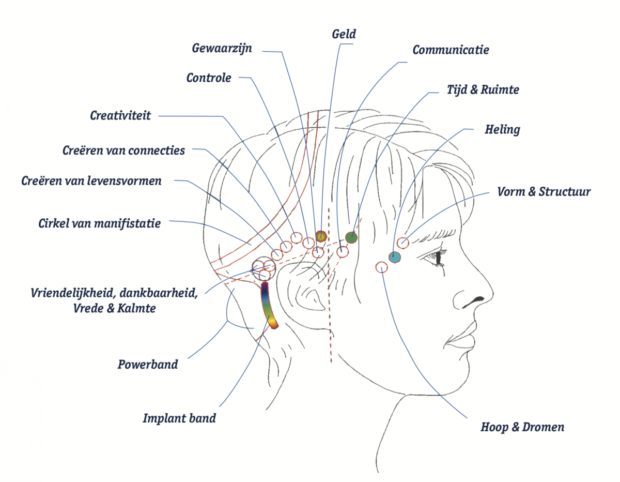 Veel gestelde vragen
Wat kun je verwachten over Access Bars?
Iedere sessie is anders, zelfs bij dezelfde persoon. Soms is hij heel intens op de tafel, een andere keer merk je er bijna niets van.
De meest gemelde effecten zijn: toegenomen innerlijke rust, makkelijker inslapen en doorslapen, uitgeruster wakker worden, meer energie, het leven 'loopt' makkelijker en je bent beter in balans.
Wie heeft er baat bij het runnen van de Access Bars?
Iedereen die bereid is er stil voor te liggen. Sommigen zullen de waarde van ontspanning niet zien en het een verspilling van tijd vinden, maar andere mensen die belangstelling hebben voor verandering en verbetering van hun leven zullen slimmer zijn.
Hoelang blijft het effect van Access Access Bars merk/voelbaar?
Nadat je de Access Bars eenmaal hebt laten lopen (aangezet) blijven ze doorlopen. Iedere keer dat je een Access Bars -sessie krijgt wordt het effect intenser. In de drie tot vier weken daarna worden de meeste effecten gemeld, maar je kunt tot wel zes weken of langer effecten merken.
Heeft Access Bars effect op mentale of psychologische problemen?
Veel mensen met psychologische of mentale problemen hadden de ervaring dat ze 'per ongeluk' dus zonder opzet bleken hun medicijnen te vergeten en signaleerden ongelofelijke veranderingen in hun problematiek. Maar vanzelfsprekend adviseer ik je met klem je arts te consulteren voordat je stopt met medicijnen.
Kan Access Bars® je fysieke klachten genezen?
De Bars bevorderen bewustzijn, wat dus alles kan veranderen. Sommige fysieke klachten veranderen. Veel klachten en pijnen van velerlei aard blijken te verdwijnen.
Is Access Bars® hetzelfde als Reiki of Cranio-sacraal werk? Zijn het acupunctuur punten?
Nee, dit is niet hetzelfde. De Access Bars en de handelingen mogen misschien lijken op acupunctuurpunten maar de ligging en de werking ervan is anders.
Moet je liggen als je de Bars ondergaat?
Liggen is niet vereist. Het bevordert de ontspanning voor de ontvanger evenals het gemak en comfort voor de gever. Een massagetafel of een luie fauteuil zijn beiden prima als het voor beide partijen maar relaxt is.
Kan ik mijn kleren aanhouden tijdens de Access Bars behandeling?
Ja. Tijdens de behandeling houd je je kleren aan. Alleen de schoenen gaan uit.
Kies jij voor verandering, kies jij nu voor jezelf?
Dan is een BARS sessie iets voor jouw.
Maar misschien wil je het zelf wel leren om het toe te passen bij andere.
Dat kan maandag 21 september bij mij thuis in Winsum leer je in 1 dag hoe je BARS kan toepassen.
Voor meer informatie over de Access Bars Class klik hier
Comments
comments