Gezond en fit 2015 Opdracht 2
Vind jij het moeilijk om voldoende groenten en fruit te eten. Dan kan je het makkelijker maken door smoothies te maken. Je kan het zo gek niet bedenken, maar je kan zoveel in een blender doen om heerlijke fruit of groenten drankjes te maken. Zelf ben ik gek op banaan en komt er vaak die banaan in voor. Zelfs een groene smoothie met banaan is lekker te krijgen. Want een groene smootthie zonder die banaan vind ik zelf helemaal niet geslaagd. Laatst maakte ik dan ook een smoothie met heel veel spinazie een banaan en water. Zo heb je een goede portie groenten binnen gekregen. En ook al 1 stuks fruit. Vaak gebruik ik yoghurt door mijn smoothie, maar je kan dus ook gaan voor water of melk. tegenwoordig hebben ze ook allemaal smaakjes melk. Zelf heb ik die nog nooit geprobeerd, vind het persoonlijk iets te duur. Dus ik hou het op yoghurt, water en gewone melk. Met sapjes kan je het natuurlijk ook maken, maar is minder gezond als de varianten die ik eerder vermeld heb.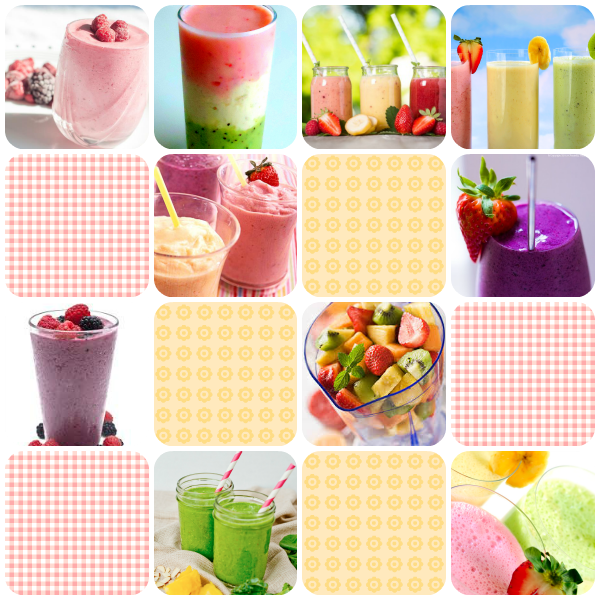 De opdracht voor deze week is dan ook… Maak elke dag een smoothie voor jezelf. Gebruik je fantasie met alles wat je lekker vind. Natuurlijk help ik jullie met wat inspiratie.
1 mango
350 ml boerenyoghurt
beetje kaneel
De hoeveelheid is voor 2 personen.
Schil de mango. Snijd het vruchtvlees van de pit en vervolgens in blokjes. Leg de mangoblokjes op een plat bord en laat minstens 1 uur in de diepvries bevriezen.
Pureer in een keukenmachine, blender of smoothiemaker de mangoblokjes met de yoghurt en kaneel tot een romige, egale drank. Schenk de smoothie in hoge glazen.


---
halve ananas
halve appel (geschild)
250 ml appelsap
halve komkommer
beetje basilicum (alleen de blaadjes)
De hoeveelheid is voor 2 personen.
Halveer de ananas in de lengte. Snijd van 1 helft in de breedte een plak van 1-2 cm dik en snijd in 4 driehoeken. Schil de andere helft, verwijder de harde kern en snijd het vruchtvlees in stukjes. Pureer in de blender of keukenmachine.
Snijd de appel in stukjes en voeg samen met het appelsap toe. Halveer de komkommer in de lengte, verwijder met een theelepel de zaadlijsten en snijd in stukjes. Voeg de komkommer en het basilicum toe en mix in 30 sec. tot een smoothie.


---
250 g zomerfruit (diepvries)
2 perssinaasappels
1 banaan
500 ml milde yoghurt
De hoeveelheid is voor 4 personen.
Laat het fruit ca. 5 min. ontdooien. Pers ondertussen de sinaasappels uit. Snijd de banaan in stukjes. Pureer in blender of in hoge kom met staafmixer het halfbevroren fruit met het sinaasappelsap, de banaan en yoghurt. Verdeel de smoothie over hoge glazen. Steek er rietjes in en serveer direct.
Variatietip:
Dit ontbijt is nog sneller te bereiden met verse bramen en/of bosbessen en versgeperst sinaasappelsap
Comments
comments