Huishoudbeurs 2015
Vorige week ging ik dan met 2 hele lieve vriendinnen naar de huishoudbeurs. We reisde allemaal apart. Want wonen niet bij elkaar in de buurt. Mijn 2 vriendinnen kenden elkaar nog niet. Maar al vanaf het eerste moment dat ze elkaar zagen klikte het prima tussen de meiden. Dat had ik ook wel verwacht. We hebben een hele leuke, gezellige dag gehad samen. Wel heel lang want we kozen ervoor om te gaan dat hij ook in de avond open was. Aangezien 1 van mijn vriendinnen uit Limburg moest komen en niet al bij opening er kon wezen. Bij sluitingstijd gingen we dan ook pas weg. En ik zelf was pas om 01.00 thuis. Gelukkig hoefde mijn ene vriendin niet helemaal terug naar Limburg die avond, ze logeerde bij haar ouders wat dichterbij dan haar eigen huis.
Mijn vriendin Linda en ik waren beide iets vroeger in Amsterdam, waardoor we even samen hebben staan wachten en alvast bijkletsen. Zo vaak zien we elkaar helaas niet. Zo,n half uur later kwam vriendin 2 Sylvia er ook bij. Kletsend zijn we naar de Rai gelopen. We zijn binnen. Nu nog onze jassen kwijtraken en de grote troly van Sylvia. Nu kunnen we heerlijk gaan rond neuzen en shoppen. En natuurlijk heel veel kletsen aangezien we elkaar zo vreselijk weinig kunnen zien.
Hal 1 zijn we als eerste in gegaan. Daar hebben we wel heel lang rondgelopen. Waarom geen idee, maar hebben er wel zo,n 3 uur over gedaan. Oeps. Daarna zijn we naar het cafe bepp geweest. Helaas vond ik het in tegenstelling van vorige jaar echt heel erg tegenvallen. We praten over Spotta, ik had hier zelfs nog nooit van gehoord. Jullie wel? Ze verzorgen de folders van winkels die je thuis ontvangt. Maar ik kon er vrij weinig over praten, ik maak ze sinds een tijdje niet meer zo vaak open. Kom zo vaak alleen maar baby spullen tegen, of dat het me gewoon te veel opvalt kan ook. Dat ik onbewust ze bijna nooit meer open sla. Eigenlijk kreeg ik al de schrik toen we werden verwelkomt door de vrouwen die het gesprek leiden. De ene stond op en stond met haar dikke buik voor me. Ja hoor zwanger, ik had het even niet meer. Na dit gesprek zijn we weer verder gegaan, de hal in om lekkere dingen te proeven.
Altijd leuk dingen proeven en lekkere dingen kopen. We hadden ook wel een beetje trek dus dit kwam ook goed uit. Alleen overal is het zo druk, maar dat weten we natuurlijk al van te voren aangezien we hier elk jaar heen gaan. Het meest erger ik me altijd aan die vele trolys die het echt niet gezellig erop maken als je weer je nek breekt over zo,n ding. En het lijkt elk jaar wel erger te worden. Maar ook dit mag de pret niet drukken om er verder een hele leuke dag van te maken.
Wel heb ik ook 2 pittige gesprekken gehad. Als eerste kwamen we langs een stand waar ik naar toe getrokken werd als een magneet. Helaas voor 1 van me vriendinnen een te emotioneel moment. Daarom liepen mijn 2 vriendinnen ervan weg en ik kon ongestoord het gesprek aangaan daar. Er lagen allemaal kleine baby's op tafel en waar mijn vriendin van schrok was een foto van een stil geboren baby van 10 weken oud. Zij heeft haar baby boy zo op haar hand vastgehouden. Maar ik heb het praten heel erg nodig. Dus heb met de mevrouw van de stand staan praten over Daan* Na het gesprek heb ik mijn vriendin getroost, ze begreep niet zo goed dat er nog zoveel verdriet zat na 11 jaar. Nou ik wel ze is haar zoontje verloren, een deel van haar zelf kwijt geraakt. Toen zij bij was gekomen na een sigaretje zijn we weer gezellig verder gegaan.
Toen kwamen we bij een stand van donor codicil. Sylvia die zat daar al omdat ze zich wilde registreren. Voor ons beide was dat niet meer nodig wij hebben er al eentje. Zo kwamen we ook hier in gesprek over het doneren van organen en de dood. Weer wat informatie rijker. Het lijkt wel of dit gewoon op me pad moest komen.
Nog even wezen kijken in de hal van de Pasar Malam, was wel nieuwsgierig hiernaar. Maar vond het heel erg tegenvallen. Heel donker, benauwd en de muziek stond me echt te hard. Of had ik het gewoon even helemaal gehad… Nou goed we hebben daar wel even iets gegeten want het was al avond inmiddels. Nadat we gegeten hadden besloten we nog even terug te gaan naar hal 1 waar we begonnen zijn. We hebben de hele dag gedaan over een beslissing te maken om een tas te kopen. We hebben uiteindelijk alle 3 zo,n mooie tas van X over gekocht. Natuurlijk hebben we daar een tijd met de man staan praten. En kregen we alle drie 5 euro korting op de tas. Dat zouden we alleen krijgen als we alle drie er 1 kochten.
Het was een dag met een lach en een traan. Gelukkig meer met die lach, het was een heerlijke dag. Had mijn vriendinnen zo erg gemist. Had zo,n dag echt even nodig.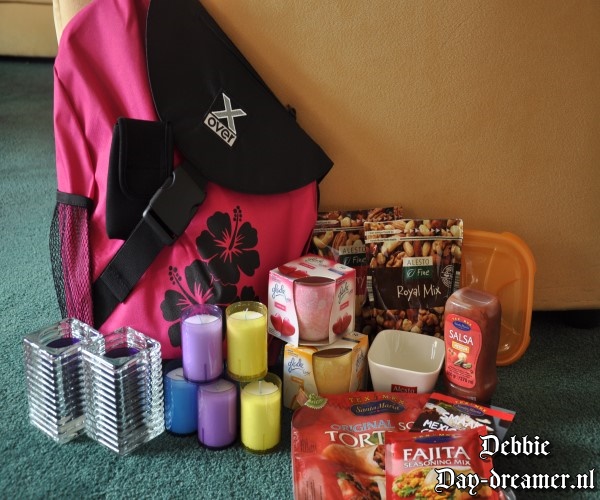 Mijn aankopen…
De mooie tas van X over
Noten van Alesto Fine met schaaltje
Kaarsen met kaarsenhouders
Geurkaarsen, waren er 3 voor 5 euro. Maar me ene vriendin wilde er ook eentje dus hebben het gedeeld
Tortilla pakket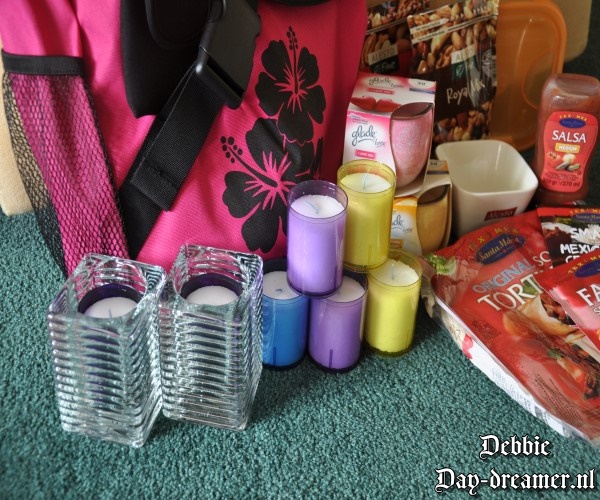 Comments
comments