IUI hoe gaat dat nou in werking
Zwanger worden, niet vanzelfsprekend
Al jaren zit ik in de medische molen om zwanger te worden. Al vele ervaringen hierover gedeeld. Maar nog nooit echt de informatieve dingen erover geschreven. Na jaren rondlopen in het ziekenhuis, begin je aardig bekend te raken met het traject. En leer je steeds een stukje meer over het geen wat er nu eigenlijk gebeurd als ze het over IUI hebben. Er zijn nog steeds veel mensen die denken, dat doen we even een kindje maken. Jaren terug dacht ik er net zo over, maar inmiddels weet ik beter en is het een geschenk als je een kindje mag ontvangen. En in mijn geval het ook nog bij je mag houden.
Wat is IUI (intra-uteriene inseminatie)
De behandeling van ongewenste kinderloosheid door middel van intra-uteriene inseminatie (IUI) is wereldwijd één van de meest toegepaste methoden van voortplanting. Een andere methode van voortplanting is bijvoorbeeld reageerbuisbevruchting (IVF). Het doel van (IUI) is om het zaad op het juiste tijdstip met een spuitje dichter bij de baarmoeder van de vrouw in te brengen. Maar voor het zover is om het in te brengen gaat er meer van vooraf. De vrouw komt op controle in het ziekenhuis, krijgt een inwendige echo om te kijken of ze mag starten met de hormonen. Want meestal krijg je dus hormonen mee om zelf in te spuiten. Als je mag starten, gaan ze de groei van de eiblaasjes in de gaten houden. Dit houd in dat je meerdere keren terug komt voor een inwendige echo. Tot ze zien dat het eiblaasjes groot genoeg zijn voor inseminatie. Het moet minstens 17 a 18 mm zijn. Er mogen alleen niet meer dan twee groot genoeg eiblaasjes zijn. Dus zijn er teveel gegroeid staken ze de behandeling. Dit is om meerlingen zwangerschap te voorkomen. Hier zitten namelijk meer risico,s aan vast. Al die dagen (mijn ervaring) heb je Menopur gespoten in je buik. En 24 uur voor de inseminatie een laatste hormoonspuit met Pregnyl. Van deze laatste spuit kan je zwangerschap kwaaltjes krijgen, wat best frustrerend kan zijn. Want je kan je helemaal zwanger voelen en toch ineens twee weken later gaan menstrueren.
Voordat het zaad in de baarmoeder wordt ingebracht, wordt het voorbewerkt in het laboratorium. De man zorgt voor productie, thuis of in het ziekenhuis. Als je dichtbij het ziekenhuis woont kan het thuis. Het moet namelijk warm gehouden worden en in korte tijd in het ziekenhuis zijn. Mijn partner heeft het altijd thuis kunnen doen. Beter dan in het ziekenhuis dus. In het laboratorium gaan ze het zaad dus voor bewerken, dit houd in dat ze alleen de beste zaadcellen eruit halen om in te brengen bij de vrouw. Hoe doen ze dat nou, dit hebben ze mij uitgelegd in het ziekenhuis en vond het erg interessant om er wat meer over te weten. Ze gebruiken twee buisjes, de ene zitten de zaadcellen. De zaadcellen die boven komen dat zijn de goede die halen ze eruit en doen ze in het andere buisje. Dit buisje wordt in een centrafuse gedaan, wat hard rond gaat draaien. De zaadcellen worden als ware misselijk gemaakt. Degene die sterk genoeg zijn die blijven naar boven zwemmen. Deze zijn de beste zaadcellen die gebruikt gaan worden voor inseminatie. Deze procedure duurt 1 1/2 uur, dan is het tijd voor inseminatie.
Inseminatie
Daar lig je dan als vrouw met de benen wijd, een eendenbek of wel speculum genoemd wordt in je vagina gebracht. Deze gebruiken ze om de opening groter te maken zodat ze makkelijker erbij kunnen. Het spuitje met de bewerkte zaadcellen wordt naar binnen gebracht, iets dichterbij dan als je normaal gemeenschap hebt. De moeilijkste hobbel hoeven ze dan niet meer af te leggen. Hierna is het twee weken wachten of er ook een zwangerschap ontstaan is.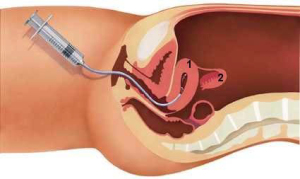 Comments
comments