Labels voor je kinderproducten
Als je kinderen hebt en je brengt ze naar de kinderopvang of naar school, dan geef je ze spullen mee. Zoals ik, Max gaat naar de kinderopvang en dan neem ik een fles mee een knuffeltje en wat kleding in zijn tasje. Nou is het handig om daar naam stickers op te hebben. Zeker voor zijn fles, omdat er misschien wel kindjes zijn die dezelfde flessen gebruiken. Nu zat er al op 1 van zijn flessen een sticker vanwege de opname in Utrecht, maar die begon nu wel los te laten. Tijd voor iets nieuws.
Plaklabels
Via Goedgemerkt.nl heb ik een setje labels thuis ontvangen. Dit wilde ik weleens proberen. De labels kan je zelf met standaard kleuren en plaatjes ontwerpen. Nou voor Max was het duidelijk er moest iets van een auto opkomen te staan. Dus ik maakte via de site groene labels met zijn volledige naam erop en een auto naast zijn naam. Deze plaklabels zijn er in zes verschillende kleurencombinaties, speciaal voor de jongens kleuren en voor meisjes. Al vind ik dat beide kleuren voor jongens en meisjes kunnen. Niet dat je heel snel roze gebruikt voor een jongen, maar waarom geen groen of blauw voor een meisje. Zodra de labels binnen kwamen las ik de instructies. Ze zijn vaatwasser,magnetron en diepvries proof. Zorg wel dat het product waar je ze op plakt schoon droog en vlak is. Let wel op met extreme hitte, zoals hoogste stand vaatwasser of bij steriliseren kan de structuur veranderen en kleur vervagen. De stickers acht uur laten hechten voordat ze in de vaatwasser gaan en liever niet de gemerkte producten tegen elkaar aan zetten.
Als je deze regels opvolgt moet het goed komen met de stickers die je op je product geplakt hebt. Zijn twee flessen hebben deze vrolijke labels er al op zitten. En heb er nog genoeg om in de toekomst meerdere producten te beplakken ermee.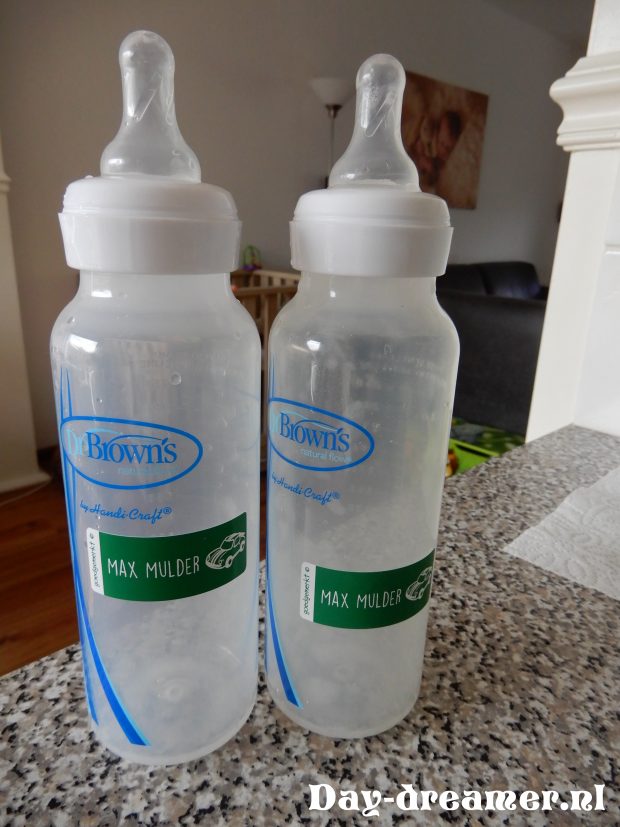 Strijklabels
Ook kreeg ik een setje met strijklabels, deze zijn wit maar kan je de kleur van de letters bepalen. Maar hier koos ik gewoon simpel zwart voor. En ook weer een plaatje naast zijn naam. Dit keer koos ik een apenkopje. Deze labels kan je gebruiken op textiel, denk aan het extra kleding setje die je meegeeft naar de kinderopvang. Het tasje waar zijn spulletjes in zitten. Al is het niet heel erg nodig aangezien hij een eigen kastje heeft voor zijn tasje. Toch viel het me op dat hij soms boven op de kastjes staat, dus zal ik daar ook een strijklabel op maken. Het tasje is me te duur geweest om hem zomaar kwijt te zijn. En dan is het makkelijk als zijn naam erin staat.
De instrijklabels zijn van katoen/polyester zodat ze niet kriebelen op de huid, als je ze op kleding aan de binnenkant instrijkt. De producten die gelabeld zijn kunnen in de wasmachine en droger als je de instructies goed hebt opgevolgd. De instructies zijn net als de plaklabels bijgevoegd, zodat er niks mis kan gaan. En er is ook een stukje bakpapier bij geleverd die je gebruikt tijdens het instrijken van de labels. Deze heb ik zelf nog niet gebruikt, maar ga er vanuit dat ze prima werken.
Comments
comments