Max heeft klompvoetjes
Max heeft net als zijn grote broer Daan klompvoetjes. Dus van te voren wisten we al welk traject we in zouden gaan. Hier was ik in het begin echt heel boos over dat het weer ook bij ons tweede kindje zou zijn. Maar eigenlijk ben ik gewoon heel blij dat hij verder gezond is. Toch is deze afwijking best naar, omdat de behandeling erg intensief is. Vooral voor mij als moeder, aangezien ik elke week in het ziekenhuis met hem zit. En de meeste afspraken doe ik alleen, zonder mijn partner omdat hij gewoon aan het werk is.
Wat is een klompvoet?
Klompvoeten (pes equinovarus of talipes equinovarus) zijn voeten die normaal ontwikkeld zijn, maar waarbij de stand van de voeten afwijkend is. De naam klompvoet is afgeleid van de Engelse term 'club foot'. Een klompvoet lijkt op het blad van een golfclub. Het voetje van het kind staat naar binnen. Ongeveer de helft van de kinderen die geboren worden met klompvoetjes heeft maar één klompvoetje. Er worden ook kinderen geboren met twee klompvoetjes (bilateral talipes equinovarus). Waaronder onze zoon Max dus.
De afwijking van een klompvoet begint al onder de knie, de ontwikkelde spieren en pezen zijn in het onderbeen anders dan wanneer er geen sprake is van een klompvoet. Daarnaast zijn de botten in de voet vaak veranderd van vorm. Vooral bij het sprongbeen wordt vaak een afwijking gezien.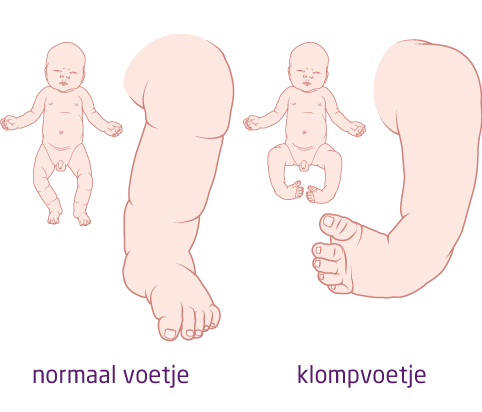 Hoe gaat het met Max zijn voetjes
In eerste instantie ging de behandeling best wel goed. Er werd verteld dat 1 van de voetjes iets wat stug is, dat houd in wat lastiger met behandelen. Maar zeker niet onmogelijk. Het is vijf weken prima verlopen met het gips en je zag echt prachtig de verandering in stand van zijn voetjes. Alleen omdat het toch wat stug is, wilde ze nog twee weken extra gipsen. Wat natuurlijk niet leuk is, maar wel beter voor het resultaat. Maar helaas toen ging het mis, het zesde gips viel er een dag na het gipsen er ineens van af. (aan een kant) Ik belde het ziekenhuis om het te melden en ze wilde dat ik diezelfde dag terug kwam nog. Ondertussen viel de andere kant er ook af. En Max had aan beide kanten allemaal blauwe plekken op zijn voetjes. In het ziekenhuis vertelde ze me dat ze toch even rust wilde inlassen vanwege de blauwe plekken. Dus het mocht er die week niet meer omheen.
Ik baalde ervan, want zo ging het alleen maar langer duren de behandeling. Maar dacht laat ik dan maar even genieten van dat er geen gips omheen zit. De dinsdag erna weer terug naar het ziekenhuis en het gips werd er weer omheen gezet. Ze had nu een streep met pen in het gips gezet tot waar de teentjes stonden. Zo kon ik makkelijk zien of hij zijn voetjes terug trekt erin. En ja hoor die avond zag ik al dat hij alweer wat terug getrokken was. Dus ik zag het alweer gebeuren. Maar in de avond kan je niet bellen en kan er dus niets aan gedaan worden. Ja en wat zouden ze dan moeten doen…? De volgende dag lag het er dus alweer af en ik belde het ziekenhuis. Ze wilde gewoon weer dat ik kwam om het erop nieuw omheen te laten doen. Waar ik het niet mee eens was. Want wat heeft het voor zin, elke dag naar het ziekenhuis omdat het 1 dagje houd. Nee dank je… Dus er werd overlegd met de arts, en het moest er maar weer eraf blijven tot de volgende afspraak. Dus inmiddels sinds woensdag zit hij weer volledig zonder gips. En wat er nu verder gaat gebeuren, geen idee. Ik heb momenteel niet het vertrouwen in de manier van het gipsen, ben echt bang dat het zo nooit gaat lukken. Ik heb dan maar de vraag neergelegd of er geen overleg kan zijn met een andere arts. Daar hoop ik snel nog een antwoord op te krijgen of onze arts daar open voor staat. Want misschien willen ze dinsdag de achillespezen gaan door klieven (waar het echt nog te vroeg voor is, omdat zijn voetjes niet in de goede stand staan) of gewoon weer gipsen met het risico dat het de volgende dag er weer af ligt.
We zijn dus eigenlijk helemaal terug bij af met zijn voetjes, want die zijn weer bijna terug in de stand waarin ze stonden bij geboorte.

Hoe is mama eronder
Het maakt mij zo verdrietig als ik zijn voetjes zo zie en dat we niets zijn opgeschoten. Ik baal echt flink en het maakt me echt heel boos dat we gewoon niet onbezorgd kunnen genieten van de kleine. Dat er gewoon weer grote zorgen zijn. Hij is dan wel gezond, maar als zijn voetjes niet in orde komen zal hij nooit kunnen lopen. En dit maakt me echt grote zorgen. Ik wil ook helemaal niet dat hij de operatie krijgt, want als ze gewoon goed zouden gipsen naar mijn idee is die operatie helemaal niet nodig. Ik ben dus druk in mijn hoofd hiermee bezig, en er speelt al zoveel in mijn hoofd. Ik wou dat het gewoon niet waar was dat er iets met zijn voetjes is. Maar dit is echt onmacht en zelf kan ik er helemaal niets aan doen. Het liefst ga ik naar een andere arts, maar de afstanden zijn daar te ver weg voor dat het gewoon niet mogelijk is om te doen. Mama is er dus niet zo heel goed onder met deze zorgen. Hopelijk komt het allemaal goed met zijn voetjes.
Comments
comments