Nom nom nom tag!
Nou eindelijk vul ik dan deze tag in. Heb hem al zo vaak voorbij zien komen en had hem al maanden geleden opgeslagen. Maar was er nog niet aan toe gekomen om hem dan ook echt te plaatsen op mijn blog. Ben jij ook gek op eten, nou ik wel en daarom vulde ik deze Nom nom nom tag in. Lees mee en misschien heb je hem zelf nog niet ingevuld. Je bent vrij hem te gebruiken.
Wat vind jij lekker wat verder iedereen vies vindt (en andersom)?
Ehmmmm… Pas deed ik een ontdekking dat brood met pindakaas en banaan erg lekker is. Maar ik weet niet of andere dat nou lekker of juist niet lekker vinden. Mijn man verklaard me wel voor gek, maar die houd al niet van de geur van pindakaas.
Wat kook jij het liefst (en veel te vaak)?
Ik maak heel vaak rijst gerechten, maar niet elke keer dezelfde. We houden thuis nou eenmaal van rijst. Daar zit wel bijna altijd kip doorheen verwerkt.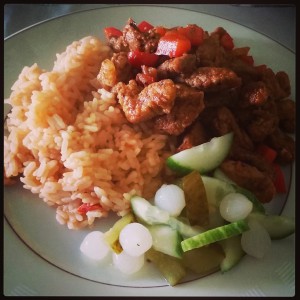 In welk restaurant zou je het liefste elke dag eten?
Elke dag naar een restaurant gaan moet ik niet aan denken. Maar als ik dan toch moet kiezen dan wordt het een wok restaurant. Lekker zelf alles kiezen en dan laten bereiden. Op deze manier vind ik het heerlijk om groente binnen te krijgen. En ja ook ben ik gek op vlees en de heerlijke soepjes.
Als er een broodje naar je vernoemd zou worden, wat zou er dan op zitten en hoe zou het heten?
Ben gek op de subway broodjes, dus het moet zo,n broodje zijn en dan moet er zeker kipfilet op zitten. Liefs lekker gekruid, en veel groentes erbij. En om het af te maken een lekker sausje erover. Iets van honing mosterd saus of gewoon heel simpel mayonaise.
Deel een handige kooktip:
Heb niet echt een handige kooktip, alleen hou je een keer van makkelijk eten en toch gezond, maak dan een heerlijk wokgerecht. Lekker veel groentes (je kan ze zelf snijden maar voor het gemak zijn er vele kant en klaar groente zakjes) vlees naar keuze en een beetje woksaus. Smullen maar!
Wat staat er nog op je food backing bucket list?
Ojee, eigenlijk zoveel maar ik kom er nooit aan toe. Of liever gezegd ik maak de tijd er niet voor. Maar dan ga ik toch voor de eigen gemaakte sauseisen broodjes. Die wil ik al zo lang eens zelf proberen te maken. Moet ik dan toch maar eens gaan doen.
Zelf koken, eten bestellen of uit eten gaan?
Ja toch echt zelf koken, ondanks ik er niet altijd zin in heb. En het bestellen wel lekker makkelijk is. Alleen als je zelf kookt krijg je toch meestal gezondere producten binnen. En uiteten gaan is leuk, maar zeker niet te vaak. Moet wel leuk blijven en dat vind ik niet als je dat elke week doet.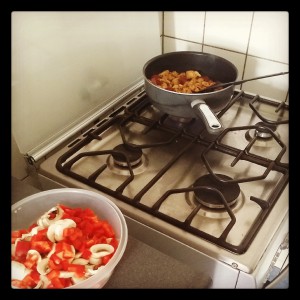 Ben je ergens allergisch voor?
Echt allergische nee, maar heb jaren geleden wel eens zo,n test gehad en kwam wel uit dat ik tegen veel dingen niet kan. Daar kreeg ik dan ook buikpijn van. Toen ben ik steng op dieet gegaan. Maar eigenlijk al die producten eet ik nu ook gewoon weer en nergens last van.
Wat is je food obsessie van de afgelopen tijd/weken/dagen?
Dat vind ik nu heel moeilijk omdat ik zo,n druk leven momenteel heb dat ik weinig op mijn eetgewoontes let. En gewoon eet wat even makkelijk is, of wat er in huis is. Heb dus nu niet echt een food obsessie. Heb ik wel gehad tijdens me zwangerschap en dat was pindakaas. Ik moest echt zowat elke dag op brood/cracker/rijstwafel pindakaas doen.
Wat is je favoriete toetje?
Thuis eten we niet zo heel vaak toetjes, maar als we dat eten moet je het ook goed doen. Ik ben dan gek op chocolade mousse.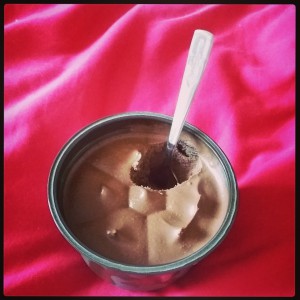 Comments
comments