Take a look at my life 30
Er is weer een week om gevlogen, en jullie moeten er echt aan gaan geloven maar het is voornamelijk Daan spam op me blog hihi. Ik kan het niet laten om dat heerlijke snoetje op de foto te zetten. En dan ja delen met jullie. Het is ook gewoon het mooiste wat er is mama zijn. Maar zwaar kan het ook zijn, juist nu ik een hernia heb. Want eigenlijk hebben we een heel makkelijk rustige baby. Niet zo eentje die de hele dag maar huilt. Natuurlijk huilt hij ook weleens, maar hij is ook snel weer getroost. Je neemt hem in je armen of je geeft hem de speen en hij is stil. Alleen dat laatste die speen is wel een lastig iets want hij houd hem zelf niet in zijn mond. Behoefde om te zuigen is er wel maar moet hem dan wel vasthouden voor hem.
Maar goed we gingen het over het weekoverzicht hebben en het was weer een vol weekje mama zijn. Met een hoop afspraken weer. Ziekenhuis bezoek, fysio voor mezelf, stichting MEE en Humanitas. En gezellig nog kraambezoek.
Maandag 21 juli 2014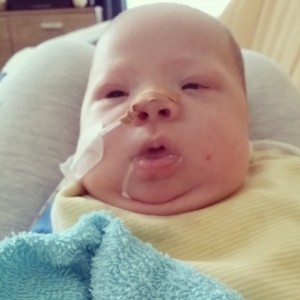 Lekker een flesje gekregen, helaas is het nog steeds worstelen ermee. De ene keer gaat het goed en dan de andere keer weer niet. Maar we houden vol. Hij krijgt in ieder geval zijn voeding binnen. Maar wat een heerlijk koppie he!!!
Warm warm warm… dus even afkoelen met een lekker koud waterijsje.

Dinsdag 22 juli 2014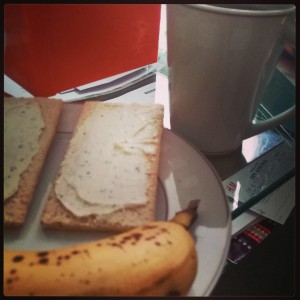 Even ontbijten hoor, schiet er hier nog weleens in de laatste tijd. Ik moet toch wat beter voor mezelf gaan zorgen.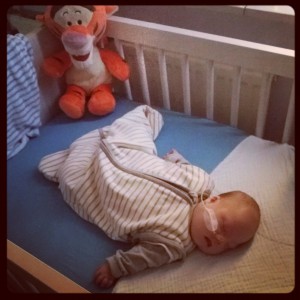 Heerlijk als hij zo ligt te slapen… ja wanneer slaapt meneer nou niet hihi.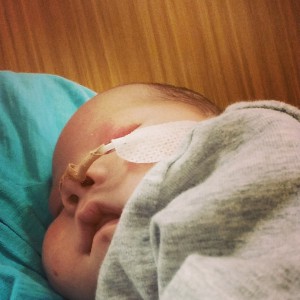 We moesten naar het ziekenhuis toe. Zijn gips ging eraf. En terwijl wij aan het wachten waren lag meneer alweer te slapen. Zo makkelijk is hij dus.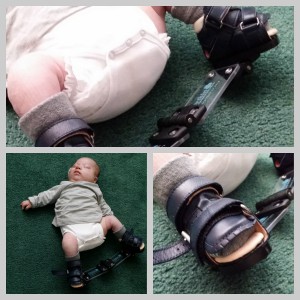 Nu heeft hij dus geen gips meer, maar schoentjes met een beugel ertussen. Een hele verandering hoor. Ze mogen een uur per dag af. En wat is dat fijn lekker genieten van zijn beentjes. En als ze helemaal uit zijn even genieten van zijn kleine mooie teentjes. Officieel zou ik pas over 3 mnd terug hoeven te komen ervoor. Maar ik zette deze foto,s ook op de facebook pagina van de Nederlandse vereneging klompvoetjes. En toen kreeg ik gelijk iemand in mijn privé dat het helemaal niet goed stond. Het schijnt dat zijn voetjes 60 graden gedraaid moeten staan. Ik helemaal verdrietig dat er weer iets niet goed gaat hier. Volgende dag ziekenhuis dus bellen.
Woensdag 23 juli 2013
Heb een afspraak weten te maken voor volgende week dinsdag om toch nog even na te laten kijken hoe of wat met zijn voetjes. Ik ben benieuwd.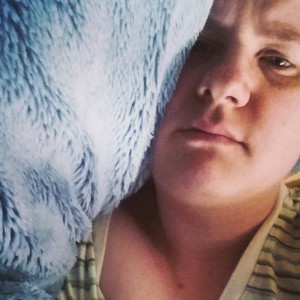 Na de eerste fles om 07.00 van Daan, ben ik nog even op de bank me ogen dicht gaan doen. Eigenlijk doe ik dat elke ochtend nog even. Die pijn in mijn been is zo vermoeiend dat ik dat echt nodig heb. En Daan slaapt dan toch ook weer. Die middag kwam er iemand van stichting MEE op bezoek even praten met ons. We zijn daar aangemeld voor hulp voor Daan. Maar nu is het nog niet echt nodig maar ik heb wel hulp nodig met de zorg van hem vanwege mijn hernia. Misschien krijg ik een operatie, dus hij gaat wat lijntjes uit gooien om hulp te zoeken. En kijken wat voor andere hulp we kunnen krijgen voor Daan.
Later die middag moest ik nog even naar de fysio, vreselijk die oefeningen. Stelt zo niks voor maar heb zo veel pijn en geen energie dat het echt wel heftig is. Heb gewoon totaal geen conditie meer en daar baal ik zo van.
Donderdag 24 juli 2014
Dit keer kwam er iemand langs van Humanitas, daar zijn we ook aangemeld voor hulp nu dat ik een hernia heb. En ze heeft iemand gevonden die vroeger kraamverzorgster is geweest. Dus helemaal prima. Als mijn man middag dienst heb, heb ik gewoon hulp nodig hier een paar uurtjes. Zodat ik mijn medicatie allemaal kan innemen en rust kan houden. Als ik dan voor Daan zou moeten zorgen gaat het mis. Aangezien ik 2 soorten morfine krijg naast nog andere pijnstillers. Wordt je zo duf van, dat ik hem niet durf op te tillen.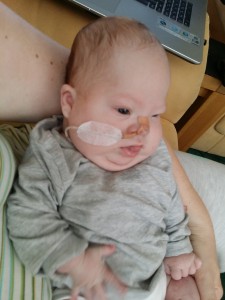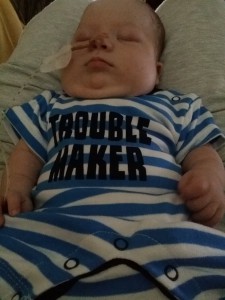 Nog even 2 heerlijke plaatjes van mijn mooie ventje.
Vrijdag 25 juli 2014
Even een lief filmpje gemaakt terwijl hij heerlijk ligt te slapen
Bezoek gekregen van de vrijwilligster die me komt helpen met de zorg voor Daan. Lang zitten praten en het voelde wel goed. Ook heeft ze gelijk hem maar de fles gegeven. Kan ze alvast beetje wennen. En een schone luier gegeven. Toen op bed gelegd. Heb haar wat dingen uitgelegd hoe het hier in huis gaat met hem en waar ze op moet letten bij hem.
Zaterdag 26 juli 2014
Kraambezoek, ja Daan is dan al wel 10 weken oud. Maar dat mag vast nog wel kraambezoek. Deze vrienden van mij komen uit Gouda, en Bert kende ze nog helemaal niet. Hij heeft ze wel van het station moeten halen. Ik kon niet mee, want we hadden niet voor dat even oppas voor onze kleine man. En mee nemen was ook geen optie geen ruimte in de auto. Het was een gezellige middag. Lekker praten over van alles. En Daan kreeg een brandweerauto met heel veel geluid erin. Kan hij mooi mee spelen als hij wat ouder is.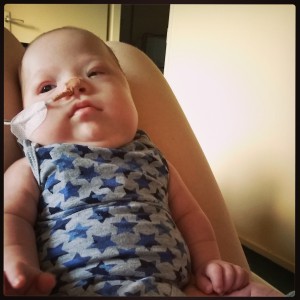 Sterren sterren sterren, ben verliefd op dit rompertje. En zo verliefd om het mannetje die het draagt.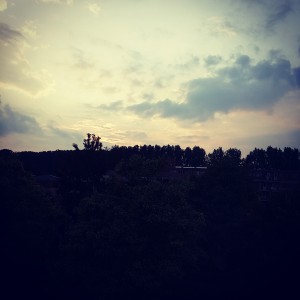 Even een mooi plaatje van de avond die invalt hier.
Zondag 27 juli 2014
Rustdag… Alleen voor de beide mannen zorgen. En voor de rest zelf lekker rust nemen, zodat ik er vanaf maandag weer tegenaan kan. Ja ook met de nodige rust tussendoor. Ondertussen even goed de tijd nemen voor me blog. Staan nog wat dingen in de planning die ik moet uitwerken. Paar leuke samenwerkingen.
Comments
comments