Take a look at my life *week 32*
Deze week was het iets rustiger met afspraken. Het was al wel weer de laatste vakantie week van mijn man. Helaas weinig genoten van de vakantie, zeker de laatste dagen niet omdat hij ziek op bed heeft gelegen. Zo zouden we eerst samen deze week naar het ziekenhuis gaan voor Max, maar uiteindelijk ben ik alleen geweest. Achteraf stelde het ook weinig voor, voor die paar minuten die hele reis. Maar het moest want de brace doe hij gaat krijgen moest verder op maat gemaakt worden. We gaan er vanuit dat hij volgende week dus wel zijn nieuwe brace heeft. Ben heel benieuwd hoe hij hier op gaat reageren. Tussen door hebben we dus genoten van de rust in huis. En de zorg voor Max en ook een beetje voor mijn man.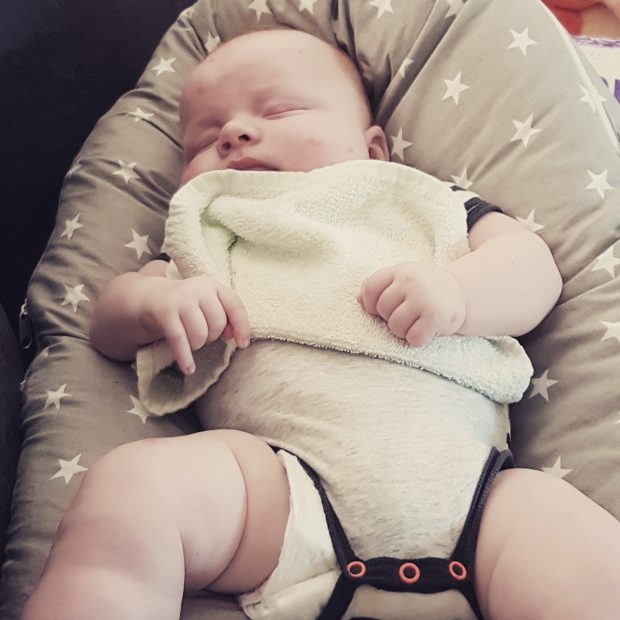 Zo relax op deze manier hem de fles geven. En moet je zien hoe relax hij is, gewoon even heerlijk in slaap gevallen. Hier kan ik zo enorm van genieten, en uren naar kijken. Alleen ligt hij hier natuurlijk niet uren zo heerlijk te slapen. Daarna hebben we gewoon nog even lekker gespeeld en gekletst voordat hij weer terug naar bed ging.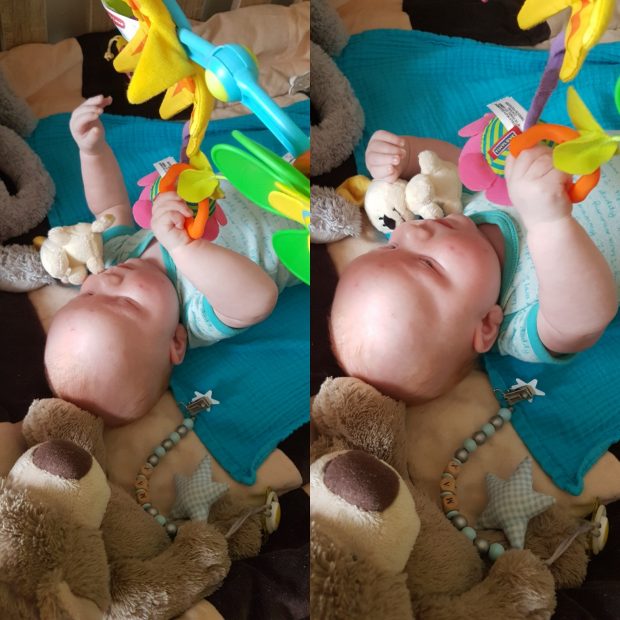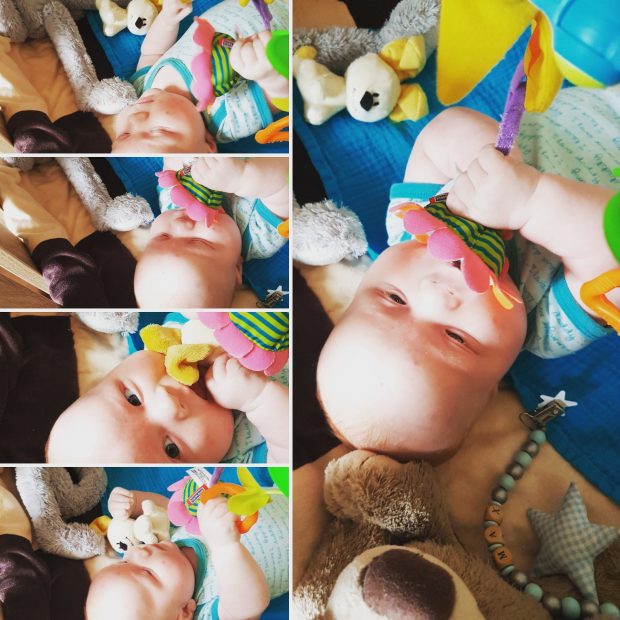 Hier heb ik echt naar uitgekeken, het moment dat hij beseft dat hij met zijn handjes dingen kan vasthouden. Dingen in beweging kan zetten. En zo veel plezier beleefd aan de geluidjes en bewegingen kleuren en motieven die het met zich meebrengt. Hij heeft het er maar druk mee.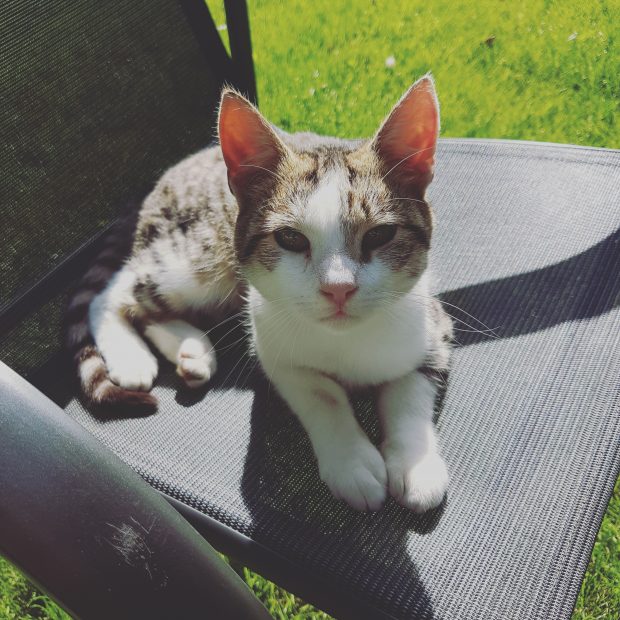 Eerder de week was ik even weer bij Mirre voor een sessie, voorlopig even de laatste. Het voelde als een soort afscheid. Maar dat is het zeker niet, want ik kom er zeker nog terug. Of het nu voor een sessie is of voor een workshop of zelfs met de tijd als Max iets ouder is voor een gezinsweek. Dus ik neem hier zeker geen afscheid. Maar ik zat daar heerlijk in het zonnetje, en deze lieverd liep rond op het terrein. Toen ik opstond pikte hij meteen mijn plekje in.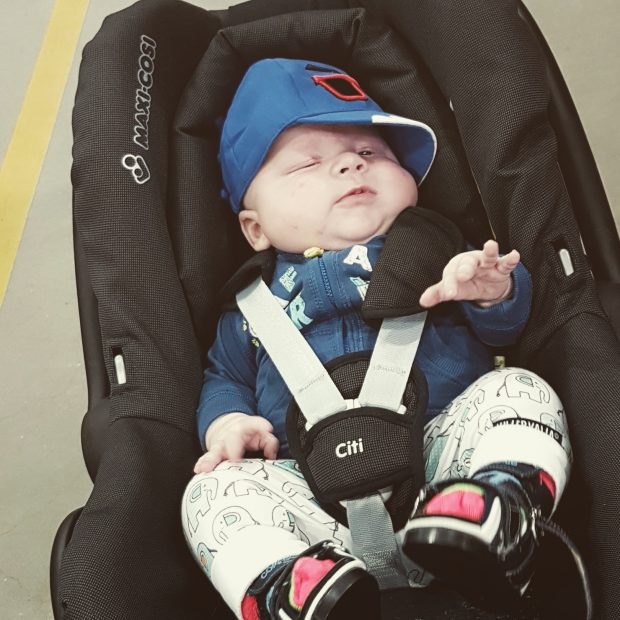 Woensdag gingen we op pad, eerst even naar de bouwmarkt en daarna door naar opa en oma. Max mocht zijn nieuwe pet op, hoe stoer is dat.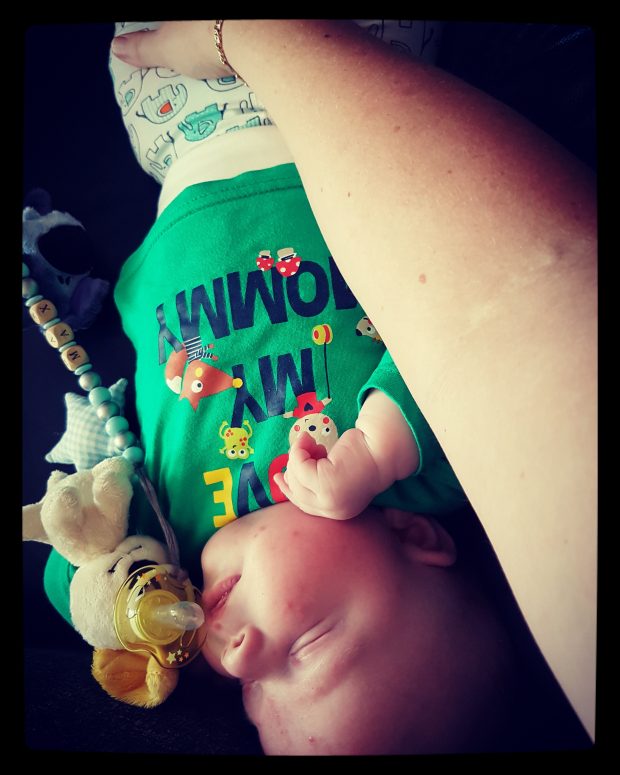 We waren even weer naar opa en oma toe, alleen zo slaat Max zijn slaapje over in bed. Na een tijdje huilen, legde ik hem op de bank en het resultaat de grootste gedeelte van de bank waren we kwijt. Want hij viel in slaap. Nou dit ziet er te cute uit gewoon. Dus we hebben hem lekker laten liggen tot we weer terug naar huis gingen.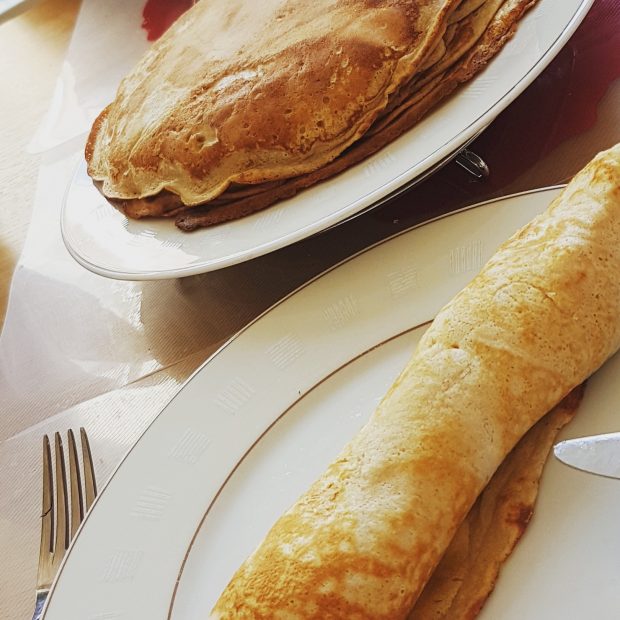 Dat was weer lang geleden, pannenkoeken eten. Mijn man heeft dit al vaker gezegd dat hij dit wilde, maar hield het steeds af. Vind het vaak een rot klus om te maken, maar dit keer ging het helemaal prima. Zonder dat er iets mis ging hihi.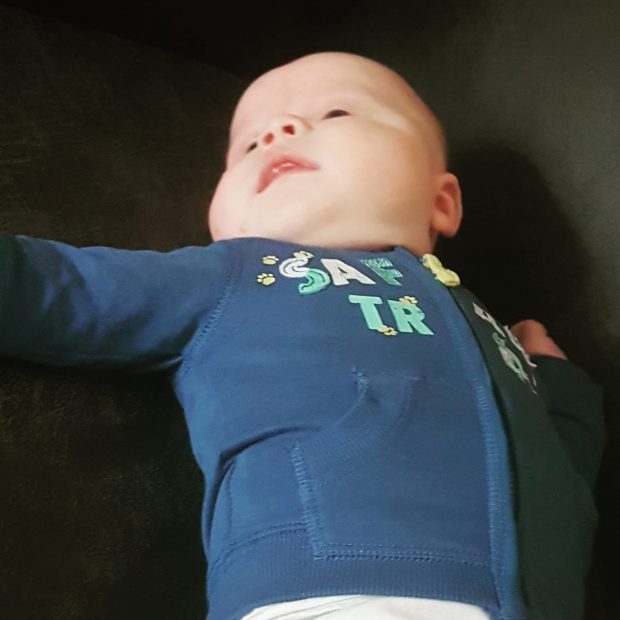 We zijn er klaar voor om op pad te gaan, op weg naar het ziekenhuis. Zijn nieuwe brace moest verder aangemeten worden. Eigenlijk dacht ik dat hij klaar was, dat werd verteld toen er gebeld werd. Maar dat was dus niet het geval. Omdat het dus niet zo heel lekker weer was, moest Max wel even zijn jasje aan naar buiten.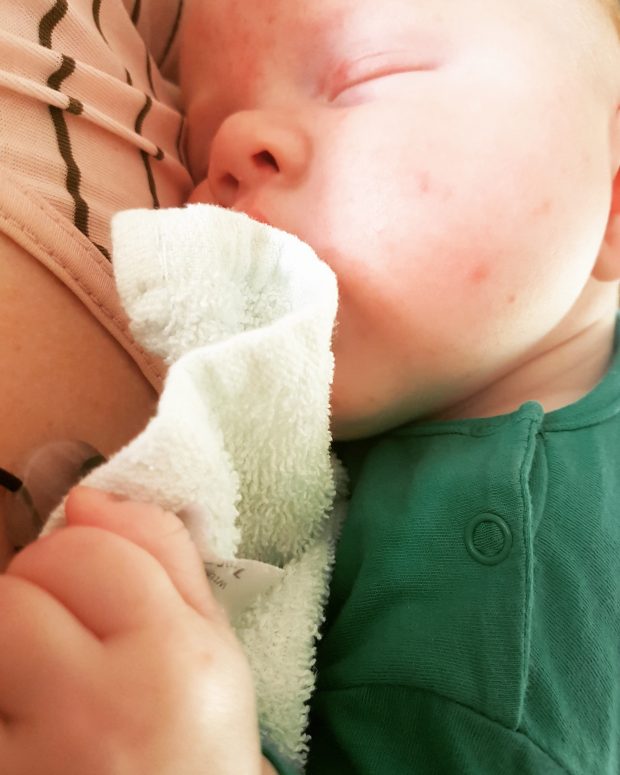 Dit gebeurd niet vaak meer dat hij zo rustig bij me blijft liggen na zijn fles. Hij was heerlijk even in slaap gevallen. Normaal ligt hij op me buik en dan steeds zijn hoofdje omhoog doen. En gewoon druk bezig met van alles zien en doen in mijn armen. Ja het wordt echt een grote vent. Maar zo dit was echt wel een heerlijk genietmomentje als hij dit weer even wilde.
Wat doen jullie in de vakantie?
Comments
comments