Vertrouwen in het moederschap
Ik denk dat elke nieuwe moeder vertrouwen moet krijgen in het moederschap. Zelfs als je voor de tweede keer moeder wordt zal er wat veranderen en moet er weer iets van vertrouwen komen dat het ook allemaal lukt. Maar wat als je bij de eerste keer je kindje verliest na een tijdje, hoe gaat dat als je dan weer moeder wordt. Je kan wel heel graag een kindje willen die levend in je armen ligt. Maar wat komt er allemaal bij kijken en hoe voel jij je als je eindelijk toch voor de tweede keer moeder mag worden. Dit zal zeker voor iedereen anders zijn. Ik ga je mee nemen in mijn reis naar vertrouwen krijgen in het moederschap. Want is die er wel, of niet en gaat dat er nog wel komen. Wanneer, hoe en wat… Zelf heb ik ook nog zoveel vragen hierover…
Een tweede kindje krijgen
Ja het was al snel duidelijk na het overlijden van Daan, dat we toch een tweede kindje wilde. Maar ik heb er nooit bij stilgestaan wat dat allemaal kan betekenen als het dan echt zover is. De wens was er gewoon heel erg en dan denk je niet na bij hoe en wat verder. Je gaat er gewoon voor, want je hebt het tenslotte de eerste keer ook aan gedurfd om een kindje te mogen krijgen. En wij kregen zelfs een zorgintensief kindje, dus waarom zou het de tweede keer zo veel anders (zwaarder) zijn.
Ik ben nu vier weken moeder van Max, moeder van twee kindjes. Eentje alleen in mijn hart en de ander ook in mijn armen. In het ziekenhuis, tijdens mijn zwangerschap werd al heel vaak zorgen uitgesproken voor na de bevalling. Maar ik zag het niet, ik maakte me alleen zorgen over de zwangerschap zelf. Ik trok de zwangerschap niet en daar had ik wel wat extra hulp bij nodig om die uit te zitten. Ik sloeg dus alle hulp af omdat ze alleen maar hulp gaven voor na de bevalling. Daar had ik het volste vertrouwen in, ik wilde dit kindje toch zo graag en kon me niet in denken dat het allemaal zo anders zou gaan dan in mijn hoofd. Nu vier weken verder ben ik daar op terug gekomen. Eigenlijk al heel snel na de bevalling merkte ik dat het wel heel zwaar was een kindje krijgen na het overlijden van je eerste kindje. Niet alleen dat maakt het zwaar, maar ik merk nu pas dat ik bij Daan nooit heb kunnen voelen wat het moederschap nu met je doet. Er gebeurde in zo,n korte tijd zoveel dat ik nooit echt heb kunnen voelen. Ik werd geleefd, en je doet alles voor je kind. Dus je gaat door en door, en toen was hij er ineens niet meer…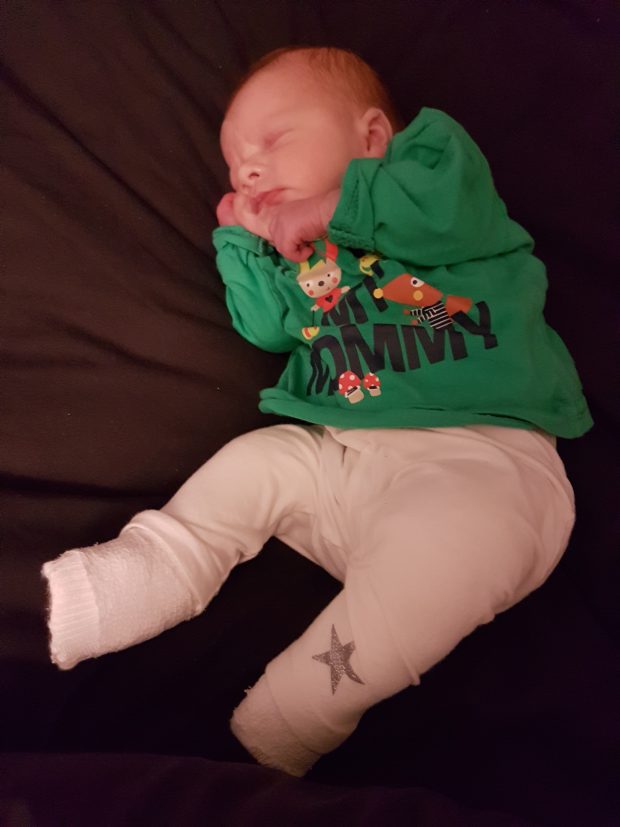 Vertrouwen kwijt zijn
Hoe ik het ook went of keer, ik ben het vertrouwen in het moederschap volledig kwijt. Ik weet hoe ik een fles moet geven een luier moet omdoen, dat is het hem ook helemaal niet. Maar het vertrouwen dat Max wel blijft na dat Daan overleed. Doe ik het wel goed als moeder, want bij Daan zag ik ook niet dat hij ging overlijden. Ja ik weet dat het niet mijn schuld is, en toch begin je aan alles te twijfelen nu er weer een kindje is. Ik zie echt aan Max dat het een heel ander kindje is, sterk en gezond. Maar Daan overleed ook uit het niets, dus wie zegt me dat het niet weer gebeurd. Iets met die vier maanden grens, ik wou echt dat die vier maanden voorbij waren. De vier maanden die Daan bij ons was. Zou ik dan echt gaan zien dat Max blijft en dat ik dan vertrouwen op kan bouwen dat ik een goede moeder ben. Ik doe alles uit liefde voor hem, maar is het genoeg. Er word zo vaak gezegd tegen me dat ik het goed doe als moeder. En ergens weet ik dat ook wel, maar het gevoel is er nog niet. En daar krijg ik gelukkig hulp bij, wie weet welke kant dat op gaat.
Maar echt het gaat wel verder dan alleen het vertrouwen kwijt zijn. Er zijn echt momenten dat ik bang ben. Ze worden iets minder nu. Er zijn echt momenten geweest als hij tegen me aanligt en heel rustig is, dat ik verlang naar geluid. Want ja Daan overleed op die manier. S,nachts hoor ik soms hele enge geluiden vanuit hem en dan ben ik bang dat hij stikt. Ik weet inmiddels dat baby,s gewoon hele rare geluiden maken en in de nacht het twee keer zo erg klinkt omdat het stil is. Maar er zijn echt momenten geweest in de nacht dat ik de lamp aan deed om even te kijken wat er gebeurd bij hem. Moet er niet aan denken dat hij toch ineens daar levenloos ligt. Toch zijn er ook dingen die ik wel doe ondanks er angst op zit, maar waar ik toch ook weer rust meer door krijg. Zoals tussen ons in laten slapen. Aan de ene kant is de angst groot dat er iets gebeurd, maar aan de andere kant als hij daar goed slaapt krijgen wij ook meer rust. Soms wil hij alleen maar s,nachts plakken op mama en ook dat vind ik heel eng. Zeker omdat ik toch in slaap dommel met hem bovenop me. Wat als hij met zijn neusje zich in mij begraaft en ik pas wakker schrik als het te laat is. Ik weet niet of je dat iets bij voor kan stellen als je geen kindje verloren hebt. Misschien is die angst er ook bij moeders die dat niet hebben meegemaakt. Dat weet ik echt niet. Dus ook daar moet er vertrouwen op komen dat hij echt niet zomaar overlijd.
Had jij meteen het vertrouwen in het moederschap?
Of was jij ook ergens bang dat je het niet goed zou doen?
Comments
comments