Het leven van Max en z,n mama *week 5*
De dagen gaan zo snel en heb het vaak zo druk dat sommige dingen erbij in schieten. Zo ook mijn blog af en toe, want deze blog had gisteren avond online moeten komen. Maar als hij nog niet afgeschreven is dan is dat heel erg lastig. Maar hier is hij dan, weer een update over Max en zijn mama. Alweer vijf weken oud en wat groeit mijn knul enorm hard. Eigenlijk zie ik het op de foto,s het meest, want als je hem elke dag ziet merk je dat niet zo snel. Toch merk ik het ook aan zijn gewicht, elke week in het ziekenhuis als het gips eraf gaat even wegen. En hij heeft de vier kilo al aangetikt. Dus het gaat echt heel goed met hem. Ook zijn we toch begonnen met hem in zijn eigen kamertje te laten slapen, hij lijkt het echt wel prima te vinden. Ben dus enorm trots op onze vent.
Drukke dag
Ik merk dat ik toch al wel mijn kindje begin te kennen. Herkennen van huiltjes. Het huilen om voeding, schone luier of boertje was al heel snel herkenbaar. Maar alle huiltjes ernaast geen idee. En wat moet je er dan mee. Ja bij je nemen en lekker troosten. De meeste keren is het dan gewoon mama-honger. Nu merk ik ook het huilen van moeheid, dus over prikkelt. Had al eerder iets te veel gedaan samen met Max en toen merkte ik al wel dat hij niet helemaal in zijn hum was. En nu hadden we deze week ook een dag erbij dat we best druk zijn geweest. We waren naar tuinland geweest omdat we graag voor onze nieuwe tuin een tuinset willen hebben. Nu het steeds warmer wordt is dat wel welkom. Alleen ik plande ook nog even in om bij een draagconsulent langs te gaan. En tussen door hadden we nog tijd over, dus zijn we even een broodje wezen eten bij Subway. Daarna nog even naar de Bristol toe, daar op de parkeerplaats heb ik ook nog even Max een flesje gegeven en verschoond. En dus toen door naar de draagconsulent. Eerst drie soorten dragers gepast met pop, waaruit eentje wel duidelijk naar boven kwam die ik met Max wilde passen. Dus Max in de drager, wat hij eerst niet zo leuk vond. Waarom hij precies huilde weet ik niet goed, maar na even wiegen was hij rustig en vond het eigenlijk wel best in de drager. Dus die drager ging mooi mee naar huis. Maar in de avond werd Max echt wel huilerig, en voelde aan dat het gewoon echt te druk voor hem was. Niet zo gek, het was voor ons ook een drukke dag dus snap heel goed dat hij daar huilerig van werd. Heb hem maar even in de drager gedaan. En omdat we hadden verwacht dat hij niet in zijn eigen kamer zou slapen hebben we hem lekker tussen ons in gelegd. Zo hebben we toch een fijne nacht gehad. Dan maar even een rustig dagje houden, met zo min mogelijk prikkels. Soms ontkom je er gewoon niet aan.
Oma op bezoek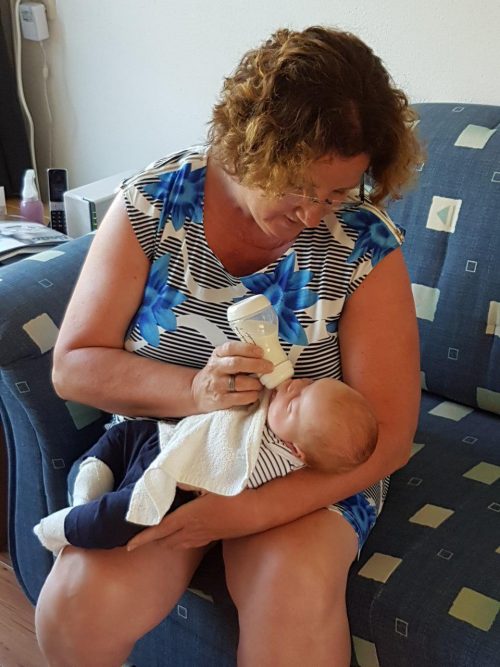 Gisteren had deze blog online moeten staan, terwijl ik vijf weken oud ben. Ik begin al een hele grote jongen te worden (volgens mama) En vandaag kwam oma op bezoek. Helemaal met de trein vertelde mama mij, want ze woont namelijk niet bij ons om de hoek. Dus ik mocht lekker knuffelen met haar. En ik kreeg heerlijk de fles van oma. Maar aangezien mijn fles deze dag net omhoog was gegaan, moest ik even wennen.
"Ik kan jullie dus iets grappigs vertellen" Terwijl oma dus mijn fles gaf, zat ze te vertellen aan mama dat ze twijfelde om een extra jurkje mee te nemen. Want misschien zou ik wel gaan spugen en dat natuurlijk over oma heen. Nou ben ik helemaal niet zo hoor (knipoog) Ze ging me een boertje laten doen, en voor haar gelukkig dat ze me op schoot rechtop zetten. Want met die enorme boer kwam er een golf melk mee. Zo over de vloer van mama, ik miste het grootste gedeelte oma. Heel klein beetje over oma, dus sorry oma. Of nou eigenlijk was het ook wel heel erg grappig (dat vond mama wel, en papa ook toen we het hem vertelde) Het was echt een hele leuke dag met oma.
We hebben de dag genoten in de tuin, want onze nieuwe tuinset kwam deze dag. En mijn partner is nog een parasol wezen kopen. Dus daar zijn we mee bezig geweest om alles op te zetten. En in de avond hebben we lekker in de tuin gegeten. S,avonds toen oma weg was hebben we nog een hele tijd buiten gezeten, en mocht Max ook zeker even bij ons buiten zijn. Overdag was dat niet te doen met die warmte. En s,avonds had hij echt last van de warmte dus was het huilen. Maar hij huilt toch vaak s,avonds een tijdje. Toch heeft hij uiteindelijk heel de nacht in zijn eigen kamer en bedje doorgebracht.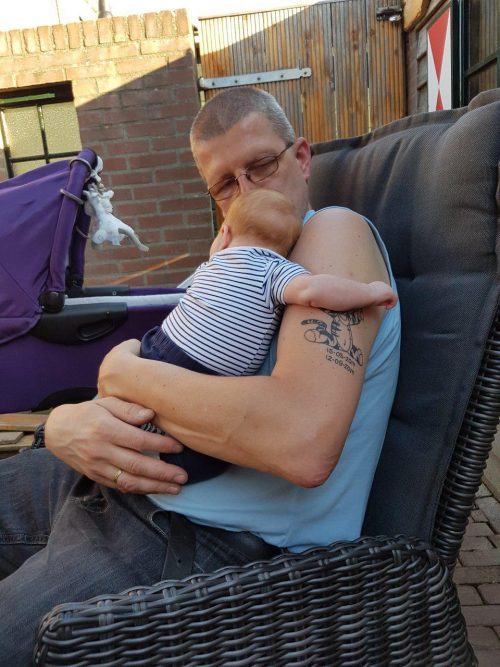 Comments
comments