Halloween feest of geen feest
Halloween
Het is een feest wat steeds meer gevierd wordt in Nederland. Het is de traditie om verkleed in Halloween kostuum langs de huizen te gaan en Trick or treat te roepen als kind. En dan krijgen ze een snoepje. Dit lijkt heel erg op Sint Maarten wat ze hier in het Noorden vooral vieren. Maar dan gaan de kinderen met een lampion langs de deuren en zingen een liedje.
Met Halloween zijn er ook steeds meer jongeren die naar Halloween feesten gaan.
Een stukje geschiedenis:
De naam "Halloween" is afgeleid van Hallow-e'en, oftewel All Hallows Eve (Allerheiligenavond), de avond voor Allerheiligen, 1 november. In de Keltische kalender begon het jaar op 1 november, dus 31 oktober was oudejaarsavond. De oogst was dan binnen, het zaaigoed voor het volgende jaar lag klaar en dus was er even tijd voor een vrije dag, het Keltische Nieuwjaar of Samhain (uitspraak Saun, dat ook het Ierse woord is geworden voor de maand november).

Samhain was ook nog om een andere reden zeer bijzonder. Op het eiland Groot-Brittannië werd Halloween vooral door de Kelten gevierd, die geloofden dat op die dag de geesten van alle gestorvenen van het afgelopen jaar terugkwamen om te proberen een levend lichaam in bezit te nemen voor het komende jaar. De geesten die uit dode mensen op zouden rijzen, werden aangetrokken door voedsel voor hen neer te leggen voor de deuren. Om echter de boze geesten af te weren droegen de Kelten maskers. Toen de Romeinen Groot-Brittannië binnenvielen, vermengden ze de Keltische traditie met hun eigen tradities, die eind oktober natuurlijk de viering van de oogst betroffen en ook het eren van de doden.

In de 9e eeuw stak een Europees christelijk gebruik de zee over en vermengde zich met het Halloween feest. Op Allerzielen (2 november) gingen in lompen gehulde christenen in de dorpen rond en bedelden om zielencake (brood met krenten). Voor elk brood beloofden ze een gebed te zeggen voor de dode verwanten van de schenker, om op die manier zijn bevrijding uit de tijdelijke straffen van het vagevuur te versnellen en zodoende zijn opname in de hemel te bespoedigen. De trick-or-treattocht vindt wellicht daar zijn oorsprong.
Feest of geen feest
Zelf heb ik weinig met Halloween, maar vind het wel leuk als kinderen zich verkleden. Vaak zijn het allemaal enge en bloederige kostuums en accessoires maar voor hele kleine kinderen vind ik dat net even te ver gaan. Dit jaar is het anders dan normaal, er kunnen geen feesten gegeven worden. Dus ben ik benieuwd hoe andere deze dag invulde. Ik zag al wel op social media veel leuke foto's voorbij komen met creatieve leuke Halloween hapjes. De hotdog mummies zie ik elk jaar weer terug komen, en zijn dan ook super makkelijk te maken. Super lekker en leuk voor jong en oud. Dus kleine gezin feestjes met lekker eten en versierd huis met Halloween decoratie zag ik voorbij komen.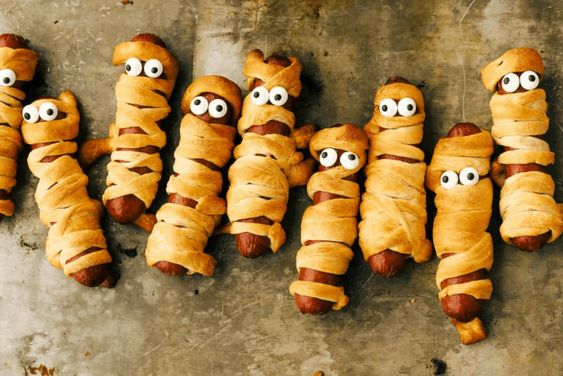 Verkleden als mummy of….

We hebben dan niet zoveel met deze feestdag, maar verkleden voor een kind is altijd leuk. Daarom koos ik twee leuke pakken voor Max uit, ja dit keer koos ik voor hem. Want zelf kiezen mag hij ook zeker wel. Maar het is ook weleens leuk hem te verassen met iets wat ik zelf koos. En ja ook een beetje omdat ik al die enge pakken liever niet in huis wilde hebben voor een driejarige. Dus ik koos bewust iets wat leuk en grappig is. Mijn zoon heeft het al weken over Pompoenen, elke keer als we naar de supermarkt gaan is het "pompoenen kijken mama" Ja hoor kind ga maar kijken. En dan staat hij daar, van mooi, mooi, mooi. Dus toen ik een pompoen Halloween pak tegenkwam, was mijn gedachten gelijk die doen we. Dat vind hij vast super leuk. En daarnaast koos ik een blauwe draak. Nou beide waren weer super geslaagd.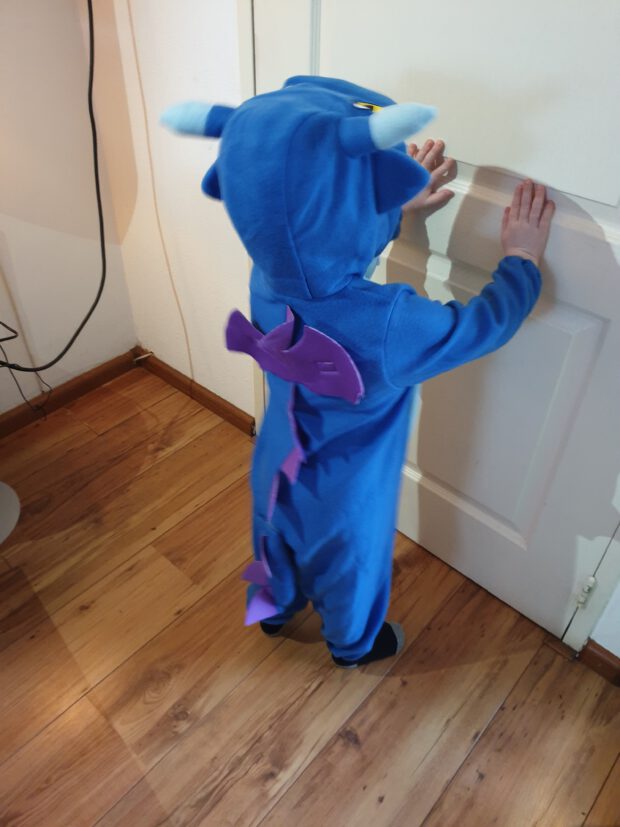 Mijn eigen kleine draakje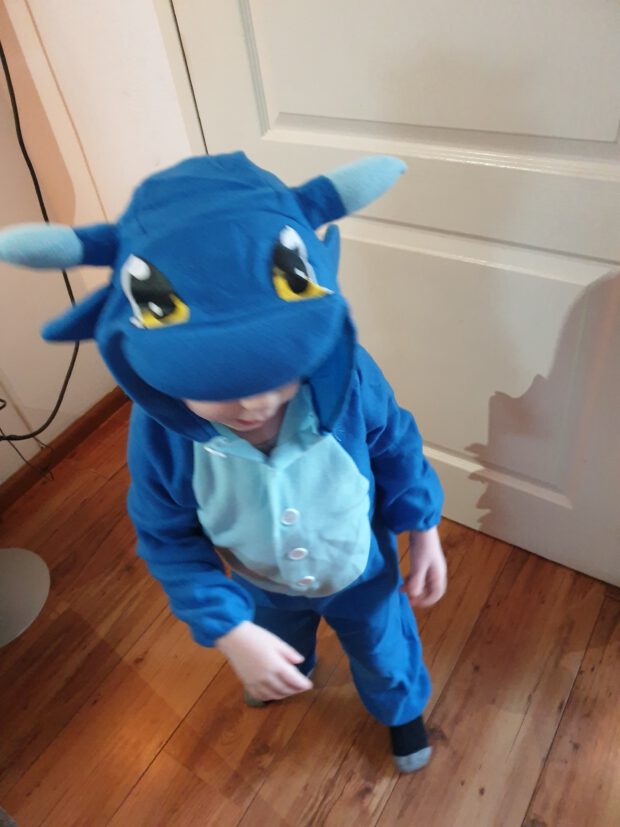 Comments
comments