HAPPY CHALLENGE Omring je met positieve mensen
Ik ben nog altijd bezig met de Happy Challenge van de meiden Marieke, Lisanne en Kelly
De opdracht van deze week is: Omring je met positieve mensen en zorg dat je zo min mogelijk contact hebt met de negatieve mensen. Hierbij kun je denken aan real life situaties (afspreken met die ene vriendin waar jij zo vrolijk van wordt!), maar ook aan online situaties (die ene super gezonde persoon op Instagram ontvolgen).
Ik zeg elke week weer dat ik de opdracht moeilijk vond, en deze is ook wel moeilijk voor deze week omdat ik eigenlijk veel thuis ben of onder de mensen kom die ik niet zo goed ken. Natuurlijk wordt ik heel blij van mijn partner, helemaal nu ik zijn achternaam mag dragen. Maar van mensen die ik nog niet ken, en ontmoet wordt ik vaak van te voren niet zo vrolijk omdat ik het vaak wel wat eng vind. Maar onderuit komen doe ik niet, als je een afspraak heb staan met de kraamzorg bij je thuis of dat je weer eens naar het ziekenhuis moet. Dit zijn dus mensen die zeker wel energie van mij vragen. Wat dan wel heel fijn is dat ik volgende week makkelijker aan deze opdracht kan werken in real life, want ik ga lekker een paar dagen er op uit. Als eerste ga ik gezellig naar mijn vriendin in Den Haag, en daar krijg ik zeker positieve energie van. En dan plak ik er een weekend bij me mams aan vast, en als je daar niet vrolijk van wordt weet ik het ook niet meer hihi. Ik heb hier zoveel zin in, nog even die kant op voordat het niet meer kan vanwege de zwangerschap.
Maar ik heb niet stil gezeten deze week voor de opdracht, want ik ben virtueel wel bezig geweest. Heb even mijn twitter lijst na gekeken. En alles wat me niks zei of gewoon niet leuk is om te volgen heb ik eruit gegooid. Er blijft eigenlijk nog teveel over, maar vele zijn zeker wel leuk om te volgen. Dan heb ik ook mijn Bloglovin eens bekeken. Jeetje daar staat een hoop in, en daardoor kan ik al jullie mooie blogs niet meer zo makkelijk vinden en bekijken. Ik heb alle niet interessante en niet werkende eruit gegooid, en dat betekende dat ik weer blogs tegen kwam waar ik al lang niet meer was geweest en juist super leuk zijn om te volgen. Helaas is de lijst nog steeds erg lang, maar er zijn dan ook zoveel leuke bloggers online en er komen er steeds meer bij. Toch ben ik wel blij dat ik hiermee bezig ben geweest, en was het dus goed om even alle lijsten na te kijken.
Alleen wat doe je met mensen die je veel energie kosten en die je niet zomaar kan bannen van je leven, noem maar eens een familie lid… Dit zal altijd een punt zijn in je leven die negatieve energie geeft, maar ook geen afstand van kan doen. tenminste ik niet. Hoe doen jullie dat?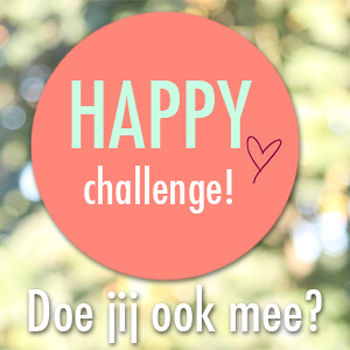 Happy Challenge
Comments
comments