Take a look at my life… week 11
Ik weet steeds niet zo goed wat ik nou wil, elke week een diary online of elke 2 weken. Heb het zelfs al een keer elke maand gedaan, maar dat was niet te doen. Toch weer besloten het naar elke week te zetten… Merk namelijk dat ik nu toch steeds meer foto,s ga maken, en als het eens een keer minder is nou ja pech dan voor die week.
Wat hebben we kunnen genieten van het heerlijke weer he! In de ochtenden is het steeds nog erg koud, maar als in de middag de zon gaat schijnen oww wat is dat lekker dan. Toch heb ik het te druk om echt te genieten van het weer, en na dat ik het druk heb gehad is er alleen nog maar tijd voor rust.
Maandag 10 maart 2014
Wat was dat raar je wekker niet af te laten gaan, omdat je niet meer naar je werk hoeft. Had daarom niet echt het gevoel dat het maandag was, ook omdat mijn vriend die nacht niet naar het werk hoefde. Heb dan best genoten van een pyjama dagje, maar heb niet alleen maar lui op de bank gehangen hoor. Heb de was gedaan, opgeruimd, en opgehangen. Telefoontje gepleegd om een ziekenhuis afspraak te verzetten. En vele dingen online gedaan voor me blog enz…

Dan heb ik heerlijke gehaktballen gemaakt, zoals je kunt zien. Daar hebben we s,avonds lekker een balletje van gegeten.
Dinsdag 11 maart 2014

Eerst maar even lekker ontbijten met Franse kwark banaan en honing.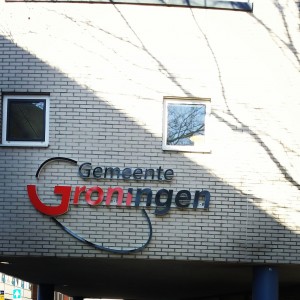 Naar het gemeentehuis toe omdat ik de naam van mijn vriend zou gaan aannemen. We zijn nu geregistreerde partners. Mag me nu dus officieel Mevrouw Mulder noemen, best wel beetje trots op zeker omdat we nu als gezin al zo heten. De kleine uk had de naam al eerder als mama.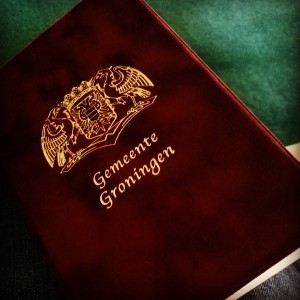 Daar is ons trouw boekje dan, het echte trouwen gaan we in de toekomst ook nog doen. Dit was echt gewoon even een handtekening zetten meer niet.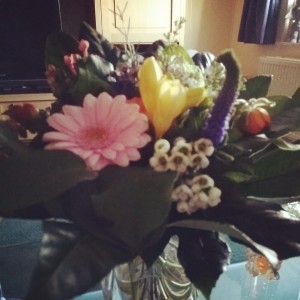 We hadden net afscheid genomen van mijn schoonouders die waren mee als getuige, toen me schoonmoeder weer op de stoep stond hier met een mooie bos bloemen om ons te feliciteren. Hoe lief is dat.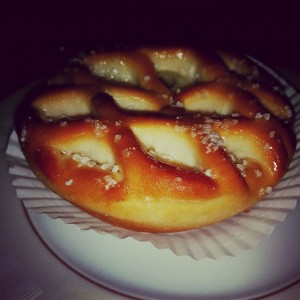 En omdat we iets te vieren hebben een lekker klein gebakje gegeten.
Woensdag 12 maart 2014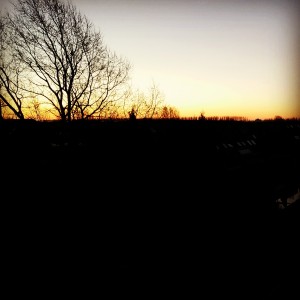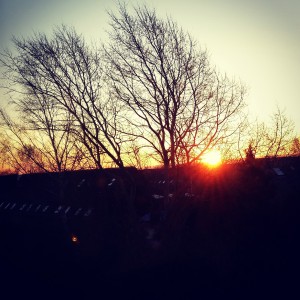 Veelte vroeg uit bed, slapen doe ik zo slecht en lag me al uren te ergeren in bed door de pijn dat ik maar om 6:30 uit bed gegaan ben.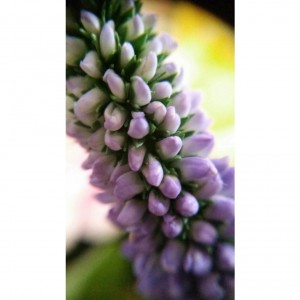 Ik maakte van de bloemen die ik had gekregen wat macro foto,s, dus er zullen er nog wel meer volgen in dit verslag. Vind het wel leuk om met de macro lens te prutsen maar ook vermoeiend omdat ik me hand nooit zo stil kan houden waardoor de foto vaak bewogen is.
Donderdag 13 maart 2014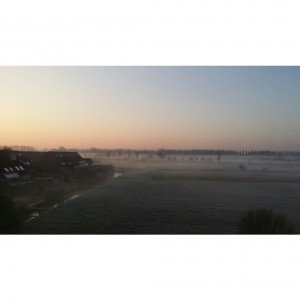 Alweer zo vroeg in de ochtend, maar dit keer omdat ik zo vroeg een afspraak had staan in het ziekenhuis. Moest er al om 08:15 zijn. En ook nog eens nuchter, vanwege de glucose test die ik kreeg. Kwam al helemaal eng aan, had de vorige dag al last van me borst en dat speelde nu ook weer op. En me hart ging weer heel erg tekeer waardoor ik ook benauwd werd. Ik werd geprikt op suiker, en daarna moest ik een heel vies suiker drankje drinken. Daar werd ik nog beroerder van, en toen ze terug kwam en vroeg of het wel ging zat ik al zo,n beetje te huilen van ellende. Ze nam me mee en legde me daar op bed zodat ik lekker even tot rust kon komen. Heb de volle 2 uur dat ik daar moest wachten op de volgende prik daar gelegen. Ze hebben wel meer getest dan ze zouden doen omdat de arts vond dat ik wel vervelende klachten had. Maar gelukkig alles was in orde toen ik na een broodje te gegeten had terug kwam voor de uitslag.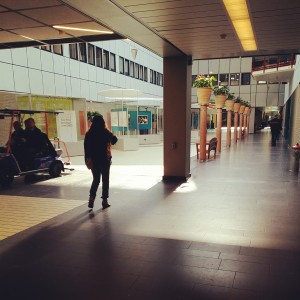 Rond zwerven in  het ziekenhuis als je toch moet wachten.
Geen zwangerschap diabetes en geen zwangerschap vergiftiging. En ook geen rare dingen gevonden in me urine. De klachten zijn normaal dus geen zorgen, maar wel heel vervelend. Heb wel een recept gekregen voor de brandende maagzuur die ik af en toe heftig heb.
Thuis was ik helemaal kapot en ben ik een paar uur me bed in gekropen, telefoon stil en proberen te slapen. En gelukkig dat lukte, wel met een paar keer wakker worden. En dan een oproep te hebben gemist, nou pech die belt morgen wel weer terug. Zal het ziekenhuis wel geweest zijn met de laatste uitslagen van de bloedtest die nog niet eerder binnen waren.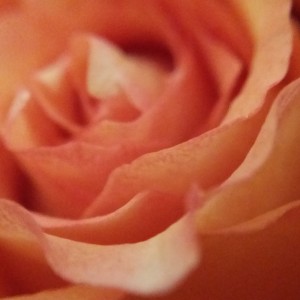 En dan als afsluiting van de dag nog een mooie macro foto.
Vrijdag 14 maart 2014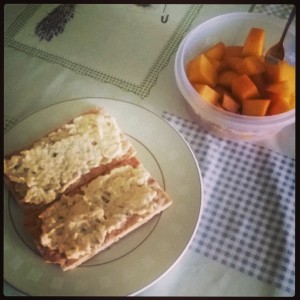 Een keer anders ontbijten als normaal, is namelijk lang geleden dat ik met crackers heb ontbeten. Maar daar moest natuurlijk wel een bakje fruit bij.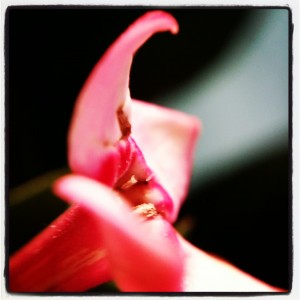 Dan nog maar eens een macro foto die ik al eerder had gemaakt, maar deze dag pas bewerkte en op instagram zette.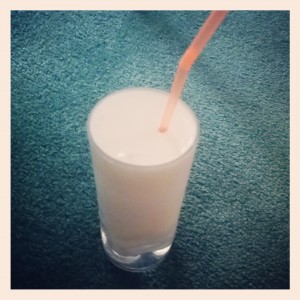 Ik besloot een drankje te maken met melk en banaan, maar ik had niet verwacht dat het heel luchtig werd dus had 2x zoveel als ik wilde. En hij smaakte naar milkshake, maar nog lekkerder had hij geweest als hij echt heel koud was. Dus voor de volgende keer een bevroren banaan erbij!!!
Zaterdag 15 maart 2014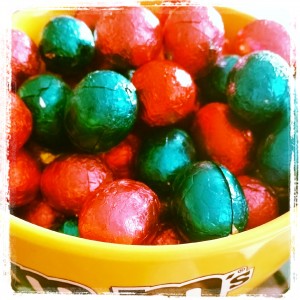 Van de week hadden we geld nodig voor bij een verjaardag kaart, maar er kwam geen 15 euro uit de pin dus moesten we wat gaan uitgeven voor die 5 euro die we extra eruit haalde. Mijn mannetje bedacht om paaseieren te kopen, en die staan dus nu op tafel.
In de avond nog even naar Ikea geweest, wat we zochten hebben we helaas niet gevonden. Kwam wel thuis met een slaapzakje voor de kleine uk.
Zondag 16 maart 2014
Heerlijk uitgeslapen, en daarna het bed afgehaald om te kunnen wassen. Dus vanavond slapen in een schoon bed, altijd lekker. Het is echt weer zo,n luie pyjama dag, even niks moeten. Nou ja behalve dan zorgen voor de was en het eten.
Comments
comments