Minnie stelt zich voor
Minnie
Nee we weten nog niet wat het geslacht is, maar we hebben de baby een bijnaam gegeven. Mijn partner schrijft het als Mini, maar zelf hou ik Minnie aan. Ik kreeg al te horen leuk een meisje, nou dat is dus niet de reden waarom deze naam. Daan kreeg ook al snel een bijnaam Draakje, en dus deze baby verdiend er ook eentje. Maar eigenlijk doen we dit voor ons zelf het makkelijker te maken. Het is onpersoonlijk om over "de baby" te praten, of hij/zij. En hierdoor is de kans straks als we het geslacht weten minder groot dat we onze mond voorbij praten. Want ook dit keer willen we het graag voor ons zelf houden. Maar voor nu is het ook afwachten voor ons.
Controles
Ik heb inmiddels al 5 echo,s gehad in 12 weken tijd. De eerste echo was echt zo vroeg dat er wat twijfel was of het echt om een zwangerschap ging. Maar we waren positief, de echo daarna zagen we echt dat het gegroeid was en er zat ook nog eens een kloppend hartje. Ik huilde van opluchting, het leeft in mijn buik. Al snel werd ik overgedragen naar de afdeling Obstetrie en Gynaecologie, want blijf in het ziekenhuis onder controle staan. Voor ik het wist had ik daar een afspraak en ja natuurlijk weer een echo. Vanwege mijn verleden van miskramen en een moeizame zwangerschap bij Daan, mag ik elke twee weken op controle komen. Dit mag ik zelf bepalen, als het straks vertrouwder voelt omdat ik Minnie ga voelen mag ik ook minder vaak komen. Maar voor nu vind ik het wel fijn op deze manier.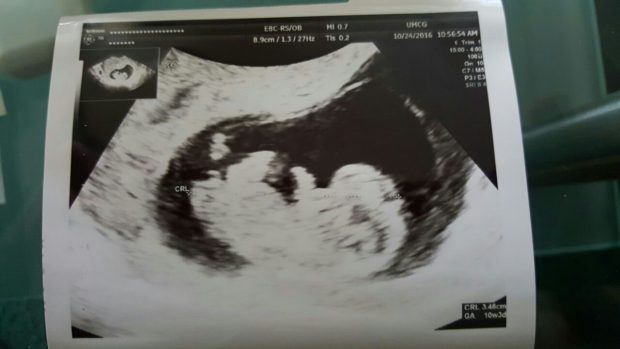 10 weken zwangerschap
Zwangerschapskwaaltjes
Als ik terug denk aan de zwangerschap van Daan kon ik niet genieten, later begon ik te beseffen misschien wist ik onbewust wel dat er iets mis was. Nu kan ik echt genieten ervan. Het begon wel met echt extreme moeheid, ik wist niet waar ik het moest zoeken zo moe. Maar ik moest door, want elke week ging ik gewoon nog naar Mirre toe. Wat een zware opgave werd, maar het zo waard. In het begin was ik ook misselijk, maar niet extreem. Ik voelde me zieker van de hormoon spuiten tijdens de behandeling dan nu in mijn zwangerschap. Wel heb ik heel erg last van lage rugpijn en van mijn bekken. Juist als ik op bed lig waardoor ik nauwelijks tot niet soms slaap. En ja dat hakt er wel erg in. Ja en dan zijn er nog de gevoelige borsten, raak ze niet aan want echt dat vinden ze niet leuk. Daarnaast voel ik regelmatig dat het druk in mijn buik is, de energie van dit kindje is enorm. En ja banden pijn. Maar het belangrijkste ik sta in verbinding met dit kindje en ik geniet.
Uitgerekende datum
Vandaag ben ik precies 13 weken zwanger wat ben ik blij dat ik over het eerste termijn heen ben. Ik ben op 20 mei uitgerekend, en dit is een erg bijzondere datum omdat Daan zijn verjaardag op 15 mei valt.
Comments
comments