Zwangerschap dagboek ~Week 16~
Vorige week kwam het er niet van om een stukje te schrijven over mijn zwangerschap. Vandaag heb ik weer een update voor jullie. Ik ben vandaag 17 weken zwanger, nog eventjes en dan zit ik alweer op de helft. Wat natuurlijk een geweldige mijlpaal is zeker als ik kijk naar de vorige twee keer dat ik zwanger raakte. Ik ben zo gelukkig dat het allemaal goed blijkt te gaan met het kindje.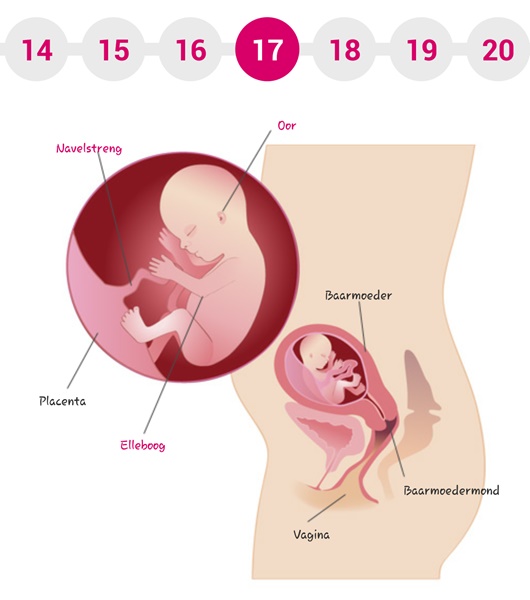 Afspraken, afspraken en nog eens afspraken
Ja het is wel fijn om elke twee weken te mogen kijken naar je kindje, maar het is wel een gedoe steeds naar het ziekenhuis. Maar niet alleen dit ook heb ik nu drie nieuwe afspraken erbij gekregen voor 3 januari wanneer ook de 20 weken echo gepland is. Aangezien ik heel benauwd ben, sturen ze me door naar de cardioloog. 3 januari mag ik dan al om 8.00 in het ziekenhuis zijn voor een ECG, daarna voor een echocardiogram. Dan nog een afspraak met de cardioloog zelf. Om het helemaal af te maken heb ik de 20 weken echo dus op de ochtend gepland. En na die echo moet ik nog even mijn bloeddruk laten meten. Het is fijn dat ze me zo goed onder controle zetten, maar dit vind ik eigenlijk op 1 dag best wel wat veel.
Geslacht van ons kindje
Afgelopen maandag dacht ik even te vragen of ze kon kijken of het geslacht al zichtbaar zou zijn. Met dit termijn is het namelijk al mogelijk te zien. Maar helaas ons kindje was te eigenwijs om iets prijs te geven. Ik ben gewoon heel nieuwsgierig, maar verder maakt het ons weinig uit of het een jongen of een meisje is. Wel heb ik heel sterk het gevoel dat het een meisje is, maar dat laat nog even op zich wachten dus. En mochten wij het straks weten, blijft dat voor de buitenwereld nog een verassing net als bij Daan willen we dit pas laten weten als het geboren is.
Zorgen vanuit het ziekenhuis
Ik heb natuurlijk al het nodige mee gemaakt in zwangerschappen ik ben niet voor niets heel hard aan mezelf aan het werk. Wil gewoon het beste uit het leven halen wat er te halen valt. Voor mezelf maar ook voor de kleine in me buik en mijn partner. Het geluk in het leven vinden voor mezelf en gezin. Ik ben aardig op weg, maar nu ik niet meer elke week bij Mirre ben valt het zwaar thuis. Door de nodige klachten (benauwdheid) kan ik niet zo veel en ben ik veel thuis. Hierdoor merk ik dat ik best eenzaam ben. Op Mirre merkte ik dat niet zo, want er was altijd wel iemand om mee te praten, dansen, spelen en hart te luchten. Dit is dan ook de reden dat ze in het ziekenhuis zich ook wat zorgen maken, maar voornamelijk voor de periode als het kindje geboren is. Daar maak ik me niet zo druk om eigenlijk. Meer om deze tijd. Aan de ene kant is het fijn dat ze de juiste zorg voor me willen, maar het voelt ook een beetje alsof ik mezelf nu zelf nog meer zorgen ga maken omdat hun dat doen. Ik ben dan ook wel blij dat ik er niet alleen in sta en dat ik nog altijd contact heb met Mirre en het ziekenhuis zelfs contact gaat leggen met hun. Wil gewoon niet graag naar een nieuwe psycholoog. Maar de zorg die ik kreeg op Mirre is geen optie meer vanwege het geld.
Comments
comments