2) In de *spotlight*
[social_share]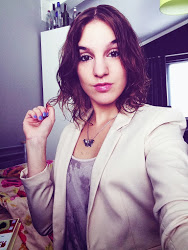 Wil jij je even voorstellen?
Tuurlijk wil ik dat. Ik ben Manon en ik ben nu 22 jaar. Op 26 oktober word ik 23 jaar, bah wat gaan de tijden toch snel. In het dagelijks leven ben ik een parttime secretaresse in het UMC St. Radboud in Nijmegen op de afdeling Nucleaire Geneeskunde. Dit is wat ik altijd al wilde dus ik ben zo blij dat ik er werk. Helaas loopt mijn contract eind juni 2014 af en dan moet ik maar zien waar ik terrecht kom. Sinds kort ben ik ook de eigenaar van www.inspiiredbylife.blogspot.nl
Vertel eens iets over jouw blog, waar blog je over?
Mijn blog heet inspiiredbylife en het gaat voornamelijk over Beauty,Fashion en lifestyle, maar je kan er ook veel andere onderwerpen vinden in het archief van mijn blog. Ik word geïnspireerd door het leven dus daarom heb ik voor deze naam gekozen.
Welke manieren gebruik jij zoal om bezoekers naar je websites te krijgen?
Ik gebruik by beauty bloggers, facebook, ElleGirltalk en ik reageer ook op veel andere blogsters/bloggers
Waar haal jij je inspiratie om te bloggen vandaan?
Ik maak reviews over de producten die ik gebruik ook haal ik inspiratie van andere blogsters/bloggers, maar ik ga niet kopiëren van anderen.
Wat is jouw persoonlijke "gouden blogtip?"
Schrijf over dingen wat jij leuk vind en je zult er meer plezier in krijgen. Blijf origineel en kopieer niet van andere bloggers/blogsters. Dit kan een reden zijn dat dan vele bloggers/blogsters jouw blog niet gaan onthouden.
Wat is de reden dat je bent gaan bloggen?
Ik lees al heel lang blogs en ik dacht ineens een keer dit wil ik ook gaan doen, maar ik heb er eigenlijk heel lang mee gewacht (heel stom misschien) Tot 2 maanden geleden durfde ik een stap te zetten om ook een blog te beginnen en ik vind het hartstikke leuk.
Hoe lang blog jij al?
Ongeveer 2 maanden nu
Hoe vaak blog jij?
Doordeweeks plaats ik elke dag een artikel en soms zal ik in het weekend ook een artikel plaatsen, maar dit is zelden.
Heb jij vaste tijden waarop jij je blogs schrijft?
Meestal als ik vrij ben van werk dan schrijf ik mijn artikels vooruit en dan kan ik elke ochtend als ik wakker ben een artikel online plaatsen. Wat het fijne aan artikels vooruit schrijven is dat je niet aan het stressen bent dat je nog een artikel moet maken.
Heb jij altijd een thema of idee waarover je wilt bloggen of komt dat pas als je er voor gaat zitten?
Soms heb ik al heel veel thema's in mijn notitieboekje staan en soms als ik dan met een artikel bezig ben dan krijg ik meer ideeën. Ook ga ik op zoek naar nieuwtjes op het internet.
Hoe belangrijk zijn de statistieken voor jou?
Totaal niet belangrijk ik vind het belangrijker dat ik een aantal vaste lezers heb dan dat ik 200 lezers heb die niet serieus mijn blog lezen. Trouwe terugkomers zijn altijd het leukste.
Zijn er onderwerpen waarover je wilt schrijven maar het nog niet durft/wil/kan?
Ik wil graag filmpjes maken, maar daar hou ik eigenlijk niet zoveel van en ik durf het ook niet zo goed, misschien is dat de reden dat ik het ook niet leuk vind. Ik ben erg verlegen daarom.
Wat vind je van de reacties van lezers op jouw blog?
Tot nu toe heb ik hele leuke reacties gehad en ook eerlijke reacties.
Welk soort blogs lees je zelf het liefst, en waarom?
Zelf vind ik persoonlijke blogs leuker, omdat ik zelf ook al over beauty producten schrijf. Ook vind ik de blogs leuk die veel video's maken over allerlei onderwerpen.
Comments
comments