Dromen over baby,s
Soms droom ik even weg, nog altijd heb ik een kinderwens. Ondanks de verdriet die ik om Daan heb is het ook soms heerlijk te denken aan een nieuw klein hummeltje. Een broertje of een zusje voor Daan.
Er zijn dagen bij dat ik het kamertje van Daan binnen stap zijn kast open trek en gewoon even snuffel tussen zijn kleertjes. Kleertjes die hij aan heeft gehad daar zitten weer herinneringen aan vast. Zoals de pakjes die ik kocht speciaal voor in het ziekenhuis. Dat het voor de verpleging makkelijk was de gehele pakjes open te kunnen maken zonder zijn schoentjes uit te doen. (brace) Maar er zit ook zelfs kleding bij die hij niet gedragen heeft, zou zijn broertje die kleding gaan dragen. Of zouden we misschien wel een zusje voor Daan krijgen. Stiekem hoop ik er een beetje op want dan kan ik weer lekker gaan shoppen. Want alles voor een kleintje hebben we natuurlijk al en is nog allemaal nieuw. Moet er straks in plaats van blauwe kleertjes in de kast ook roze komen te hangen.
Dan struin je soms wel eens wat sites langs en dan kijk je toch ook even stiekem tussen de baby kleertjes al is dat nog altijd niet van toepassing. Dromen doen we allemaal wel, en ik dus over een kleintje en de baby kleertjes die erbij horen.
Zo zag ik op de site van Esprit dat ze ook baby kleertjes verkopen, nou naar jongens kleding hoef ik eigenlijk niet te kijken voor in het begin. Toch blijft het heel leuk. Maar die schattige roze jurkjes of broekjes. Nee als ik een dochter zou krijgen ga ik niet alleen voor het schattige roze, het wordt ook gelijk een stoere meid. Want ik weet nu al dat er in de kast van Daan ook kleertjes hangen die ik mijn dochter aan zou doen. Dit houd niet in dat ik een voorkeur naar een meisje heb hoor. Het belangrijkste is dat er een kleintje komt die gezond ter wereld gebracht word.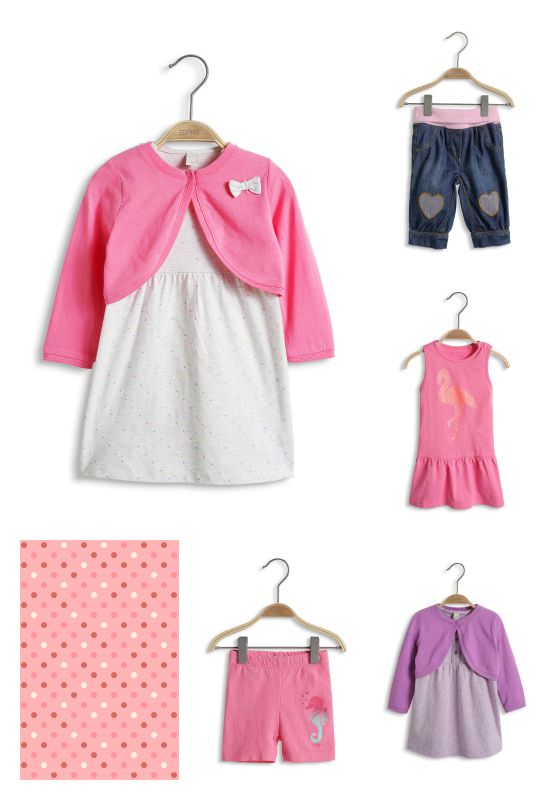 Comments
comments