En toen lag je ineens in het ziekenhuis
Echo
Gisteren moest ik naar het ziekenhuis toe voor een echo. Ik dacht zal allemaal wel meevallen, ze zouden naar het hartje kijken. En aangezien ze 4 weken geleden me aardig tot rust hebben gesteld dacht ik nou dat zit wel goed. Klopt ook niks raars verder met het hartje. Helaas houd ons kleintje van verassingen en die kreeg ik zeker even goed binnen. Bleek dat onze kleine uk echt een kleine uk is, het groeit niet goed genoeg. De bloed toevoer is niet zo best waardoor ons kindje op reserves leeft. En nu het meeste naar het hoofdje laat gaan en de rest een beetje er bij in schiet.
Opname
Het zal niet meer beter gaan worden, zolang het stabiel is mogen we blij zijn. Daarom wordt ik in het ziekenhuis gehouden om elke dag een hartfilmpje te krijgen. Verslechterd het dan is de kans groot dat ik hier moet blijven tot na de geboorte en dat het weleens eerder gehaald moet worden. Ik hoop dat ik na het weekend naar huis mag, maar daar is totaal nog geen duidelijkheid over. En hou daar ook geen rekening mee dat het mag.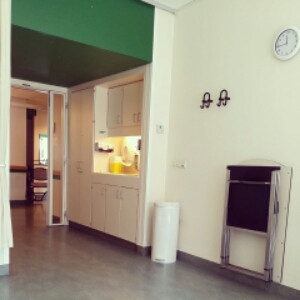 Wat nu wel vast staat is dat het een keizersnee wordt. Als het verslechterd is het een noodzaak, maar kreeg ook even te horen dat ze het ook voor mij aanraadde omdat ik in het verleden last heb gehadvan fistels. En zal ik vaginaal bevallen is er grote kans op dat het terug komt. Wel wat slecht dat ik dat nu pas hoor want dit is al vanaf dag 1 bekend.
Harde buiken
Vannacht heb ik weinig geslapen, had ineens zo,n last van harde buiken. En dat had ik eerder weleens, maar nu bleef het steeds vaker terug komen. Na een half uur maar even gebeld en kreeg ik een warme doek. Moest even bijhouden of er regelmaat in zat. En jahoor elke 3a4 minutenharde buiken. Kreeg toen een hartfilmpje en die was in orde. Toch even verder onderzoeken en kreeg een inwendige echo. Kijken of de bevalling niet op gang kwam. Gelukkig was dat niet het geval. Ze brachten me naar bed met een paracentmol, en eindelijk viel ik dan in slaap. Wel maar voor eventjes, want was alweer rond 4 uur wakker.
diaree
En dan nog meer vervelend nieuws maar gelukkig niet ernstig voor de baby. Ik kwam hier gisteren aan en was ineens aan de diaree, ik dacht gelijk aan spanning. Zeker toen het aanhield na al het vervelende nieuws. Ik moest hetin de gaten houden aangezien er een visrus op de afdeling heerst. Helaas deze ochtend bleek het nog niet over te zijn. En nu ik net een gezellige kamergenoot had moest ik daar afscheid van nemen. Ik werd verhuisd, naar een eenzame kamer. Een kamer helemaal alleen voor mezelf. Het heeft zo zijn voordelen, maar het is ook wel heel saai.
Comments
comments