BeSafe Pregnant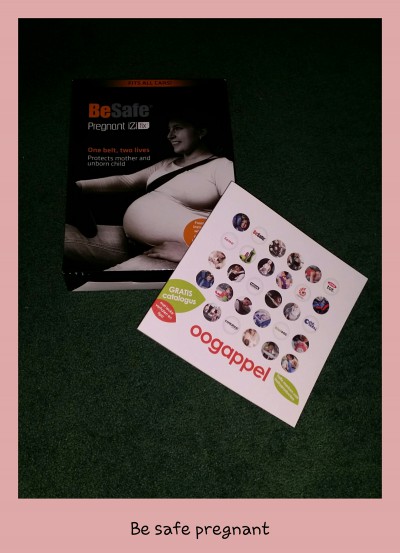 Gordelgeleider voor zwangeren, ik had er nog nooit van gehoord. Tot ik de kans kreeg deze te mogen uittesten via Oogappel.nl, en hoe leuk is het om producten uit te testen die jezelf niet eens kent. Dat houd misschien wel in dat er meerdere dit niet kennen, en dan is het mooi om dit in de aandacht te brengen. Dat ga ik dus voor jullie doen.
Eén autogordel twee levens

Met gordelgeleider            Zonder gordelgeleider
BeSafe Pregnant is een gordelgeleider voor zwangere vrouwen die de heupriem van de veiligheidsgordel naar beneden brengt, tot onder de zwangere buik, en hem daar op zijn plaats houdt. Zonder gordelgeleider drukt de heupriem bij een harde rembeweging of ongeval gevaarlijk hard op de placenta en de foetus. In 1 op de 6 gevallen houdt het ongeboren kindje daar een letsel aan over. De heupriem zelf naar beneden duwen, is geen oplossing. Bij een bruuske rembeweging of ongeval schuift die onmiddellijk terug naar boven.
Je kan de BeSafe Pregant gebruiken vanaf de 2e maand van je zwangerschap.
Te koop voor 29,90
Mijn mening
Wat ik hier prettig aan vind is dat je de gordel niet tegen je dikke buik aanvoelt. Maar toch ben ik niet heel positief over dit product. Vind hem heel onhandig dicht krijgen, zo ben ik al uitgeput als ik de knoopjes heb dicht gekregen waar de gordel mee vast gezet wordt. Door je dikke buik zie je weinig, en de knoopjes gaan best lastig dicht. Dan zit ik ook niet zo lekker omdat je benen iets uit elkaar gedrukt wordt omdat er iets tussen zit vanwege de gordel die je nu onder je buik plaatst.
Toch vind ik het een goed product wat op de markt gezet is, want wees nou eerlijk de veiligheid voor je kindje is toch wat voorop staat.
Dit artikel is in samenwerking gemaakt met Oogappel.nl
Comments
comments