Even bijpraten, hoe het nu gaat
Het is de laatste tijd wat stil rondom mij, dit omdat ik niet zo heel lekker in mijn vel zit. Voornamelijk omdat ik een groot probleem heb met slapen. Ik heb sinds dat ik ben opgenomen geweest problemen met slapen. In die periode sliep ik echt haast niet. Nu heb ik sinds een tijdje nieuwe medicatie om in te slapen. In het begin ging dat prima, maar nu wordt ik steeds eerder in de nacht weer wakker. Dit breekt echt heel erg op. Maar wat eigenlijk het meest vermoeiend is zijn de flashback die ik echt wekelijks heb. Gelukkig huilt Max bijna niet, maar dit is echt een trigger waardoor ik keer op keer het gevoel heb dat het leven bij Daan eruit loopt. Dit wil je een eerste keer niet meemaken, maar het keer op keer herbeleven is gewoon echt hel. Inmiddels kan ik er heel rustig onder blijven, omdat dit wel moet omdat ik voor Max rustig moet blijven. Maar wat zal er gebeuren als ik het volledig toe zou kunnen laten. Ik ben bang dat dit een keer gaat gebeuren. En dat hopelijk niet met Max bij mij. Dit is dus wel de reden waarom ik dus EMDR ga krijgen. Dit heb ik eerder al eens gehad, maar blijkbaar is het niet helemaal verholpen waar ik last van heb en dat is nu heel erg te merken sinds Max er is. En dit heeft helemaal niets met Max te maken, maar met mij. Hierdoor ben ik dus echt extreem moe, wat mijn stemmingen ook niet goed doen. Ik kan op een dag wel veranderen van stemmingen, de ene keer ben ik vrolijk en dan ineens weer heel down of verdrietig. Dit is zeker niet fijn. Maar Max staat dus helemaal voorop, waardoor ik dus niet veel toe kom aan mijn blog. Ik wil niet dat Max hier onder zal lijden als ik perse ook nog veel met mijn blog bezig ben. Maar het zal niet helemaal stil blijven hier. Want schrijven blijft toch wel een fijn ding voor mij.
Ik had een intake gesprek gehad bij Psyq, Deze pshycholoog wil dat ik zo snel mogelijk EMDR ga doen (wat al het plan was dus), en dat gebeurd ook volgende week maar wel bij een andere psycholoog. Omdat ik bij hun pas in het nieuwe jaar terecht kan. Maar kan dus niet daar ingeschreven blijven als ik ergens anders therapie heb. Maar met alleen EMDR ben ik niet geholpen. Heb ook nog op persoonlijkheid therapie nodig. En voor de verzekering mag ik niet bij beide aangesloten zijn. Dit is een probleem want dat houd in dat ik ook niet meer aanspraak heb op crisis dienst voor als er wel iets zou gebeuren thuis.(dit is alleen uit voorzorg, omdat er na de opname helemaal geen sprake meer is van afwezigheid van mij) Nu gaan ze toch kijken of ze mij twee diagnoses kunnen geven en daardoor bij beide gewoon ingeschreven kan blijven. Zodat ik na EMDR door kan stromen naar therapie bij Psyq.
Ook voel ik me momenteel weer heel erg eenzaam, eigenlijk zit dit gevoel altijd al in mij. Maakt niet uit of ik nu onder de mensen ben of niet. Nou er is wel een verschil, als ik onder de mensen ben staat het niet zo op de voorgrond. Maar dan is het heftiger als ik weer langere tijd alleen thuis ben. Dus na de opname is dit gevoel toegenomen, daar was ik steeds onder de mensen. En nu ben ik gewoon heel veel alleen thuis. Ja met Max, maar geen vrienden om mij heen. Omdat ik die hier niet heb. En met alles wat ik zou willen doen, iets van sport of hobby moet ik rekening houden met Max of met de diensten van mijn partner. Dit houd in dat ik tot nu toe niets heb gevonden wat mogelijk is. Wel ga ik steeds naar het Babycafeez, maar dat loopt ook niet echt storm met mensen. En is aansluiting best lastig te krijgen vind ik. Het zou gewoon heel fijn zijn een vriendin hier in de buurt. Maar hoe ik het ook went of keer dat eenzame gevoel zit in mij en daar werk ik aan om dit te veranderen. Want als ik gelukkig met mijzelf ben, zal ik minder dat gevoel hebben. En dus liefdevoller in het leven staan. Soms denk ik dat het nooit meer goed komt, maar ik moet er in blijven geloven dat er een moment is dat ik blij ben met mijzelf en dat ik volledig hier op aarde wil zijn. Nee ik doe geen gekke dingen, heb er toch voor gekozen om hier te willen zijn. En er is genoeg om van te genieten hier op aarde. Maar ik ben niet volledig hier, de liefde voor het leven en mijzelf ben ik heel lang geleden kwijt geraakt. En die zou ik heel graag terug vinden.
Maar voor nu vind ik het heel belangrijk dat ik enorm kan genieten van dat mooie mannetje van ons, want daar heb ik in het begin te weinig van kunnen genieten. Dus daar ben ik enorm dankbaar voor, dankbaar dat ik de opname heb gedaan. Want anders was dit niet zo maar veranderd.
Ik ben er dus nog steeds wel, alleen ben heel erg met mijzelf bezig en met Max.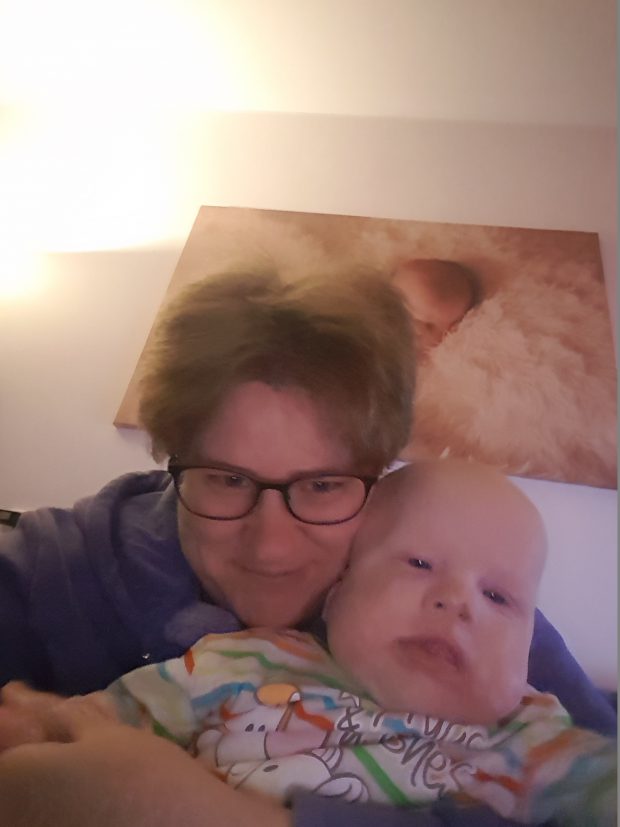 Comments
comments