Gezonde superfoods
Superfoods zijn er in allerlei soorten en maten. Als u denkt aan superfoods dan gaat het al vaak om exotische noten en vruchten. Uiteraard is dat wel degelijk een categorie die terug te vinden is als u extensief op zoek gaat naar superfoods. Toch is dit bij verre niet alles als u aan superfoods moet denken. Kijk maar eens aan dit verre van complete lijstje:
Superfoods. Hierbij moet u denken aan bonen, bessen zaden en oliën
Superherbs zoals ginseng en paddenstoel poeder
Notenboters. U raadt het al, gemaakt van noten zoals walnoten, amandelen en pompoenpitten
Ook vindt u voor uw huid allerlei lekkere en gezonde crèmes en andere verzorgingsproducten op het internet die allen onder de noemer superfoods vallen; zodat uw huid ook optimaal gaat glanzen en gevoed gaat worden
Maar niet alleen deze exotische producten staan bekend als superfoods, eigenlijk hangt het er maar net vanaf waar u woont. Zo kent men in de Verenigde Staten van Amerika bijvoorbeeld vrijwel geen boerenkool. En zoals we allemaal weten is dit een behoorlijk Nederlandse groente die boordevol ijzer en vitamine C zit. Een uitermate gezond levensmiddel.
Omdat men dit in de VS nauwelijks kan krijgen noemt men het daar dan ook superfoods. Net zoals wij bijvoorbeeld de pitahaya of papaja zo zouden noemer. Kortom, het is behoorlijk topografisch bepaald. In principe zouden wij boerenkool meer moeten koesteren en deze groente naast nog veel eer Europese of Nederlandse producten moeten bestempelen als superfoods.
Superfoods nuttigen verhoogt uw levensstandaard
Hoe lang wilt u nog meegaan? Uiteraard zo lang mogelijk, ten minste in hoeverre het u gegund is door de natuurlijke omstandigheden. Een ongeluk zit altijd in een klein hoekje en tegen sommige ziektes kunt u echt niets doen of helpen. Desalniettemin bent u voor een groot deel verantwoordelijk voor uw levenspatroon en uw voeding.
Door veel te bewegen, het liefste in de vorm van sport en het daarbij nuttigen van gezonde voeding en dranken kunt u ongetwijfeld een oude meneer of dame worden. Het zou toch prachtig zijn om in een gezonde toestand uw kinderen en kleinkinderen te kunnen zien opgroeien. En zo kunt u na uw pensioen wellicht nog reizen maken als u nog fit en stabiel bent. De superfoods kunnen u daar bij helpen.
Het is dan ook meer dan de moeite waard om u hierin te gaan verdiepen. Alles voor een gelukkig, mooi en lang leven of niet soms? Neem eens een kijkje op het internet of vraag uw diëtist of huisarts naar de beste producten die er op de markt te vinden zijn. En wees niet bang dat men u zult uitlachen, de kans is veel groter dat men u zult gaan volgen. Er moet toch iemand eens het goede voorbeeld geven, waarom bent u dat dan niet? We kunnen trouwens garanderen dat dit soort producten net zo lekker zullen smaken, misschien nog wel beter, dan al die ongezonde troep. Er zijn geen artificiële smaakstoffen nodig om uzelf eens flink te verwennen, dat spreekt voor zich.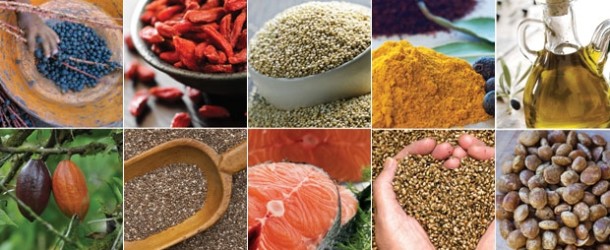 Nadia Bievinck
Comments
comments