Het DOC
Ik kruip in één van de buikpijn terwijl ik in bed lig. Mijn gedachten gaan uit naar de volgende dag. Ik weet wat er die dag staat te gebeuren, maar nog niet hoe dit zal uitpakken. Als ik hieraan denk krijg ik het benauwd. Voor de derde keer stap ik uit bed om naar de wc te gaan. Koud kruip ik terug in bed in de hoop dat ik in slaap val. Ik blijf maar staren naar het plafond maar in slaap vallen gebeurd gewoon niet. Na een onrustige nacht wordt ik wakker, ik ben dus toch nog in slaap gevallen. Na dat ik rustig wakker ben geworden stap ik de kou in op de fiets naar Ohanahome. Hier wordt ik begeleid in het proces na het overlijden van Daan. De hele dag dat ik daar ben voel ik me misselijk, maar gelukkig heb ik ook genoeg afleiding. We zijn de voorkamer aan het opknappen, een week daarvoor waren we al aan het verven gegaan. Nu het schoonmaken van de vloer. Toch schiet de angst af en toe door me hoofd heen. Straks ga ik met Annelies, begeleider en dierbare vriendin naar het ziekenhuis. Ik ga mijn angst onder ogen komen in de hoop dat ik daarna niet meer bang hoef te zijn voor de afdeling waar we heen gaan. De tijd lijkt langzaam voorbij te gaan, en toch is het ineens 16.30 tijd om in de auto te stappen richting het ziekenhuis. In de auto loopt de spanning bij mij op, ik wordt stiller en krijg weer pijn in me buik. Annelies zou Annelies niet zijn als ze me daar uit wilt trekken. Ze heeft het over mooie kleuren van de lucht, maar dat is iets wat aan mij voorbij gaat. We staan bij een stoplicht en zien een prachtig reclame bord met de tekst "aandacht maakt alles mooier" Heel vrolijk en enthousiast zorgt ze ervoor dat ik er een foto van maak. Ik ben weer een beetje bij aan het komen.
Samen lopen we door de gang van het ziekenhuis, Annelies houd me hand vast en merkt dat ik het wel heel warm heb. Het is al zo warm in het ziekenhuis maar mijn tempratuur stijgt steeds meer. Ik voel mezelf aan alle kanten zweten, echt zo vies. Maar kan alleen maar naar adem snakken. Daar staan we dan voor de afdeling en rustig lopen we naar binnen, nog altijd hand in hand. Bij de balie staat de vrouw al waar Annelies mee heeft afgesproken. En ze zegt dat ze even op het Doc gaat kijken of iedereen weg is. Want ik vind het al wel spannend op de zwangerschap afdeling te zijn, maar het ging met voornamelijk om het Doc. De ruimte waar ik terecht kwam toen er iets mis bleek te zijn met ons kindje. Ik werd onder controle gezet daar omdat Daan op reserve aan het leven was. Een ruimte waar er hartfilmpjes gemaakt worden van je kindje, en daarbij nog een kamertje waar er echo's gemaakt worden. Inmiddels staan we voor het Doc en zachtjes knijp ik in de hand van Annelies. Ze zegt je mag best harder knijpen als dat nodig is. Er komt een golf angst over me heen waar neer we naar binnen stappen en knijp harder in haar hand. Een stem in mij zegt "weg wezen" ik wil heel hard weg rennen van deze plek. Maar dit is wat ik onder ogen moet komen. Gelukkig ben ik niet alleen, dat is alleen al de reden waarom ik niet hard weg ren. Toch stappen we samen naar binnen. Ik kijk om me heen en de tranen schieten in me ogen. Waarom ben ik toch zo bang voor deze ruimte, ik snap er niks van.
Dit is iets waar ik al maanden mee bezig ben, waarom is het zo belangrijk om te weten waarom ik hier zo,n angst voor heb. Het heeft helemaal niks te maken met het overlijden van Daan.
Het enige wat ik doe is de ruimte in me opnemen, ik sta verstijfd en weet niet zo goed wat te doen. Mijn hart gaat tekeer en er komt steeds meer angst naar boven. Maar ik blijf daar staan en om me heen kijken. Annelies maakt af en toe contact om te zien of ik nog wel in me lichaam ben. Dan pakt ze me vast en knuffelt me even goed. Ik voel de tranen over me wangen rollen. Ik voel haar warme lichaam tegen de mijne, haar buik maakt contact met de mijne. Mijn hele lichaam voel ik schrokken, maar na een tijdje dat we zo staan wordt ik rustiger. Ik kan weer normaal ademen en genieten van de knuffel die ik mag ontvangen. Langzaam laten we elkaar los, en veeg de tranen van me weg. Ik kijk nog eens rond en er valt een hoop spanning van me af. Er komt zelfs een kleine glimlach op me gezicht terug.
Alleen terwijl we daar nog altijd in die ruimte staan, heeft er iets heel erg me aandacht. Er staat een deur open naar een andere ruimte. Weer wil ik heel hard weg rennen. Ik hoor Annelies vragen of het goed zo is, of dat er nog iets nodig is. Ik benoem de ruimte waar me aandacht naar toe gaat. Waarop ik ineens mezelf hoor zeggen "we gaan er gewoon voor" Ik pak haar hand vast en neem haar de ruimte mee naar binnen. Ik voel me duizelig worden, blij dat ze me vasthoud want ik voel dat ik anders tegen de vlakte ga. Even zoek ik naar een lichtknopje, gevonden. Moet ik er op drukken of is het een draaiknop. Ik draai eraan en beide schrikken hier van. Plots was er licht. En schieten in de lach omdat we hier zo van schrokken. Nu ik ervan bewust ben daar te staan voel ik nog meer angst in me opkomen. Heel hard begin ik te huilen, waar komt dit toch vandaan. Ik sta echt te zweven op me benen, en wordt geholpen om op een krukje te gaan zitten. Annelies vraagt me of ik wat water wil. Zacht zeg ik "ja" Even laat ze me daar alleen zitten. Ze komt terug met een wit piepschuim bekertje met water. Ik pak het aan en neem een slok. Bah ik ga zowat over me nek, als eerste valt me op dat het lauw warm water is. Maar dat was niet waarom ik zo misselijk word. Ik sta op en gooi het bekertje leeg en daarna in de prullenbak. Langzaam loop ik terug en ga weer op het krukje zitten. Weer begin ik heel erg te huilen, zo erg alsof het uit me tenen kwam. Ik was echt even helemaal in paniek. Ik wist even niet meer hoe ik moest ademen waardoor ik het heel benauwd kreeg. Ineens waren de tranen op en werd weer rustiger. Even komt er zelfs een kleine glimlach op me gezicht. En vertel wat er gebeurde. Er kwam een herinnering boven van de eerste keer dat ik in het Doc kwam. Dit had helemaal niks te maken met dat er iets mis was in mijn zwangerschap. Ik kreeg gewoon een glucose drankje, en dat bekertje deed me daar aan herinneren.
Ook ineens begin ik te beseffen waarom ik daar zo bang was, ik begin te vertellen dat ik toen zo bang was om me kindje te verliezen. Dit heb ik nooit bewust gevoeld om mijn kleintje te verliezen, maar toch zat het er blijkbaar. Waarop ik een reactie krijg er zat hier zoveel angst he, je hebt hier veel mee gemaakt. Even haal ik een herinnering op, de keer dat ik daar samen met mijn schoonmoeder was. Ze heeft toen voor het eerst een echo gezien. Dit kende ze nog helemaal niet, en vond het zo mooi dat ze dit mocht meemaken. Voor mij was het een erg emotioneel bezoekje toen. Dit was de laatste controle daar omdat ik hierna gelijk werd opgenomen.De verpleegkundige nam me even apart omdat ze merkte dat ik erdoor heen zat. Ik begon heel erg te huilen omdat ik het op deze manier niet meer aankon. Twee keer in de week naar het ziekenhuis, en thuis elke dag thuismonitoren en me opgesloten voelen. Afhankelijk van me schoonouders vond ik nog veel moeilijker, want hulp vragen is niet mijn ding. Ja ze deden het met alles liefde dat weet ik. Maar ik was gewoon helemaal op. Ze lieten me toen de keuze voor opname, en uiteindelijk heb ik dus voor mezelf gekozen en me laten opnemen.
We beginnen spontaan samen te lachen, want we willen hier een mooie herinnering aan maken. Ze stelt lacherig voor om nog even in de lampen te gaan hangen of de boel kort en klein te slaan. Ja helaas deze dingen mogen natuurlijk niet dus ik stel iets anders voor. Ik zeg tegen haar "zal ik dan maar even een echo van je maken, ga maar in de stoel liggen" Dat hoefde ik geen tweede keer te zeggen of ze ligt er al. Met de grootste glimlach die ik van haar ken. We schieten weer heel erg in de lach en moest hier gewoon een foto van maken. Dan ben ik er klaar voor om de ruimte te verlaten. We zoeken nog even naar die vriendelijke balie medewerkster om gedag te zeggen, even staan we nog te praten voor we echt weer richting de auto gaan.
In de auto ben ik echt heel stil, voel me even helemaal leeg. Er wordt zo nu en dan tegen me gepraat, maar alles gaat een beetje langs me heen. Ik hoor Annelies ver weg zeggen "kijk wat een mooie kleuren al die bomen" Onbewust kijk ik maar reageer er niet op. De rest van de rit kijk ik maar vooruit, hoor de muziek maar voel mezelf even niet in mijn lichaam. De auto komt tot stilstand bij de supermarkt, omdat ze nog even wat boodschappen moet halen. Ik zeg nog even "vergeet de koffiebonen niet" Waarop ze zegt "nee en de wc papier" en loopt zonder mij naar de winkel.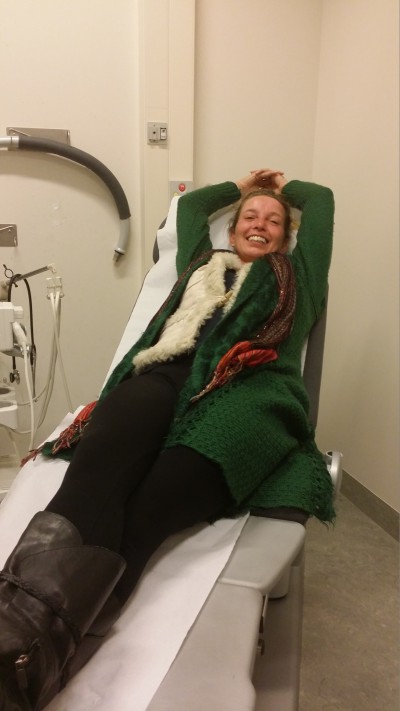 Eenmaal terug bij haar thuis, ben ik zo moe en leeg dat ik even nergens zin meer in heb en leg mezelf op de bank. Ondanks ik zo vreselijk moe ben hebben we er nog een mooie avond van gemaakt.
Comments
comments