Het leven van Max en z,n mama *8 maanden*
De 22 ste hadden we weer een kleine mijlpaal bereikt, want Max is inmiddels alweer acht maanden oud. En wat geniet ik intens van dit heerlijke mannetje. Hij eet goed, hij slaapt goed, is bijna altijd vrolijk, huilt bijna niet en is dus eigenlijk best makkelijk in de omgang. Ik kan me er nog steeds niets bij voorstellen dat ik het in het begin zo moeilijk vond met hem. Dat ik vond dat hij veel huilde, ja als hij slaap te kort komt omdat hij steeds beneden was kan dat ook wel. Maar het ging vooral omdat ik niet tegen het huilen kan, maar de flashbacks nemen af. Of dat nou door EMDR komt of omdat Max eigenlijk bijna niet huilt weet ik niet. Hoop het eerste, want als Max weleens een huilbui zou krijgen. Wat niet onvermijdelijk is, wil ik daar geen last van hebben natuurlijk. En ik blijf het zeggen dat ik zo blij ben dat ik nu zo enorm kan genieten van hem. Dat is in het begin echt wel even anders geweest.
Samen aan tafel
Hij is nu twee keer de leeftijd wat Daan geworden is, en ik ben helemaal niet meer bang om Max te verliezen. Wat geeft dat een rust in mijn hoofd, natuurlijk zijn er weleens momenten dat je ergens van schrikt of denkt dat het niet goed gaat. Bijvoorbeeld ik vond het heel eng hem te laten wennen aan brood eten geven. Want hij kreeg daar stikneigingen van, maar ja hij moet het ook leren om te kauwen en doorslikken. Nu ben ik dus dankbaar dat ik nog altijd hulp thuis heb van Martinizorg. Ze kijken voornamelijk gewoon met je mee in de zorg, en praten en komen met tips. Zo heb ik dus samen met iemand Max brood gaan geven. Ik was er al eens aan begonnen maar dus ook weer gestopt. En na deze keer ben ik gaan doorzetten, en ja Max eet nu als hij thuis is elke keer een half broodje in de middag. Vanaf deze week bied ik hem een heel broodje aan, en dan mag hij ook van mij in het nieuwe jaar op de kinderdagverblijf ook een broodje eten. Ook heeft hij nu een tuitbeker waar ik hem uit probeer te laten drinken, elke dag bied ik hem bij zijn broodje thee aan. Maar tot nu toe blijft het meer bij spelen met zijn beker dan echt drinken. Ben benieuwd wanneer hij er echt meer uit gaat drinken. Hij zal vast wel genoeg vocht binnen krijgen met zijn drie flessen melk en het fruit wat hij krijgt. Zo niet dan gaat hij echt wel drinken eruit.
Wat ik dan ook zo gezellig vind nu is dat we in de weekenden dus nu als gezin aan tafel zitten. Max zijn eigen broodje en wij ook wat eten. Kan niet wachten tot we dit elke dag kunnen doen en ook in de ochtenden en avonden dat we lekker als gezinnetje samen aan tafel kunnen eten. Lekker burgerlijk, maar daar houd ik wel van.
Zelfs heb ik hem van de week voor het eerst een soepstengel gegeven om te eten, dit ging redelijk goed. En ook met banaan ben ik gedeeltelijk gestopt om het te prakken, als we de tijd hebben om hem in stukken te geven doe ik dat. Hij hapt gewoon af van de banaan, maar te grote stukken zodat hij er niets mee kan in zijn mond nog. Dus geef ik hem kleinere stukken in zijn mond, dit gaat hem goed af. Steeds meer leert hij met eten en steeds meer dingen leert hij kennen aan producten.
De eerste keer naar MC Donalds
Op kerstavond gingen we als gezinnetje naar de MC Donalds, Max eet dan nog wel niet mee. Maar hij vond het helemaal geweldig zo,n nieuw avontuur te beleven. We zette hem in de kinderstoel, want thuis doen we dat ook al een tijdje. En zodra het eten op tafel werd gezet, trok hij het dienblad al met zijn handje naar hem toe. Echt geweldig om hem zo te zien, ook keek hij zijn ogen uit. Overal om zich heen kijken. En natuurlijk moest er een frietje geproefd worden, alleen echt opeten ging nog niet zo goed. En toen kwam er een vrouw met dochter langs die ook een dienblad met eten vast had. Max keek om en volgde het helemaal, je zag hem denken lekker geef maar aan mij. Deze vrouw reageerde er ook nog eens heel grappig op. En Max die bleef maar staren naar de tafel waar ze gingen zitten. Toen moest er natuurlijk ook nog even van papa,s milkshake geproefd worden en dit viel erg in de smaak.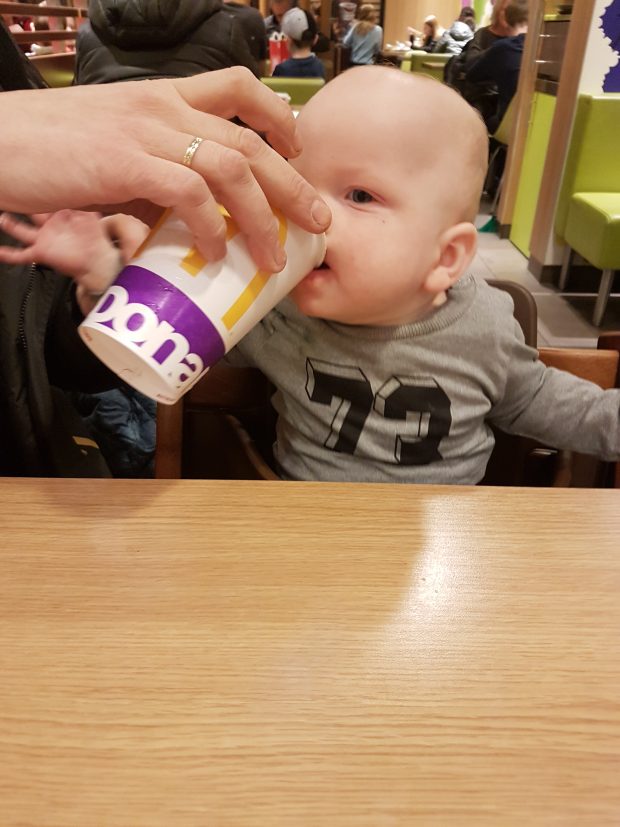 Op naar de negen maanden, en dan zou het leuk zijn als hij inmiddels kan kruipen. Dus wie weet…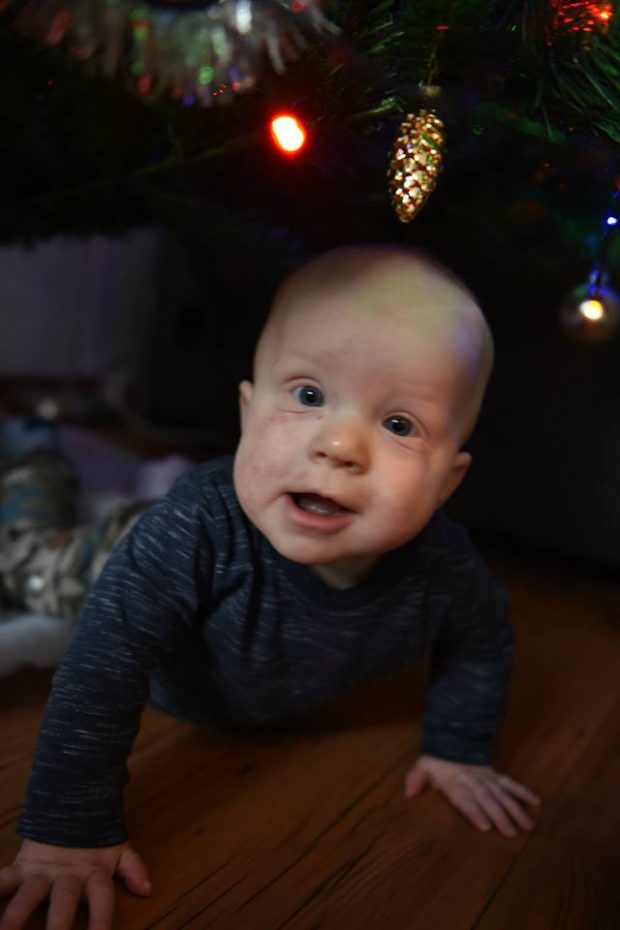 Onze kerstbengel van acht maanden oud wenst jullie allemaal een hele fijne tweede kerstdag
Comments
comments