Take a look at my life *week 6*
Sinds Max er is vergeet ik gewoon vaak foto,s te maken. Dan ben ik of druk bezig, of aan het genieten van Max. Ook als we samen op pad gaan, dan pak ik gewoon minder vaak mijn mobiel erbij om foto,s te maken. Het is er gewoon ingeslopen. Aan de ene kant niet erg, want ik ben er dan voor Max en te druk met er over nadenken een foto te maken. Maar soms vind ik het ook wel jammer, minder foto,s hier en minder foto,s van Max. Maar het is zo, en wie weet komt dat wel weer terug dat ik meer denk aan foto,s maken van alles om mij heen. Heb dus maar weer een paar foto,s van deze week die ik jullie kan laten zien. Kijk gezellig mee, naar afgelopen week.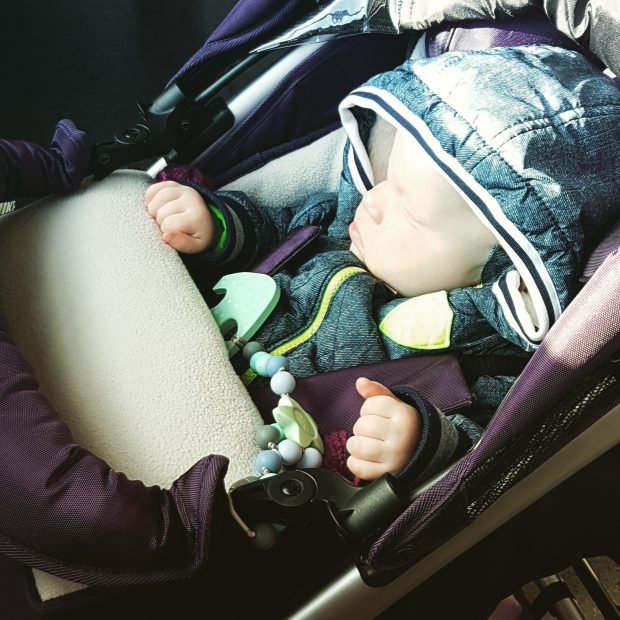 Na drie maanden weer terug in het ziekenhuis voor de voetjes van Max. Ja het gaat goed ermee. De arts is blij te zien dat hij zelf zijn voetjes corrigeert, maar zei ook dat hij waarschijnlijk in de toekomst wel ondersteuning nodig heeft. Dat is dan wel weer een momenten van balen, maar dat zien we dan wel weer. Nu gaat Max het zelf afbouwen zijn schoentjes, omdat hij minder overdag gaat slapen. Max was hier dus wel erg moe, na het ziekenhuis bezoekje. Al is het bezoekje maar vijf minuten, we zijn wel een tijd onderweg zodat hij ook slaap heeft gemist. Maar Max is eigenlijk heel makkelijk en nooit vervelend ondanks hij moe is. Je hoort hem bijna nooit als we op pad zijn. Dit was de eerste keer dat hij toen we nog in het ziekenhuis een broodje aten, hij daarna even een keel opzetten met huilen. Dat was nog geen vijf minuten en hij was alweer stil.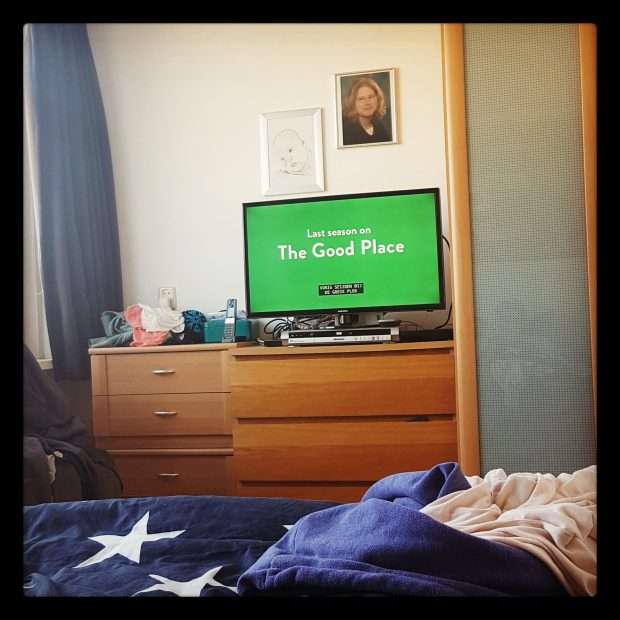 Ik was aan het dweilen geweest, dat is het meest handige als Max op de kinderopvang is. Nu moest ik verplicht boven blijven omdat het beneden nat was. Nou dat was voor nu even geen straf, lekker serie kijken op Netflix. Maar daarna was ik in slaap gevallen, en dat was iets minder omdat toen ik wakker werd het 17.00 was. En ik enorm schrok, ik moet nog eten maken en normaal haal ik Max om 17.15 op van de kinderdagverblijf. Gelukkig ik kwam beneden en mijn man was al aan het koken. Zo kon ik Max wel iets later ophalen, maar wel op tijd genoeg voordat het daar sluit. Ik was wel echt de hele tijd duf en had hoofdpijn. Ben niet meer gewend tussen de middag te slapen. En dit was toch wel twee uurtjes slaap in de middag.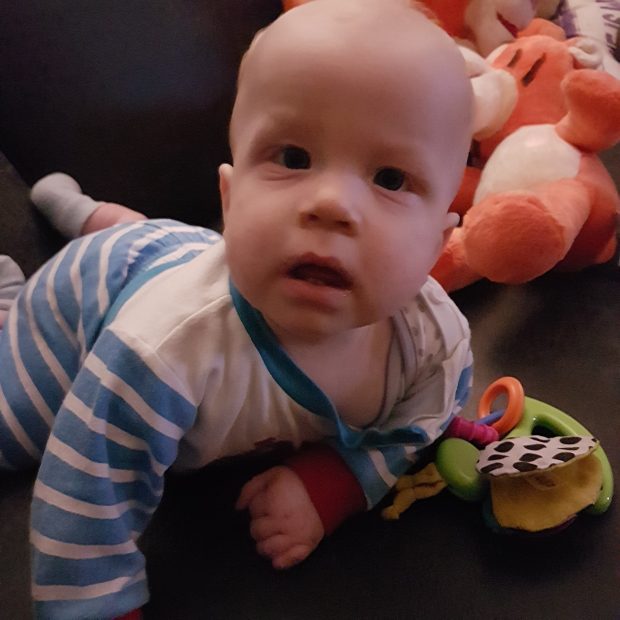 Gisterenavond voor de laatste fles nog even spelen, ja ik lig lekker op de bank te spelen. We waren namelijk liedjes aan het zingen, maar Max was lekker druk dus heb hem maar op de bank zijn gang laten gaan.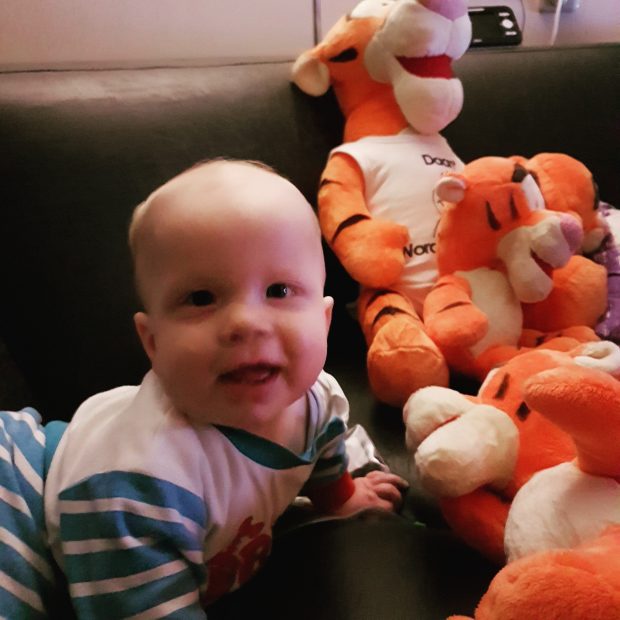 Nog even lachen voor de camera, dank je knul. En dan kreeg hij een heerlijke fles melk en kon hij daarna zijn bed in. Rust voor ons allemaal in huis. Manlief ziek, dus ging vroeg op bed tv kijken. Zelf kreeg ik heel erg hoofdpijn en kwam een uurtje later ook in bed. Wilde wel tv kijken, maar toch ben ik gaan slapen. Moest er ook weer de volgende dag vroeg uit, normaal is zondag voor mij uitslaapdag. Maar omdat mijn man ziek is heb ik de zondag ook van hem overgenomen.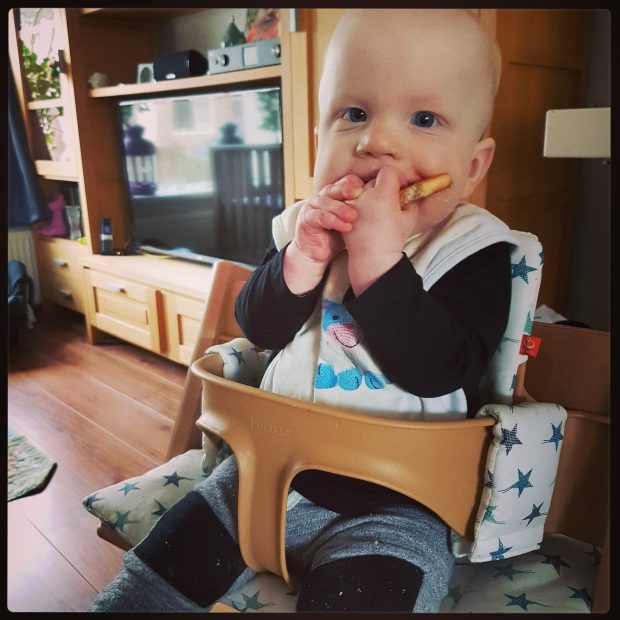 Lekker een koekje eten, momenteel heeft hij er een handje van om steeds zijn koekje op de grond te gooien. Schijnt leuk te zijn. De rommel ervan vind ik minder leuk, maar daar moet ik toch echt aan gaan wennen met een kind in huis. Ja alles wordt gewoon vies als je kleine eet, maar probeer het nu nog steeds zoveel mogelijk onder controle te houden. Het echte werk komt pas als hij ook zelf zijn broodje en avond eten gaat eten. Ach ja, maar moet je zien hoe lief hij op de foto staat. Ons boefje.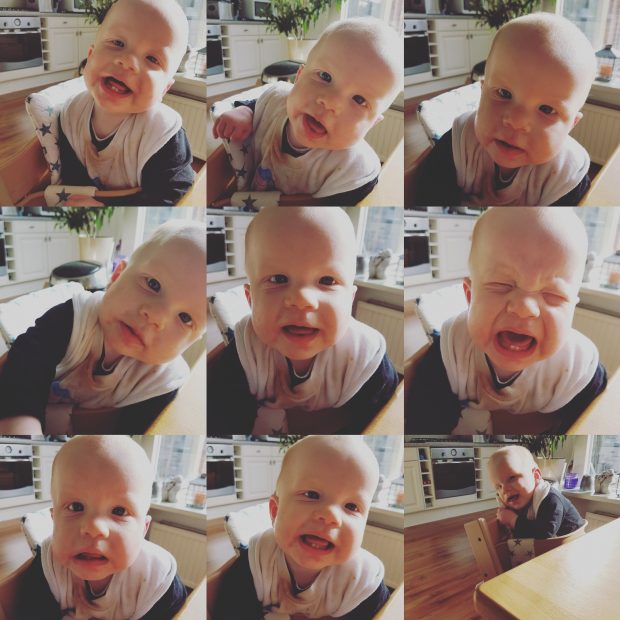 Zo heerlijk een mannetje met zoveel gezichten. Ik hou er echt van.
Wanneer lieten jullie je kindje voor het eerst zelf alles eten?
Comments
comments