Je baby in beeld als het slaapt
We zijn deze zwangerschap niet heel erg druk bezig geweest met veel nieuwe baby spullen te kopen. Want het meeste hadden we natuurlijk al, en was gewoon nog bijna helemaal nieuw. Ook hoefde we niet te kijken naar een babyfoon omdat we ook die al hadden. Toch vonden we het stiekem wel leuk er eentje te hebben met camera. Dat wilde we bij de eerste zwangerschap al zo,n eentje aanschaffen, maar wilde er niet zoveel geld voor uit geven. Hoe leuk is het dan dat ik gewoon via mijn blog een babyfoon mag uitzoeken van Alecto Baby. Dus ben ik gelijk gaan kijken voor eentje met een camera. Want het is natuurlijk ook leuk als je baby kan zien en niet alleen kan horen als het nodig is.
Verschillende babyfoons
Een babyfoon met camera
Veel moeders kennen dat: je zou wel elk uur naar je slapende kindje kunnen kijken. Gewoon omdat het fijn is of om even te checken hoe het gaat. Met een babyfoon met camera heb je altijd ogen en oren in de babykamer. En als die beeldbabyfoon van Alecto is, weet je zeker dat je 'ogen' je niet in de steek laten.
Wifi babyfoons
Eerst was er de babyfoon.Toen de babyfoon met camera. En de nieuwste innovatie de babyfoon met camera en WiFi. Deze productcategorie is in opkomst en erg populair bij jonge ouders. En wie de mogelijkheden ziet, snapt wel waarom.De techniek van babyfoons met camera en WiFi is bijzonder. Je sluit de beeldbabyfoon aan in de kamer van je kindje. Het apparaat maakt verbinding met je thuisnetwerk via WiFi. En vanaf dat moment kun je vanaf overal ter wereld je kindje monitoren met je smartphone of tablet. Ook kun je bijvoorbeeld de grootouders van je kindje of je buren laten mee kijken. Wel zo veilig.
Audio babyfoons
Als alle toeters en bellen niet zo aan jou en jouw kindje besteed zijn hebben we ook gewone audio babyfoons. Die precies doen wat je van een babyfoon verwacht: je kindje horen op het moment dat je het hardst nodig bent in zijn of haar leventje. Nuttige apparaten waar je op kan vertrouwen, zonder enige opsmuk
Babyfoons met groot bereik
Jonge ouders die wat ruimer behuisd zijn. Of het geluk hebben van een grote tuin. Wil je dan over wat langere afstand het contact met je kindje in stand houden? Dan ben je op zoek naar een babyfoon met groot bereik! Je bent dan bij Alecto aan het goede adres. We hebben in ons assortiment twee soorten babyfoons die werken over langere afstanden dan gemiddeld: analoog en – uniek in de markt – ook digitaal!
Onze keuze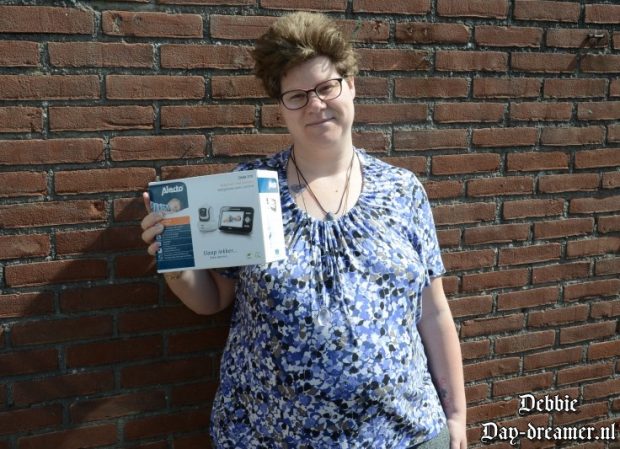 Eigenlijk wilde we graag een babyfoon die je ook met Wifi kan aansluiten op je telefoon, maar die was niet op voorraad. Dus kozen we deze alleen met camera. Ook heel fijn, maar is het echt zo fijn als ik denk nu. Ik ben eigenlijk al bang dat ik zo,n 20 keer heen en weer zal lopen om te kijken of me kindje het nog wel doet. Is dan zo,n camera dan juist wel de goede keuze. Misschien juist wel dat ik dan minder geneigd ben steeds de baby kamer in te lopen. Dat ik kan zien op de camera dat de kleine gewoon rustig slaapt, of zie je dat niet zo goed op camera. Nou dat gaan we pas ontdekken als de kleine eenmaal in het bedje mag liggen en er een camera gericht is op hem/haar.
Wij kozen dus voor de babyfoon met camera DVM-370
Prijs: €189,00
Hebben jullie een babyfoon en wat voor soort dan?
Comments
comments