Dagje huishoud/negen maanden beurs
Gisteren ben ik een heerlijke dag weg geweest samen met mijn vriendin. Ik was al op tijd op pad omdat we om 12:00 op Amsterdam Rai af hadden gesproken. Een gezellig dagje huishoudbeurs/negen maandenbeurs. Bij binnenkomst als eerste maar even de jas afleveren, en ja een wc opzoeken… Je bent zwanger of niet he!!! We besloten daarna gelijk de negen maanden beurs op te gaan, we hadden eerlijk gezegd niet verwacht dat we daar heel lang zouden rondhangen. Wel langer dan normaal als we er gewoon even overheen liepen, nu had ik een echte reden om erheen te gaan. Maar 3 uur over die beurs heen lopen was echt vet veel gewoon. Tijd te kort dus om ook alles van de huishoudbeurs te zien… Wat natuurlijk wel heel jammer is, maar we hebben een heerlijke dag gehad.
Negen maandenbeurs: Heel veel informatie vond ik, maar wel weinig aanbod voor leuke dingen te kopen. Ja heel veel wandelwagens, maar daar hoefde ik niet naar te kijken die staat hier al klaar. Kwam vele bekende merken tegen ook minder bekende merken. Nou kwam ik iets heel leuks tegen van het merk Chicco, ik vragen hoe duur het is want er stond geen prijskaartje op. Wordt me gewoon doodleuk verteld dat ze daar niet werden verkocht. En ze hadden er zelfs geen folder van, nou lekker dan. Ga ik net op de site zoeken kom ik het ook niet tegen, best jammer spullen laten zien op de beurs en niet kunnen kopen. Maar ga zeker nog verder opzoek ernaar. Ook stonden er heen veel stand voor geboortekaartjes, ohh wat vind ik dat moeilijk zeg. Dat gaat nog een hele klus worden iets moois te verzinnen. Wat ik het meest gave idee vond daar waren houten kaartjes dat had ik nog nooit gezien, daar nam ik natuurlijk een folder van mee. Elk kindje is bijzonder en hoort een bijzonder kaartje bij.
Toen kwamen we langs de stand Moeders voor moeders, waar ik al een keer eerder over schreef. Ze hadden daar iets heel gaafs, en daar bleven we wel even voor wachten. Er was een man die karikaturen maakte hoe je baby er uit komt te zien. Je laat een foto van je partner zien, hij vroeg wel of ik wist wat het geslacht van ons kindje is. Maar ik besloot te zeggen dat ik wel benieuwd ben of hij het goed zou hebben. Toen wilde hij alleen nog weten wat ik en mijn partner voor werk deden, en begon te tekenen. Ik moest zo lachen toen hij de tekening liet zien, zo geweldig gedaan. En ja hoor hij had het ook nog goed. Dat is dan ook de reden dat ik er geen foto van opzet, die houden jullie tegoed als de kleine er is. Beloofd.
Natuurlijk heb ik ook wat gekocht… maar minder dan ik gehoopt had, maar toch nog genoeg geld uitgegeven. Shoplog komt eraan hiervan.
Huishoudbeurs: Toen hadden we nog 3 uur over om te shoppen op de huishoudbeurs, veelte kort dus. Als eerste de food/drinks hal in gegaan. We wilde nu wel al dat lekkers gaan proeven, maar ik zat al snel vol. Heb natuurlijk wel wat lekkere dingen meegenomen. Zo heb ik bij "t,stoepje" een heerlijke kruidkoek gekocht, normaal neem ik de hele tas mee met lekkere dingen maar nu ging ik echt alleen voor de kruidkoek die is gewoon het lekkerst. Dan hebben we heerlijke soep geproefd van "Struik" Ik wist al dat die lekker was, dus gelijk ook maar 3 potten mee genomen: Tomaat, kip en erwtensoep. Dan stonden ze ook met hotdogs, en daar kocht ik ook een blik van. Dat kan ik niet laten staan voor maar 1 euro. Nog meer snacks geproefd, zoals frituur spul maar dat heb ik niet meegenomen. Was allemaal al zwaar genoeg wat ik bij me had.
Natuurlijk nog even gek doen, om op de foto te gaan…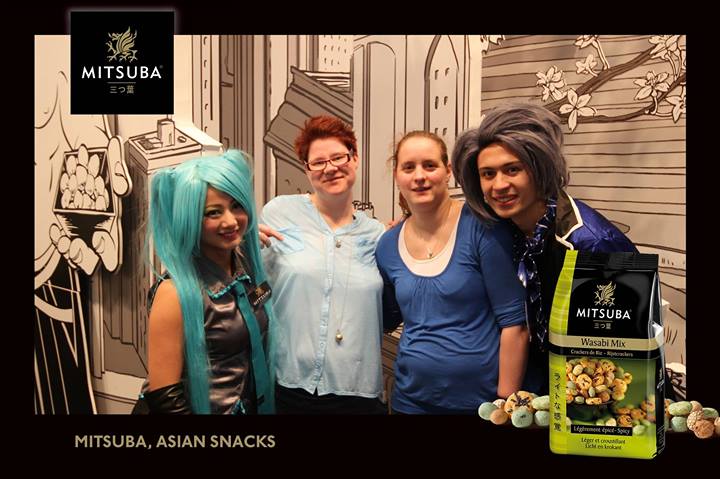 Toch vind ik het heel jammer dat we niet alles hebben kunnen zien door tijd gebrek. We zijn nog wel even langs Cafe Beb geweest, daar kon je voor opgeven om even een klets praatje te maken en daarmee kon je dan weer een huishoudbeurs kaartje voor 2015 krijgen. Dus wij er naar binnen, en echt heel druk was het niet. Maar er was geen tafel vrij dus werden we aan de bar gezet met een drankje. (gratis) Toen waren we aan de beurt en het zou een praatje worden over het tv gebruik door het bedrijf UPC. Nou prima snel verdiend zo,n kaartje… Maar er zat nog een opdracht aan vast, wat uiteindelijk ook wel grappig was. Uit bladen plaatjes halen wat voor jouw positief en negatief is van tv en hun zouden de teksten erbij zetten en opplakken. Dus we zijn ook nog even creatief geweest.
Als afsluiter op de beurs nog een heerlijke Swirl gegeten, lekker afkoelen want wat is het daar warm zeg. En toen werd er al omgeroepen dat de beurs dicht ging, dus moesten we de uitgang gaan zoeken. Mijn vriendin ging de jassen ophalen en ik natuurlijk nog even plassen. Nu begon de ramp het station, want de beurs liep leeg en het was me toch druk daar. Maar we zijn uiteindelijk veilig in de trein gestapt richting Duivendrecht, daar hebben we even op ons gemakje een patatje met snack gegeten. Echt een andere mogelijkheid was daar niet. En toen kwamen er berichten binnen over trein storingen en vertragingen. Dus maar even gevraagd bij de info balie hoe mijn vriendin dan in Den-Haag weer kon komen, helaas met een omweg via Rotterdam. En bij mij zou ik eigenlijk op Zwolle moeten overstappen, maar in de trein veranderde dat en kon ik lekker blijven zitten tot Groningen. Maar heb nog nooit zo,n vreselijke treinreis gehad, kon niet zo goed tegen het gewiebel werd er toch misselijk van. Dus was blij toen ik op Groningen aankwam en de bus naar huis kon nemen.
Thuis heel even gekletst met mijn mannetje en de spullen laten zien, toen moest hij gaan werken en ik ben onder de douche gegaan. Daarna gelijk op bed, ik was doodop viel dan ook snel in slaap.
Comments
comments