HAPPY CHALLENGE mijn droom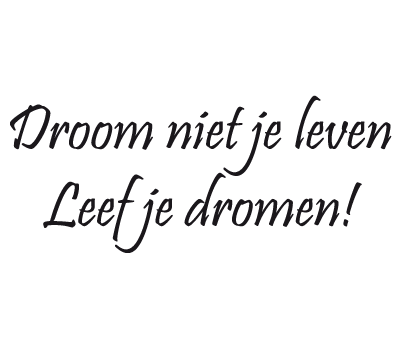 Mijn grootste droom is altijd geweest om met olifanten in de dierentuin te werken, maar toen ik jaren geleden ziek werd (ME) brokkelde steeds weer een stukje van deze droom af. Heel lang heb ik dit volgehouden om hiervoor te gaan. Maar uiteindelijk toen mijn opleiding te zwaar werd en ik letterlijk in mekaar stortte moest ik er toch echt aan geloven dat deze droom nooit werkelijkheid zou worden. Met pijn in me hart heb ik dan ook me studie gestopt en ben ik mezelf weer bij elkaar gaan rapen. Tijd voor een nieuwe droom, of eentje die er altijd wel zat maar nu pas echt vormen aan gaat nemen.
Mijn droom is hier al vaker te sprake gekomen en dat is mijn kinderwens. Inmiddels mag ik in me handen knijpen dat ik zwanger ben, maar heb heel hard voor deze droom moeten vechten.
In eerste instantie vroeg mijn naaste me vaak af of dit wel echt voor mij weg gelegd is om mama te worden, aangezien mijn chronische vermoeidheid syndroom. Maar jaren geleden hebben mijn vriend en ik deze beslissing genomen dat we hieraan wilde werken. Ook dat heeft wel een tijd geduurd omdat mijn vriend het eerst ook zeker niet aandurfde met me vanwege mijn beperking. Maar die beslissing kwam er toch langzaam wel in. Nooit bij stil gestaan dat het ook weleens niet mogelijk zou kunnen zijn, waar we pas na jaren achter kwamen dat het echt niet gemakkelijk is om zwanger te raken. Na veel praten, verdriet en zelfs ruzie,s toch besloten de medische weg in te gaan. Mijn moeder die als enige daarvan op de hoogte was, vond het nogal een grote stap. Of ze het echt verstandig vond niet echt geloof ik, maar toen ze merkte dat ik steeds sterker werd door dat ik vele kilo,s aan het verliezen was kreeg ze het vertrouwen dat ik dit wel aankon. En ook dat kindje wat er hopelijk mocht gaan komen.
Met tranen in me ogen schrijf ik dit bericht, maar ik ben een heel eind op weg naar mijn droom. Ben nu op de helft van mijn zwangerschap, en weet nu na al de ellende die wij hebben doorstaan we alles aankunnen.
(Deze droom heeft een vreemde wending gekregen, ik schreef dit bericht voordat we de 20 weken echo hadden en ben letterlijk van die mooie wolk gekletterd. Hier later meer over)
Comments
comments