Inspiratie kerst top 5
Kerstboom
Ja met kerst staat echt met stip op 1 de kerstboom. Dit vind ik altijd zo gezellig in huis staan. Wat ik zelf een klein beetje jammer vind is dat we een nep boom hebben en dat houd in dat ik het opzetten zelf niet zo heel leuk vind. Maar de boom versieren met kerstballen, slingers en lampjes vind ik helemaal leuk. Dit doen wij als partners altijd samen. En dan voel ik de kerstsfeer altijd er al wel inkomen. Vaak zetten we dan ook muziek op, dan is het nog gezelliger. Voor deze kerst hebben wij een nieuwe kerstboom gekocht, de oude had zijn beste tijd wel gehad. Dus voor we gingen verhuizen is die met het grofvuil mee gegaan. Omdat we dit keer wel Sinterklaas hebben gevierd vanwege Max, hebben we wel gewacht tot de beste man weer het land uit was om de kerstboom op te zetten.
Cadeautjes onder de boom
Max is al super verwend met Sinterklaas, dus ik denk niet dat er nog cadeautjes onder de boom gaan voor hem. En voor onszelf helemaal niet. Maar dat gaat natuurlijk in de toekomst wel gebeuren. Zodra Max er wat meer van snapt is het ook gewoon heel leuk voor hem. En hij kan ook niet met alles te gelijk spelen, dus voor nu heeft hij wel genoeg om zich mee te vermaken.
Maar ik ga jullie natuurlijk wel een leuke tip geven voor een leuk cadeautje voor je kleine, voor mama en voor de papa.
Voor de kleintjes onder ons
VTech Baby Baby Walker Oranje – Loopwagen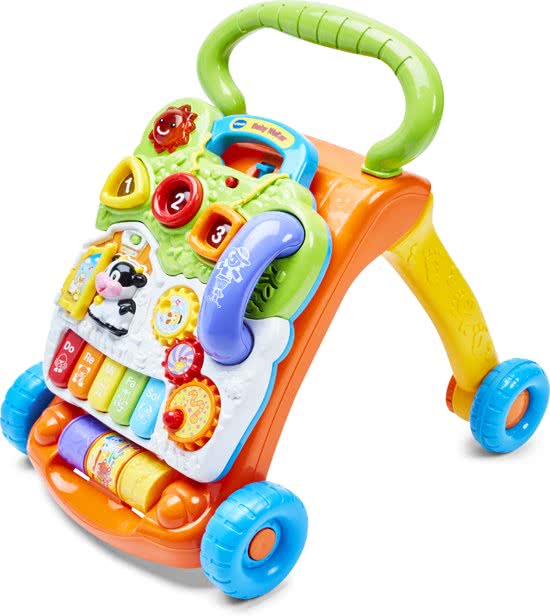 Deze heeft Max gekregen voor Sinterklaas, en ik vind hem helemaal geweldig. Max is aardig nieuwsgierig geworden in knopjes, dus het is een ideaal ding voor hem nu. Alles maakt ook geluid, en dat spoort hem natuurlijk meer aan om de knopjes in te drukken. En helemaal leuk dat als hij straks leert staan, dat hij hiermee ook door de woonkamer kan gaan lopen. Zover is hij nog niet, maar dat komt zeker nog wel. Dus de komende tijd is hij hier zoet mee. En dus echt een aanrader voor jullie kindje in de leeftijd van Max.
Voor de mama,s
Mama,s kan je vaak blij maken met iets van bling bling, dus een mooi sieraad is haast nooit verkeerd. Zo kreeg ik de kans om iets moois uit te mogen zoeken bij Kaya sieraden. Dit keer wilde ik graag gaan voor een mooie ring. Maar dit vind ik vaak lastig online, want je kan niet passen. Dus bestel je wel de goede maat. Maar na een paar keer heen en weer gemaild, kreeg ik thuis een meetringetje. Hiermee kon ik zelf meten hoe groot de ring zou moeten zijn om mijn vinger. Dit vond ik echt wel heel handig, en zo bestelde ik een ring op maat. Een mooie ring met beide namen van mijn jongens erin. En hun geboortestenen. Wat is de ring mooi geworden, ik denk dat iedere moeder hier blij van zal worden.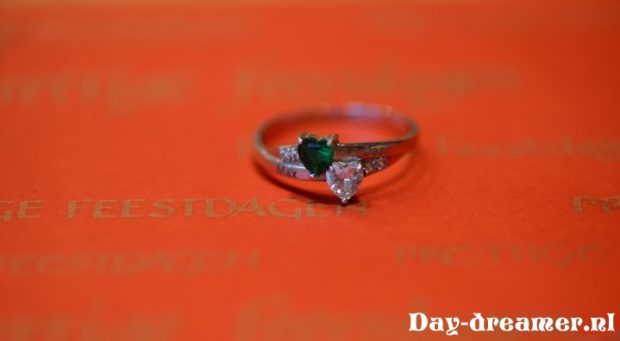 Voor de papa,s
Ik vind het persoonlijk altijd heel moeilijk om voor mijn partner en dus de papa van Daan en Max een cadeautje te geven. Toch denk ik dat vele papa,s wel blij worden van een lekker geurtje, dus daar zou ik dan voor kiezen als wij weer aan cadeautjes zouden gaan doen. Een geurtje is vaak wel heel persoonlijk, want er zijn zoveel verschillende geurtjes en niet alles valt goed in de smaak bij de papa waar het om draait.
Lekker eten
Vaak wordt er ook op de kerstdagen vele lekkere dingen ingeslagen om te eten. Wij gaan eigenlijk altijd 1 van de dagen gourmetten, dit jaar gaan we dat ook doen. Maar nu wel thuis met mijn schoonfamilie erbij. Dit is de eerste kerst dat familie bij ons thuis kerst komen vieren. Dus ben inmiddels druk aan het kijken wat er op het boodschappen briefje moet, zodat niet alles op het laatste moment gebeuren moet. We hebben al wat vlees in de vriezer liggen, maar er moet zeker nog meer bij komen. En wat dacht je van lekker stokbrood, salade en wat groenten erbij. Want gourmetten is natuurlijk veel meer dan alleen vlees bakken. Vooral vind ik het gewoon heel gezellig aan tafel en dat zal dit jaar vast niet anders zijn.
Familie
Ja ik zei het al even dat dit keer mijn schoonfamilie bij ons thuis kerst komen vieren (eerste kerstdag) Hier wordt ik wel blij van dat het dit keer bij ons thuis is. Juist omdat we nu de ruimte hebben in ons eigen huis. En ik vind het wel makkelijk met Max. Dat hij gewoon zijn ritme thuis kan houden en gewoon lekker in zijn eigen kamertje kan slapen als hij moe is. Het zal al druk genoeg voor hem zijn, dus ik ben blij dat familie bij ons komt. En kerst staat voor familie en vrienden bij elkaar hebben, gezelligheid in huis. En ik heb hier enorm zin in. Aan de ene kant mist er natuurlijk een persoontje, maar het is de eerste kerst voor Max wat het ook weer heel bijzonder maakt.
Kerstliedjes
Al weken hoor je de kerstmuziek op de radio, eerlijk gezegd vind ik dat altijd wel heel vroeg al. Maar traditie is hier in huis als de kerstboom wordt opgezet moet er ook gezellig kerstmuziek op gezet worden. Vind die voorpret vaak ook wel leuk. Lekker met al die kerstliedjes meezingen, maar het is ook wel weer fijn als deze drukke periode voorbij is.
Top 3 kerstliedjes
We wish you a merry Christmas

Jingle bells, Jingle bells, Jingle all the way!

Rudolph the red nosed reindeer
Wat vind jij het leukste aan de feestdagen?
Comments
comments