Kerst kleding shoppen, nu of nooit?
Tijdens de kerst doen we extra ons best. We zoeken een mooie jurk uit, besteden meer aandacht aan onze make-up of steken ons haar op. Daarna gaan we opzoek naar mooie glimmers en stijlen onze outfit met een paar mooie oorbellen, een ketting of armband. Graag vertelt Couponcode.nu je meer over de kerst voorbereidingen.
Kerst shoppen
Als je nog opzoek bent naar jouw kerstoutfit, werp dan eens een blik op Couponcode.nu voor korting op feestkleding. Hier vind je namelijk de laatste acties. Uiteraard moet je wel weten waar je naar opzoek bent.
Kies je kleur
Ga je voor veilig? Dan draag je deze kerst een zwarte jurk. Er zijn echter ook prachtige jurken met diepe kleuren verkrijgbaar. Denk aan kleuren als smaragd groen of kersenrood. Als je een gekleurde jurk uitkiest, kijk dan goed naar de kleuren van je haren, huid en ogen. Deze maken namelijk dat een jurk je geweldig staat of het net niet helemaal is.
Ken je vormen
We zijn allemaal verschillend en dat maakt ons juist zo mooi. Nu is het wel handig dat je weet hoe je jouw figuur het beste kleed. Heb je wat bredere heupen? Trek de aandacht naar boven met een mooi jasje. Heb je een voller figuur? Zorg voor lijnen of getailleerde kleding. Heb je een kleine boezem? Zorg voor een print of stiksels op de borstpartij.
Voordeel van online
In de winkel helpt een verkoper je, maar het advies wat je krijgt is natuurlijk niet altijd betrouwbaar. Bij twijfel, koop je de jurk niet. Wanneer je online shopt hebt je dit probleem niet, je besteld gewoon een paar jurken en past deze in alle rust thuis. Bij de meeste webwinkels mag je deze trouwens ook gratis retourneren.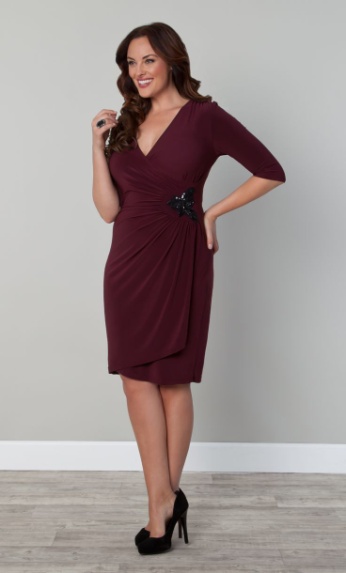 (bron: http://www.pinterest.com/pin/10485011604097610/ )
Comments
comments