Mijn grootste verdriet
Mijn hart schreeuwt van pijn en verdriet het uit. Zo klein zo mooi en zo jong. Het mocht er niet zijn.
Nog geen 4 maanden ben je bij ons geweest, en wat hebben we al veel met je mee gemaakt.
Ons lieve kleine draakje is Vrijdag 12 september in de avond in mijn armen voorgoed in slaap gevallen.
De dag ervoor waren we nog op controle bij de kinderarts en spraken onze onrust uit over dat we dachten dat hij spruw had. En ja dat klopte, maar zoveel kindjes krijgen dit. Er werd medicijn voorgeschreven en ze zei nog over een paar dagen moet het zeker over zijn. Verder was alles in orde. En mochten nadat we bij de diëtiste waren geweest naar huis.
Hij was al dagen huilerig, maar niet zo gek vanwege de spruw. Ik lag maandag nog in het ziekenhuis, en toen dachten we dat hij mij miste. Maar die woensdag dat ik thuis kwam bleek anders. 2 nachten hebben we wakker gelegen voor hem. En ons mannetje was helemaal niet zo. Die vrijdag heb ik hem bijna de hele dag in me armen gehad. Had ik hem niet in me armen dan had zijn vader hem in de armen. Of lag hij bij me op de bank of in bed. Het moment van overlijden lag ik op bed met hem. Hij op zijn buikje tegen mij aan. Hij snikte, niet meer echt huilen. Ik dacht hij is nu zo moe dat lukt hem niet meer. En valt zo wel in slaap. Mijn vriendin belde, waar ik alleen maar heel blij van werd. Dat heeft ongeveer 10 minuten geduurd. Ik hang op en merk dat kleine Daan niet meer beweegt. Ik twijfel of je kan voelen dat hij slaapt. Maar ik voelde helemaal niks. Mijn man komt binnen vanuit het ziekenhuis om medicijnen te halen voor de kleine. En gelijk roep ik hem dat hij niks meer doet. Hij komt aan en voelt. Ook hij voelt niks, en zegt me 112 te bellen. Dat heb ik gelijk gedaan, die heeft me begeleid wat mijn man moest doen. Hij heeft hem geprobeerd te reanimeren. Maar helemaal niks. Voor we het wisten stond ons huis vol met politie, ambulance personeel enz… Ze hebben hun uiterste best gedaan om onze kleine draakje terug te halen. Maar het was te laat. Zijn hartje was in een keer gestopt. Hij was er gewoon echt niet meer.
Ik kreeg hem in me armen en zat zo een hele tijd met hem op de bank. Steeds kouder en steeds zwaarder werd hij. Je leeft in een roes, je beseft niet wat er gebeurd. Na zo,n tijd daar te hebben gezeten en telefoontjes te plegen naar familie en vrienden zijn we met de ambulance naar het ziekenhuis vervoerd. Hij in zijn reiswieg, en wij elk aan een kant van hem.
In het ziekenhuis kwamen we in een onderzoek kamer, en werd hij op de onderzoek tafel gezet met wieg en al. Er werd van alles gevraagd en over gesproken. En hij werd onderzocht. Uiteindelijk hebben we er voor gekozen om hem helemaal te laten onderzoeken. Hoe moeilijk het ook is te weten dat hij daarvoor open gemaakt zal worden. Maar we willen graag weten wat er is gebeurd. En zo hopen we er achter te komen. Mijn moeder en haar man zijn in het ziekenhuis gekomen. Toen was het even heel moeilijk, na een tijd moesten we hem daar achter laten. Helemaal alleen in het ziekenhuis. Wat was dat moeilijk.
Alles gaat een beetje voor me voorbij… ik probeer sterk te blijven en iedereen te bellen die het moet weten. De uitvaartverzorgster is geweest, alleen maar omdat mijn moeder ons op weg geholpen heeft. En dan wordt er gesproken over begraven of cremeren, en kleertjes die hij aan moet. Daarna was het wachten tot Daan naar huis kwam. We willen hier afscheid van hem nemen. Mensen die we willen afscheid laten nemen in huis komen af en toe binnen. Hij ligt er zo mooi bij. Het is een fijne gedachten dat als ik even hem wil zien ik zo zijn kamer kan inlopen en hem even kan aanraken. Hij ligt in zijn eigen bed, waar hij hoort bij ons thuis.
Er zijn nog zoveel mensen die hem nog niet eens hebben gezien, en die nu afscheid van hem gaan nemen. Dat klopt niet. We hebben ook zo kort van hem mogen genieten. Maar weet wel dat ik elk moment van hem genoten heb. Zelfs de laatste dagen dat hij zo aan het huilen was, dat ik hem weer in me armen nam om te troosten. Daan was ons geschenk uit de hemel, maar was net niet sterk genoeg om bij ons te blijven.
Klein lief draakje, papa en mama houden van je en zullen je nooit vergeten. Jij bent en blijft onze prachtige zoon. Je hebt al vele harten gestolen.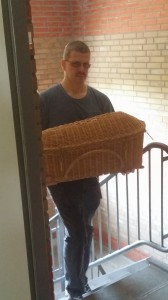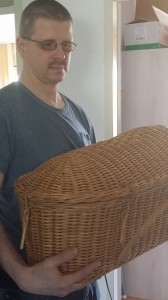 Comments
comments