Reguliere hulpverlening, stopt het dan echt voor mij daar
Ik kwam bij Mirre terecht door het verlies van mijn zoontje en meerdere miskramen. Door de dingen die ik beleef tijdens mijn traject krijg ik steeds meer ruimte om gelukkiger te worden in het leven. En doordat ik me beter in mijn vel ga voelen, maak ik ook meer ruimte voor nieuw geluk. Dus een nieuwe zwangerschap die wel goed zal gaan.

---
Praten heeft geen effect meer
Dan ben je een viertal keer bij maatschappelijk werk geweest in het ziekenhuis en erachter komen dat praten echt totaal geen effect meer op mij heeft. Ik kan honderdduizend keer mijn verhaal vertellen zonder enige moeite, er komt geen emotie erbij los. Hoe kan ik dan de tranen huilen die er nog altijd zijn. Het is een gewoonte geworden om mijn verhaal te vertellen, het blijft fijn erover te praten want wil dat iedereen het weet. Iedereen Daan kent en weet dat een zwangerschap of een kindje bij je houden niet vanzelfsprekend is. Maatschappelijk werk heeft samen met mij besloten er een stop op te zetten. Maar wat nu… Nee ik sta niet met lege handen, maar heb er wel heel veel moeite voor moeten doen (heel veel piekeren, en nog steeds) Ze stuurde wel een brief naar de huisarts om daar naar terug te gaan, zodat hij op de hoogte is dat ik heel erg somber ben. Want ze kon me niet zo maar zonder iets achterlaten.
Open dag Mirre
Voordat ik stopte bij maatschappelijk werk ben ik op een open dag geweest van Mirre. Mirre is een opleiding instituut voor het begeleiden van trauma,s, geboorte herbeleven en als je anderen mensen wilt helpen. Mijn doel deze dag was alleen maar te voelen, want in mijn hoofd had ik al dat ik hier niks mee kon doen. Het is een lastige plek om te komen met openbaar vervoer en de kosten zijn ook erg hoog. Maar toen ik daar was (alleen, wel heel lief gebracht door mijn man) wist ik niet wat me overkwam. Ik stond een beetje verloren in de tuin, rondom mensen die ik niet ken. Dit soort dingen zijn ook niet iets voor mij, nieuwe dingen vind ik gewoon heel erg eng. Maar ik werd al heel snel benaderd door iemand van Mirre, even mee staan praten en kreeg een rondleiding. Na het welkomstwoord, stond ik alweer in de tuin alleen. Wat er door me heen ging, ik weet het niet. Maar uit het niets kwamen er tranen, ik stond daar gewoon midden in de tuin te huilen. Ik had al weken niet meer zo gehuild. Nou mijn doel was bereikt, dit hoopte ik al dat het zou geburen. Hoe vreselijk eng ik het ook vond, want ik leek wel de enige waar van alles los kwam. Na deze tranen ben ik de zaal in gegaan waar ze gingen vertellen over de opleidingen, wat ik wel erg interessant vond. In de middag was er een workshop waar ik graag heen wilde, dit ging over zwangerschap/geboorte. Wat heb ik hier zitten huilen zeg, even helemaal terug naar mijn eigen zwangerschap van Daan. De begeleidster die ik daarvoor al had gesproken kwam aan met zakdoekjes, zo lief. Er werd me gevraagd of ik iets wilde vertellen in de groep erover. Maar ik verdronk in mijn tranen en lukte even niet. Ik werd weer rustiger, om vervolgens daarna weer helemaal in tranen te zijn. Zo erg dat ik het niet meer aankon en ik de zaal uit liep. Me spullen liet ik in paniek achter, ik liep de eigenaresse tegen het lijf. Ze vroeg me of ze iets kon betekenen voor me, ik zei misschien zo. En liep naar de wc. Hierna heb ik even zitten praten met haar wat een fijne lieve mensen. En wat een geweldige plek. Hier hoor ik thuis om met mijzelf aan het werk te gaan. Ik voel het gewoon. Ze heeft me nog even terug gebracht naar de zaal. Toen heb ik wel mijn verhaal in de groep gegooid, de reacties geweldig. "Wat dapper dat je hier bent, en ook dat je nog terug de zaal in kwam" Dit deed me goed, want voelde me beetje opgelaten dat ik zo,n beetje de enige in tranen zat.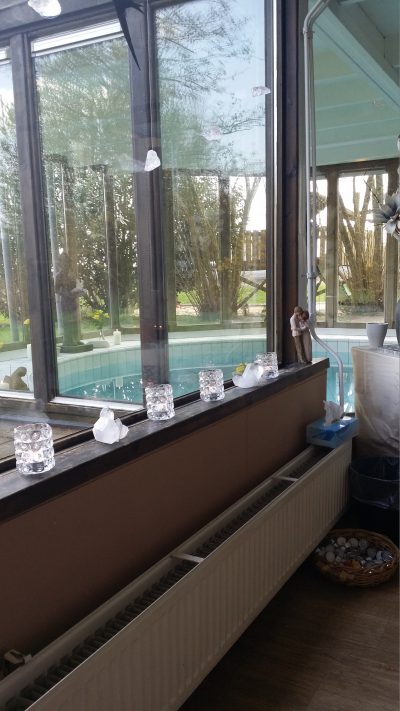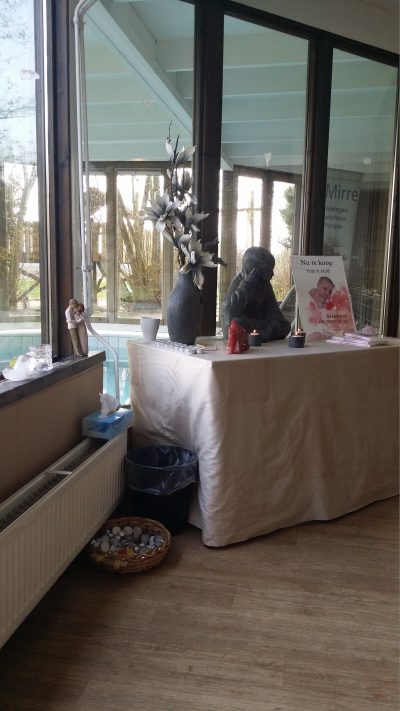 Veel regelen
Toen kon ik het niet meer loslaten, wat ik bij Mirre had beleefd. En nog veel meer de drang daar mijn hulp te krijgen, maar hoe!!! Er is gesproken over ziektekosten verzekering, PGB of via het UWV. Dus ik ben dit gaan uitzoeken, veel gepieker en gedoe… In gesprek gegaan met iemand die me kon helpen met PGB, maar dat is toch van de baan gegaan door de extreme hoge eigen bijdrage. Inmiddels weet ik dat ik een heel klein beetje vergoed krijg via mijn verzekering. Ik maakte een besluit, een moeilijk en heel eng besluit. Ik stap in het diepe en ik ga beginnen met individuele begeleiding bij Mirre. Doodeng, hoe loopt dat met alle kosten aangezien ik mijn kleine spaarpotje ga gebruiken ervoor. Maar ook het reizen erheen. Ik ben afhankelijk van openbaar vervoer en het ligt midden in Drenthe. De locatie is niet te bereiken met de bus. Ben twee uur onder weg, waarvan ik zo,n 17 minuten moet lopen van de bushalte naar locatie. Dan nog even niet aan de kosten denken. (oeps dat deed ik wel *schrik*) Ik maakte een afspraak met degene die me gaat begeleiden. Toen kwam ik erachter dat ik tot Emmen makkelijk met de bus er kan komen. Maar het laatste stukje is echt een probleem, de bus rijd niet zo heel vaak daar. En de tijd dat ik er moet zijn, lukt me niet met de bus te bereiken. Besloten dat ik de eerste keer vanaf Emmen met de regiotaxi ga. De terugweg zien we die dag wel weer…
Het gaat dus echt gebeuren, wat een eng idee. Wat staat me precies te wachten… Ik hou jullie zeker op de hoogte over mijn traject bij Mirre.
Comments
comments