Take a look at my life 34
Verslaafd aan foto,s maken. Elke dag weer mijn mobiel uit me zak halen en foto,s maken van de dingen die ik mee maak of tegenkom. Er zijn al zoveel mensen die gebruik maken van instagram en het dan later in een blog verwerkt. Dat doe ik dus ook elke week. En we zijn weer aangekomen in een nieuwe week. Dus kan je weer lezen wat ik de afgelopen week heb gedaan en mee heb gemaakt.
---
Maandag 18 augustus 2014

Dit is het pad wat ik elke dag loop naar het ziekenhuis toe. Het was vandaag niet echt heerlijk weer zoals je kunt zien.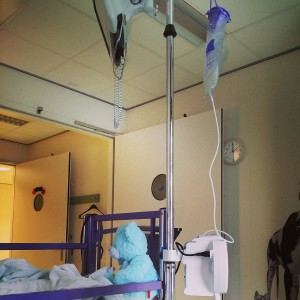 Het gaat echt niet goed met Daan, de nacht is echt mis gegaan. Veel spugen en flinke dipjes met zijn zuurstof. Vandaag zit hij de hele dag aan de sonde pomp, dus geen flesjes melk vandaag. Ook krijgt hij gemengde voeding, speciaal voor spugende kindjes met de gewone nutrilion die hij al kreeg.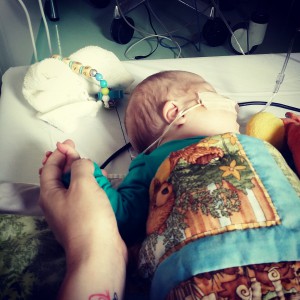 Zondag had ik hem gemist met knuffelen, het ging niet lekker met mij. En durfde hem haast niet op te pakken vanwege het spugen. Nu heb ik hem heerlijk geknuffeld en hem de hele dag bij me op bed gehad. Hij pakte me vinger vast om hem vervolgens niet meer los te laten. Hij viel heerlijk in slaap zo. Wat een heerlijk gevoel.

Toen maar even wat eten… een magnetron maaltijd opgewarmd. Dit keer was het best wel lekker.
Dinsdag 19 augustus 2014
Kon niet in de ochtend bij me mannetje zijn omdat ik om 14.30 in het UMCG moest zijn voor mezelf. Ging naar de neurochirurg vanwege mijn hernia. Dat wordt een operatie en snel ook. Maar daarvoor ben ik even in de stad geweest. Even bij de winkel Musjes thee wezen drinken. Toen snel even wat eten en dus naar het UMCG. Daarna snel naar Daan toe.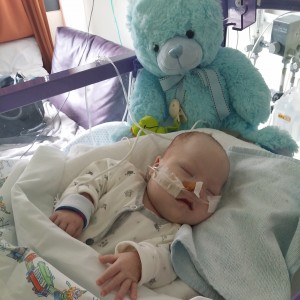 Hij ziet er vandaag zo slecht uit, zo bleek. Gewoon eng was het toen ik binnen kwam op zijn kamer. Mijn arme mannetje. Ondanks hij zot slecht eruit ziet is dit een mooie vertederende foto.
Woensdag 20 augustus 2014
Ben al vroeg in het ziekenhuis, omdat ik om 11.00 een afspraak had met een maatschappelijk werkster. Daar heb ik heel lang mee zitten praten. Wat was dat fijn. Er spelen zoveel dingen in me hoofd. Volgende week nieuwe afspraak staan.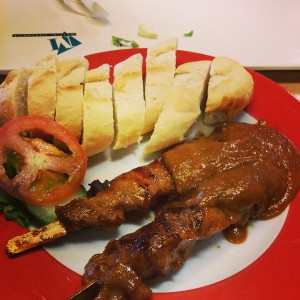 Samen met mijn man hebben we in het ziekenhuis gegeten. We eten bijna niet meer samen. Dus dit was even nodig. Nog heel even bij Daan kijken. En toen heeft hij me weg gebracht naar de laatste keer van de zwangerschap cursus. Hebben alle bevalling verhalen verteld en aangehoord. Heel leuk, maar was ook wel moeilijk te horen. Eind van de avond zat ik te huilen, samen met nog iemand die wat ergst heeft mee moeten maken.
Donderdag 21 augustus 2014
Weer vroeg in het ziekenhuis, dit keer zag ik om 11.00 de logopedist van Daan in het ziekenhuis. Even zitten praten over de voeding van Daan.
Vrijdag 22 augustus 2014
Thuis om 10.00 een afspraak staan met Homestart voor hulp thuis. Intake gesprek, maar denk niet dat het hem wordt. Is maar voor 1 dagdeel en heb straks na de operatie veel hulp nodig thuis voor mezelf en de kleine man als hij thuis is.
In de middag waren we samen in het ziekenhuis. Me man was vrij. En hadden om 14.00 een afspraak met de kinderarts. Het kan zijn dat Daan zo ziek was geworden door een virus. Maar gelukkig knapt hij weer op.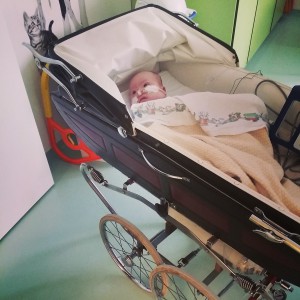 Toen moest hij voor onderzoek weg, en werd vervoerd in deze gave oude kinderwagen. Zuurstoffles aan de onderkant hihi. Hij kijkt ook zo van, wat gebeurd me nu…

Radiologie, hij kreeg een drankje naar binnen om te kijken of er iets mis zou gaan waardoor hij spuugt. En nee alles bleek in orde te zijn.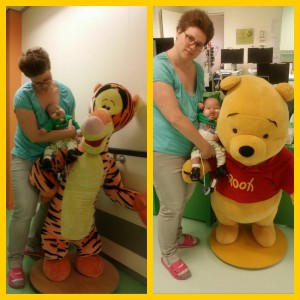 We mochten even met hem rondlopen zonder alle snoeren aan hem vast. Joeppie even op de foto met Pooh en Teigertje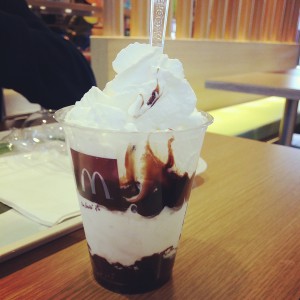 Voordat we naar huis gingen zijn we bij de MC Donalds wezen eten. En dit nieuwe toetje geprobeerd. Lekker met warme saus erdoor.
Zaterdag 23 augustus 2014
Rustig de ochtend begonnen. Wel boodschappen moeten doen. En in de middag naar het ziekenhuis gegaan.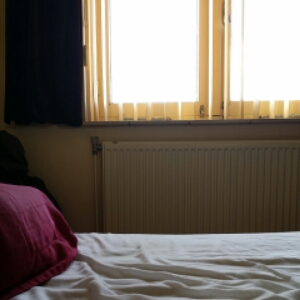 In de avond was ik zo moe, en dit was mijn uitzicht. Ik lag lekker op bed.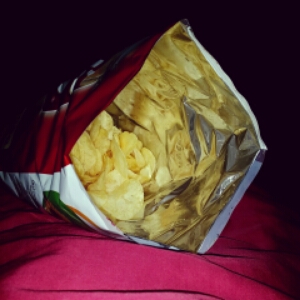 Tv kijken op bed en lekker chipies eten.
Zondag 24 augustus 2014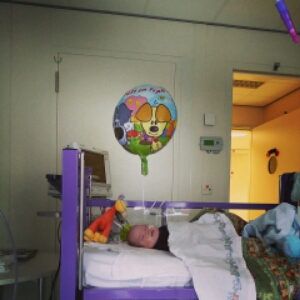 Samen met mijn man naar het ziekenhuis geweest in de middag. De verpleegster legde hem net terug in bed. En viel dus in slaap toen we er net waren. Hebben dus een tijdje naar een slapend kindje gekeken en geluisterd. Kan eigenlijk uren naar hem kijken. Na een half uurtje werd hij wakker en kreeg hij een flesje van me. Heeft 30cc gedronken, de rest door de sonde gedaan.
Opa en oma (schoonouders) kwamen op bezoek. Was erg gezellig. Toen ze weg waren heeft Daan nog 50cc gedronken bij me. Helaas spuugde hij een gedeelte uit.
In de avond heel lang aan de telefoon gezeten met een vriendin.
Hoe is jullie week geweest?
Comments
comments