Take a look at my life… week 3&4
Maandag 13 januari 2014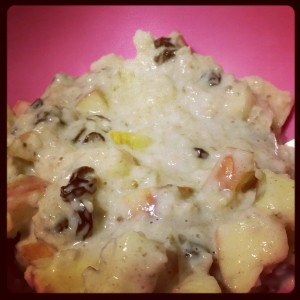 Eerst maar eens een heerlijk warm ontbijtje gemaakt, het ziet er misschien wat vies uit maar het is zo lekker. Daarna met tegenzin op de fiets gestapt om naar het werk te gaan. Het werk is nog altijd leuk hoor, maar de fiets tochtjes erheen zijn nogal zwaar momenteel. Heb zowat een half uur nodig om op het werk bij te komen, en dan werk ik maar 2 uurtje. Daarom ben ik vaak wel op tijd op het werk.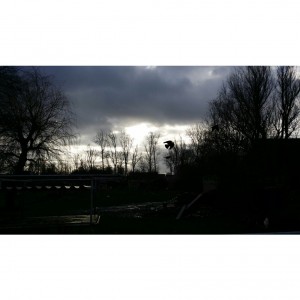 En natuurlijk moest ik op het werk even mijn camera van mijn nieuwe mobiele telefoon uitproberen. Ik ben zo gek op foto,s die tegen de zon in genomen zijn. Ziet er zo bizar mooi uit.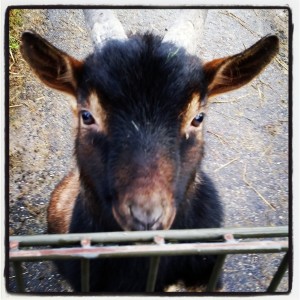 En kijk nou hoe lief hij naar me kijkt…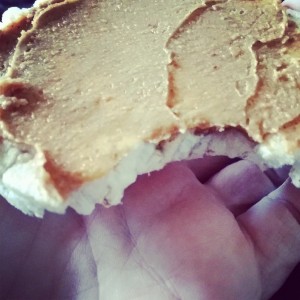 Even een lekkere snack tussendoor, ik moet bijna elke dag wel iets eten met pindakaas… brood, crackers of rijstwafels dus. Vast een zwangerschap dingetje hihi.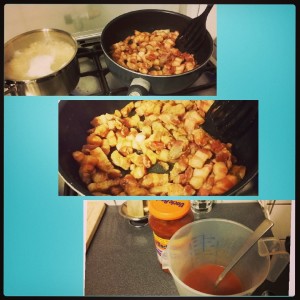 Weer keertje babi pangang gemaakt voor mezelf, dit maak ik alleen als Bert aan het werk is s,avonds omdat hij het niet lekker vind. Zo eet hij vaak s,middags voor hij gaat werken spruiten waar ik echt van gruwel alleen de geur al als ik thuis kom van me werk grrrrr.
Dinsdag 14 januari 2014
IK had vorige week al besloten niet meer op de dinsdag te gaan werken, dus vandaag lekker vrij.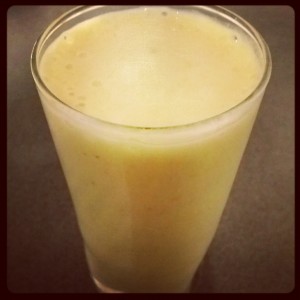 Heb een heerlijke smoothie gemaakt van mango banaan en yoghurt, lekker hoor.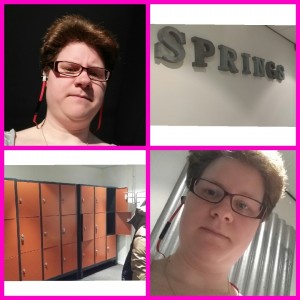 Normaal ga ik altijd op woensdag avond sporten maar ik weet dat ik het die dag te druk hebt om energie over te houden om te gaan sporten dus ben ik deze middag even gegaan. Was best wel lekker ondanks het zo zwaar is sinds ik zwanger ben. Daarna nog even de stad doorgelopen, wilde even naar Miss Etam toe om te kijken voor nog een 2e zwangerschapsbroek. En ja ik ben geslaagd, een mooie spijkerbroek en dat voor 19 euro. Daar werd ik helemaal vrolijk van een heel stuk goedkoper dan mijn eerste broek.
Woensdag 15 januari 2014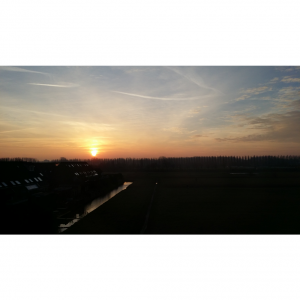 Goede morgen, dit is toch geweldig als je uit bed komt en dit ziet. Hier blijf ik van genieten. Op naar het werk, heb de ezels stal helemaal leeg gehaald. En verder het pad en plateau daar schoon gemaakt. Nog even weer de stal vullen en ik ben weer klaar om naar huis te gaan.
Thuis snel wat gegeten, me gewassen en omgekleed want moest alweer weg. Zelfs alweer eerder dan mijn vriend, het was gezellig om hem net een half uurtje te hebben gezien. Met de bus naar het ziekenhuis toe want ik had controle bij de verloskundige. En dat vond ik hard nodig want als je niks voelt van je kleintje kan je heel onzeker worden of het allemaal wel goed zit. Gelukkig een heel mooi hartslag gehoord van ons kleintje. Wat een geniet momentje is dat. De baarmoeder zit nu precies op de plek van me navel, en alles is gelukkig goed.
Moe weer thuis gekomen en helemaal niks meer doen, gelukkig makkelijk eten voor mezelf dus hoefde niet echt te koken.
Donderdag 16 januari 2014
Het was de bedoeling vandaag wat dingen te doen in het huishouden maar ik begon de dag met buikpijn, dus voelde me gewoon niet zo lekker. Toch moest ik eten maken, maar daarna ben ik weer terug in bed gekropen met de tv aan. Wel moest ik even een was ophangen, maar verder lekker een luie dag genomen.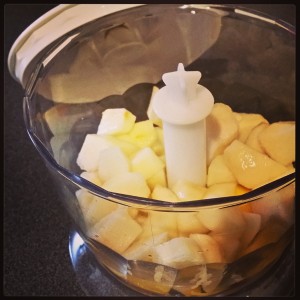 Weer een heerlijke smoothie gemaakt van mango peer en een klein beetje yoghurt.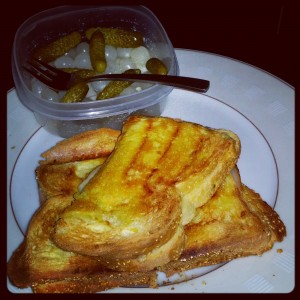 Lekker tosti,s gegeten en daarnaast nog wat zilvervlies uitjes en augurken.
Vrijdag 17 januari 2014
Ook vandaag een rust dag gehouden.
Zaterdag 18 januari 2014
De week boodschappen ook weer in huis gehaald, ja dat moet toch echt elke week weer opnieuw gebeuren.
Zondag 19 januari 2014
Ik heb een helse nacht door gemaakt, de gehele nacht op de bank door gebracht met onwijs veel pijn in me borst. Zo erg dat ik er weer eens in paniek van raakte en me vriend zowat uit bed heb gerukt waar hij natuurlijk niet blij om was. Uiteindelijk heeft hij geprobeerd me tot rust te brengen me onder de douche gezet maar niks hielp. Toen heb ik maar de doktersdienst gebeld, waar we om 06:00 s,morgens toen zaten. Ik wist natuurlijk allang wat hij ging zeggen, stress en zorg voor warmte en kom tot rust. Ja dat lukte nou juist net niet. Verder kon hij niks voor me doen. Wel vond hij dat ik wel erg aangaf pijn in me buik te hebben toen hij me onderzocht, en wilde dat ik dat even bij me eigen huisarts liet nakijken. Thuis heb ik nog een tijd op de bank doorgebracht met pijn, en uiteindelijk in slaap gevallen. Werd om 11:00 wakker op de bank, en ben ik maar naar me bed gegaan. Heb dan ook tot een uurtje of 16:00 op bed gelegen, was echt helemaal brak. En natuurlijk kom je erachter dat het weer eens een domme reden is waar ik me te druk om had gemaakt…
Maandag 20 januari 2014
Ondanks die rot nacht en dat ik nog steeds brak ben naar het werk gegaan. Moet toch wat, kan moeilijk alleen maar op bed blijven liggen wat ik vaak wel zin in heb. Het was in eerste instantie een fijne afleiding maar ook kreeg ik van elke beweging die ik maakte pijn in me buik. Toch maar even de dokter gebeld voor een afspraak.
Dinsdag 21 januari 2014
Lekker een dagje rust houden, heb steeds maar zo,n buikpijn dus heb lekker vandaag de dag door gebracht op bed met de tv aan.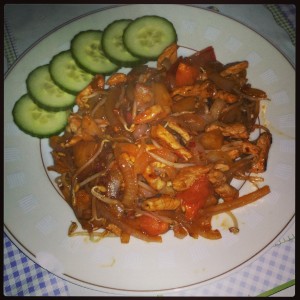 S,middags heb ik even een goede gezonde maaltijd voor mezelf gemaakt, want ik heb dan wel buikpijn maar trek heb ik wel. Ik ga er dan ook gewoon vanuit dat het bij de zwangerschap hoort. Maar heb dus een heerlijke wok maaltijd gemaakt met veel verse groente erdoor.
S,avonds zijn we nog even bij iemand op bezoek geweest. Ze heeft mijn WII balance board overgenomen en 2 spellen erbij. Het was erg gezellig, ik kreeg van haar ook een leuk boek over baby massage. Dus als ik straks een onrustige huilbaby heb, gaan we dat eens toepassen. Erg origineel cadeautje vond ik.
Woensdag 22 januari 2014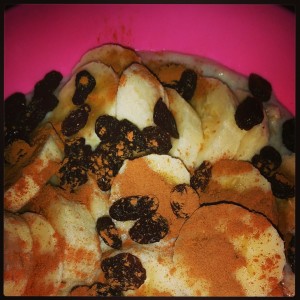 Lekker eerst maar eens warm ontbijten, als ik het zo koud heb kan ik daar heel erg van genieten. Toen weer op naar het werk, maar zat al weer zowat huilend op de fiets van de pijn in me buik. Jee wat is dat nou zeg… Op het werk toch weer beetje afleiding van de pijn, maar toch de pijn bleef wel aanhouden. Denk dat ik er maar aan moet gaan wennen ofzo…
In de avond naar de sportschool, zou eigenlijk samen gaan met mijn vriend. Maar ik ben dom geweest, had een nieuw recept uitgeprobeerd en helaas stond er niet op het pakje dat het licht pikant was. Ik dacht dat het zoet zou zijn omdat er ook mango in ging. En mijn vriend kreeg er dus vrij snel daarna last van. Zijn maag kan pittig voedsel niet aan, dus ben ik maar alleen naar de sportschool gegaan.
Donderdag 23 januari 2014
Op tijd opstaan is nooit mijn ding, en zeker niet als je vrij bent. Ja ik moet er toch echt aan gaan wennen. Moest naar de dokter toe aangezien ik een afspraak had gemaakt vanwege de buikpijn. Het blijkt dat ik last heb van mijn buikspieren, dus echt iets wat bij de zwangerschap hoort. Wel wilde hij dat ik voor de zekerheid even een potje urine liet nakijken voor blaasontsteking.
Nadat ik bij de dokter was gelijk even door naar de Aldi alvast wat boodschappen halen, voornamelijk vlees wat hier goedkoper is dan bij de Albert Heijn.
Vrijdag 24 januari 2014
Weer op tijd me bed uit gegaan, omdat ik even een potje urine af moest leveren bij de dokter. In de middag kon ik al bellen voor de uitslag, en wat ik al verwacht had niks gevonden. Ondertussen stond er een mannetje van Huismeesters op de stoep omdat bijna 2 weken geleden onze keuken deur eruit viel. We moesten een nieuwe deur erin hebben en die werd vandaag geplaatst.
Nog even samen met mijn mannetje de week boodschappen doen en dan lekker thuis niks meer doen.
Zaterdag 25 januari 2014


We gingen weer even naar de baby winkels, eerst naar Babydump omdat we daar wilde kijken naar de draagdoek die ik graag wil. Van de week gaan we hem hopelijk kopen als we weten wat voor kleur past bij ons kindje. Daar hebben we gelijk een starters pakket gekocht met avent flessen. En namen we gelijk ook Sofie de giraf mee. Nog even langs Babyplanet die er naast zit, en natuurlijk even naar Prenetal die daar weer naast zit om de blije doos op te halen.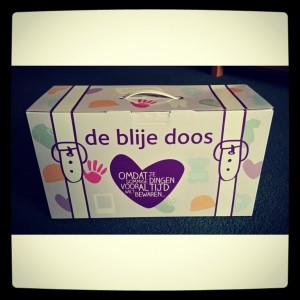 Zondag 26 januari 2014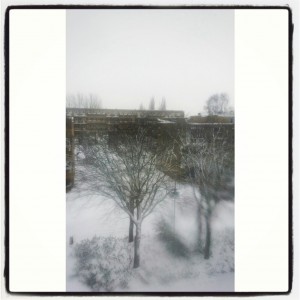 De eerste sneeuw van 2014 is een feit, brrrr koud maar van binnenuit mooi te zien.
Jullie nog wat leuks gedaan?
Comments
comments