Ziek van verdriet
Lieve Daan,
Mama is al een paar dagen van slag om jouw. De pijn en het verdriet is momenteel heel heftig. Ik mis je kleine warme lichaampje op de mijne. Ik mis je snurkgeluidjes wanneer je sliep. En je sliep nogal veel. Ik mis je mooie oogjes als je wakker werd. Ik mis het oefenen met je nek omhoog houden en het omrollen. Zelfs mis ik de voedingen die me zo vaak frustreerde. Mama maakt zichzelf momenteel heel ziek omdat ze even niet sterk kan zijn. Het vechten tegen de pijn ben ik even zat, vechten tegen de tranen doe ik ook niet ik laat ze maar gewoon even gaan. Alleen dit keer lucht het niet op.
Ik mis de drukte om je heen, al die mensen die zorg voor je bieden. Alle ziekenhuis bezoekjes. En gewoon even alleen met je op bed liggen. Ook al weet ik dat jij daar gelukkig bent waar je nu bent. Dat je geen pijn en verdriet kent daar. Dat dit beter voor je is. En dat als ik positief ben ik jouw aanwezigheid altijd zal voelen. Maar voor nu kan ik het niet. Het is zwaar te weten dat je eerste sterf dag eraan komt. Hoe kom ik hierdoor heen. De pijn die ik voel kan ik niet beschrijven, maar op sommige momenten ben ik echt verlamd van de pijn. Slapen in de nacht is momenteel een nachtmerrie. En over dag wil ik me bed het liefst niet meer uitkomen. Toch sta ik op voor sommige dingen, maar als ik even niks gepland heb laat ik het toe en blijf ik in bed liggen.
Hopend dat deze pijn minder wordt, want dit elk jaar te moeten meemaken is echt slopend. Afleiding is eigenlijk het beste om te doen, maar ik kan me er nauwelijks toe zetten. Het liefst heb ik gewoon even een arm om me heen even te mogen uithuilen. Me even veilig voelen in al mijn verdriet. Deze momenten zijn juist de moeilijkste om daar om te vragen… En soms wil ik het gewoon even niet meer vragen, maar het aangereikt krijgen. Maar zo werkt het niet.
Ik vraag me af of dit een steeds terugkerend iets is, of dat het met de tijd echt zachter gaat worden. Zo veel plannen om juist anderen te helpen hiermee. Maar als ik mezelf niet eens kan helpen, hoe moet ik een ander dan helpen. Het ergste is dat het juist de laatste tijd een stuk beter ging. Ik leer veel, ik laat meer mijn gevoel toe, ik praat meer erover… Ik voelde me positiever worden. Maar nu 12 september steeds dichtbij kruipt voel ik me rusteloos worden. Wat ik met mezelf aan moet weet ik gewoon echt even niet. Het is denk een kwestie van tijd dat het weer beter gaat voelen.
Liefs Mama
-xxx-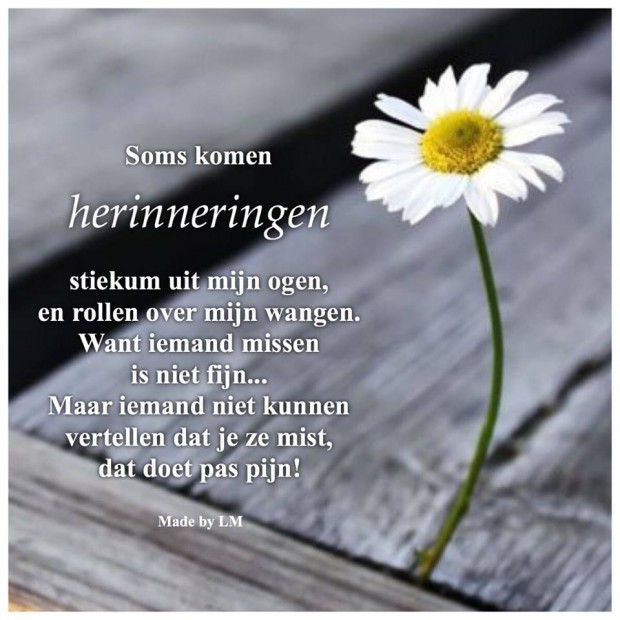 Comments
comments