Zwangerschap dagboek ~de 20 weken echo~
Deze zwangerschap dagboek is even anders dan de voorgaande. Deze staat helemaal in het teken van de 20 weken echo die we van de week hadden. Wat was ik hier zenuwachtig voor. Dat was dan ook de reden waarom ik vorige week nog even een sessie wilde bij Mirre om wat meer rust in mijn hoofd te krijgen op de zwangerschap en juist dus deze echo. Het werd wat rustiger, maar echt de dag van te voren kwamen er allemaal vervelende gedachten in mijn hoofd. Wat zal dit kindje voor verassing hebben. Toch had ik ook echt helemaal het vertrouwen in dat het goed zit met dit kindje. Maar dat het puur de ervaring is die ik met de zwangerschap had van Daan. Ik stond er dus echt wel heel positief in, ook al was er angst dat er misschien toch iets mis zou zijn.
Ziekenhuis
We moesten om 08.00 al in het ziekenhuis zijn, nee nog niet voor de echo. Ik had wat kleine onderzoekjes, omdat ik weken eerder zo klaagde over erge benauwdheid tijdens de zwangerschap. Dit vond ze wat raar, zo vroeg in de zwangerschap. Toch wilde ze dit wel even laten onderzoeken. Dus ik kreeg een afspraak voor de cardioloog, maar daarvoor kreeg ik een ECG en een echogardiogram. Tijdens het gesprek met de cardioloog werd er gezegd dat er niets raars is gevonden. Dit had ik ook zeker niet verwacht, aangezien ik eigenlijk al wist waar het wel vandaan kwam. Dat ben ik daar maar niet gaan uitleggen, want daar had ik echt even geen behoefde aan. De benauwdheid is trouwens ook volledig weg al eventjes. En hopelijk blijft dit zo. Het was een eigen geboorte stuk waar ik enorm last van had. En vlak voor de geboorte workshop werd het erger. Na deze workshop verdween de benauwdheid, waar ik enorm blij van werd.
20 weken echo
Na dit gesprek moesten we een uur wachten tot we eindelijk de 20 weken echo zouden hebben. Dit uur vond ik eigenlijk helemaal niet zo fijn, nu kon ik me nog zenuwachtiger maken. Maar uiteindelijk viel het nog mee. We aten even een broodje, ondanks het nog in de ochtend was. Maar we waren al zo vroeg op dat we wel al weer iets lusten. Rustig liepen we naar de afdeling waar we moesten zijn. En ja natuurlijk moest ik weer plassen (zwanger en een blaasontsteking gaan niet lekker samen) Helaas was dit niet zo,n goed idee, dit moeten ze eigenlijk in de brief zetten dat je niet met een lege blaas een echo in gaat. Er werd ondertussen verteld dat je kindje naar beneden zakt als je blaas leeg is. En dus heel hard moet duwen op je buik om alles goed in beeld te krijgen. Ik had niet verwacht maar ik genoot echt heel erg van de beelden die we zagen. En uiteindelijk kwam ze bij het hartje die gelukkig helemaal in orde bleek te zijn. Dit was zo,n opluchting. Ook groeit ons kindje prima, alles volgens het boekje. Maar toen keek ze naar de voetjes en helaas toch heeft ook dit kindje een verassing. Net als Daan heeft dit kindje aan beide kanten klompvoetjes. Ik wilde zo graag dat het dit keer helemaal goed zou zijn. Ik weet het zijn maar klompvoetjes en er is iets aan te doen. Maar de gedachten weer die medische molen in te gaan na geboorte. Het weer in gips te zien en een brace te krijgen. Ik heb het er echt wel moeilijk mee. Ze liet eerst nog even iemand anders mee kijken met de echo, en onderling hadden ze het over ons kindje. In termen die we niet begrepen, maar dit werd natuurlijk achteraf wel verteld. Er werd gezegd dat er een kans bestaat dat er nog iets onder liggend zou zijn. Maar ook dat het een grote kans heeft dat het alleen klompvoetjes zijn, omdat verder alles prima eruit zag. Toch kregen we hierdoor de keuze net als bij Daan voor een vruchtwaterpunctie. Ik moet er niet aan denken. En ik was ook echt weer erg in de war, dus wist op dat moment even niet of het een ja of nee zou zijn.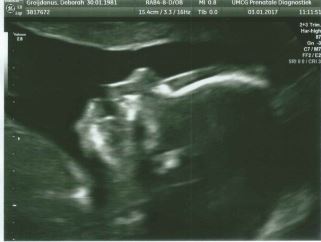 Mijn gevoel
Al snel thuis besloten we toch de vruchtwaterpunctie te gaan doen. Dit zou mijn veel mee rust gaan geven, want om nu nog 19 weken in spanning af te wachten of er nog meer aan de hand is met ons kindje kan ik niet. Ook als het in het ergste geval (wat we niet verwachten) niet met het leven verenigbaar is, dan is er nog een keuze om het af te breken. Dit klinkt heel hard, maar ik denk niet dat ik een zwangerschap kan uitdragen als ik weet dat ons kindje geen kans op leven heeft. Ik kan hier niet te veel aan denken, want een tweede kindje verliezen wordt een nog grotere hel. Dus hierin blijf ik zoveel mogelijk positief. Toch ben ik heel boos en verdrietig dat ook dit kindje weer klompvoetjes heeft. Tot nu toe wordt er door mensen heel luchtig gedaan, het zijn maar klompvoetjes. Ja klopt, maar ik mag nu toch ook even boos erom zijn. Want niemand wilt dit toch voor z,n kindje. En ook ik wil zo graag genieten van die kleine voetjes. En ook ik weet dat dit gevoel gaat zakken. We houden van dit kleine wondertje, ik moet het gaan accepteren en dat komt zeker. Maar voor nu moet ik even mijn gevoel kunnen uiten. Ik ben ook boos op mezelf dat ik er zo boos over ben. Omdat als het echt alleen maar klompvoetjes zijn hebben we zo geluk hiermee. Maar het houd me zeker bezig of er echt niets anders meer gevonden wordt. Vreselijk om te wachten tot dinsdag voor de punctie. Het staat me zo tegen dit weer te moeten ondergaan. Met Daan deed het pijn en was het heel emotioneel. Nu komt erbij dat ik ook weet dat kindjes dit zeker niet leuk vinden. Nee zou jij het leuk vinden zo,n grote naald die vlak langs je heen komt. Ze voelen het niet, maar dit is natuurlijk voor zo,n kleintje schrikken. Ik ben dus nu vooral bezig ons kindje hier op voor te bereiden wat er gaat komen. Ja en dan is het na dinsdag nog afwachten voor de uitslag, hoelang gaat dit nu weer duren.
Verder zijn we ook onwijs trots op dit tweede wondertje wat in mij groeit.
Comments
comments