Het leven van Max en z,n mama *week 15*
Deze week hadden we weer een hoop afspraken staan. Op maandag naar de kinderarts, die hem er goed uit vond zien. Dinsdag weer naar het UMCG voor zijn voetjes. Maar eerst werden zijn heupjes na gekeken. Daar kreeg hij een echo voor, maar toen we bij de orthopeed waren kon hij er niets van maken. Hij vroeg dan ook of ze wat moeite hadden ermee bij Max. En ja dat klopte, ze zeiden wel dat het goed zat met zijn heupen maar de orthopeed moest het beoordelen en hij kon er niets van maken. Dus we werden terug gestuurd om een röntgenfoto te laten maken. Zo kon de orthopeed vertellen dat zijn heupen goedgekeurd zijn. Maar toen nog de ellende met zijn brace, nou het is nu wel duidelijk voor ons maar ook voor hun in het ziekenhuis dat het wennen gewoon niet gaat lukken. Er is dus een nieuw plannetje gemaakt, voor nu gewoon zijn schoentjes aan laten tot ze iets nieuws gemaakt hebben voor hem. En donderdag waren we naar het consultatiebureau.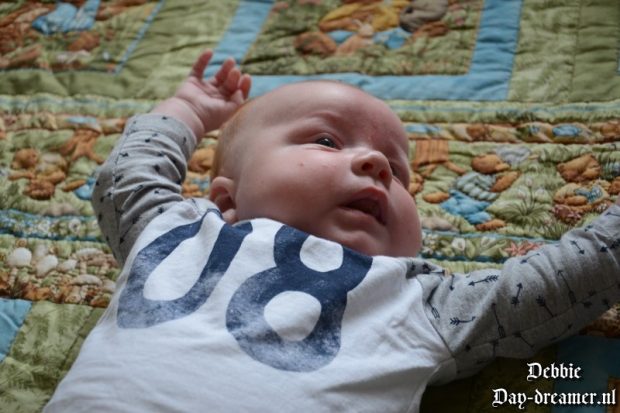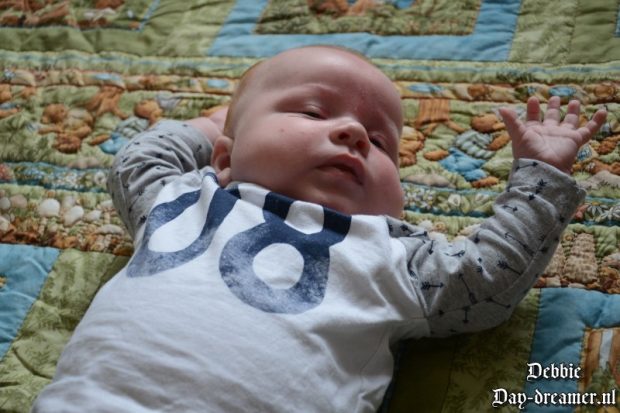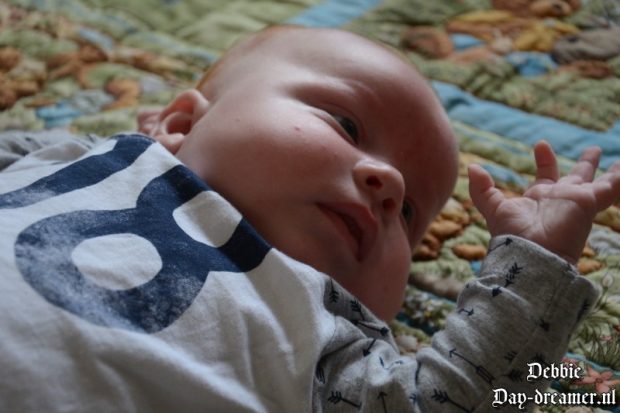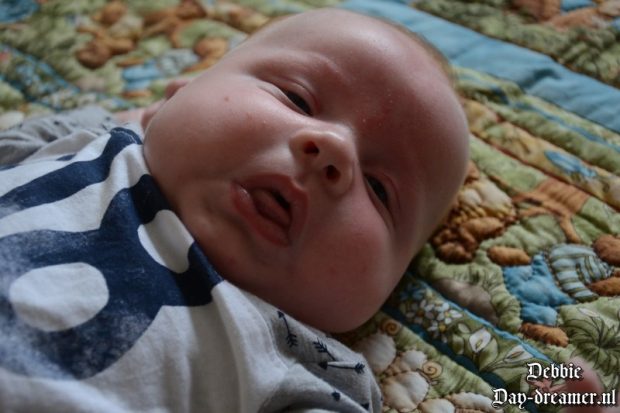 Omrollen
Een tijdje terug deed Max dit al een keertje, van buik naar rug draaien. En toen liet hij het ineens niet meer zien. Wat was hij dan boos als het hem niet lukte, maar we bleven het proberen. Ik had hem nu even niet verwacht en was hem gewoon aan het filmen toen hij op zijn buik lag. Maar toch ineens rolde hij zichzelf om. Zo knap dat hij dat nu kan, of hij het de volgende keer weer laat zien is maar de vraag. Voor nu heb ik bewijs dat hij het kan. Hierbij dan ook het filmpje wat ik heb gemaakt. Zo trots ben ik op onze zoon.
Consultatiebureau
Voor de tweede keer kreeg Max een prikje, maar voordat hij zijn prikje kreeg eerst even meten en wegen. Hij weegt inmiddels 6480 en een lengte van 59.4. Hij doet het dus prima. Wel heeft hij een lichte voorkeurshouding, waar we dus wel even iets mee moeten doen. Zodat hij geen plat hoofd gaat krijgen. Ook mag hij nu vijf keer op een dag op zijn buik liggen om zijn nek te oefenen. Dit doet hij al heel erg goed, elke keer als hij op me buik ligt doet hij zijn hoofdje ook omhoog brengen. Nu dus maar wat vaker in de box of op het kleed op zijn buik leggen. Dit is ook goed voor zijn voorkeurshouding vertelde de arts. Nadat hij helemaal na gekeken is, kreeg hij zijn prikje wat hij echt even niet leuk vond. Wat kan hij boos worden zeg. Zijn navel ziet er nu ook beter uit, vanwege een navelbreukje. En zijn wondje van de liesbreuk operatie geneest ook prima werd er verteld, daar maakte ik me wel een klein beetje zorgen om. Maar niet nodig dus. Thuis heeft hij lekker een fles gekregen, en eerlijk gezegd had ik niet verwacht dat hij zo lekker is gaan slapen na zijn prikje. Maar hij deed het prima in de middag.
Babycafeez
Ook deze week ben ik weer even bij het Babycafeez geweest. Eigenlijk zit ik het liefst zoveel mogelijk met hem thuis, want Max is best wel gevoelig voor prikkels. Hoe drukker de dag hoe meer hij s,avonds huilt. Dit is iets wat ik moeilijk vind en wil dit het liefst vermijden. Maar aan de andere kant moet hij ook wennen dat we er eens op uit willen, naar al die afspraken die er zijn. Want echt iets leuks doen zit er weinig in sinds Max geboren is. Toch besloot ik dus even weer onder andere mama,s te willen komen, dit was wel even gezellig. Alleen Max dacht er anders over, want ja het was eigenlijk voor hem bedtijd. En dus was hij flink moe, maar slapen wilde hij daar natuurlijk niet. Niet in mijn armen en niet in het stoeltje daar. Dit vind ik dan best moeilijk en kan ik me niet zo goed meer ontspannen. Dan is het wel fijn te horen dat ze het leuk vonden dat wij er samen weer even waren. Dus ik blijf dit soort dingen toch doen, wil niet teveel angst gaan krijgen om met hem de deur uit te gaan omdat hij misschien weleens zal gaan huilen.
Kinderopvang
Omdat ik best wel wat hulp krijg momenteel, is het ook welkom om af en toe een beetje ontlast te worden. Dus het voorstel is geweest voor kinderopvang. Eerlijk gezegd moet ik er nog niet aan denken. Moeilijk om hem echt uit handen te geven. Maar ze hebben een medische indicatie aangevraagd voor kinderopvang, dus dan kost het ons niets de opvang. Aangezien het Babycafeez in hetzelfde gebouw is als 1 van de kinderopvang in Winsum heb ik me even laten rondleiden en wat informatie gekregen. Het zag er gezellig uit, en kreeg een fijn gevoel hierbij. Hier is dan gelijk mijn keus op gevallen, als het nodig is gaan we hier gebruik van maken. Er zijn drie dagen aangevraagd, maar dit vind ik zelf wel heel veel. Maar beter hoog aanvragen wat misschien niet nodig is als te weinig. Hoe en wanneer we hier vorm aan gaan geven is nog even niet duidelijk voor ons. Dat komt nog wel, die stap vind ik best heel lastig om te zetten.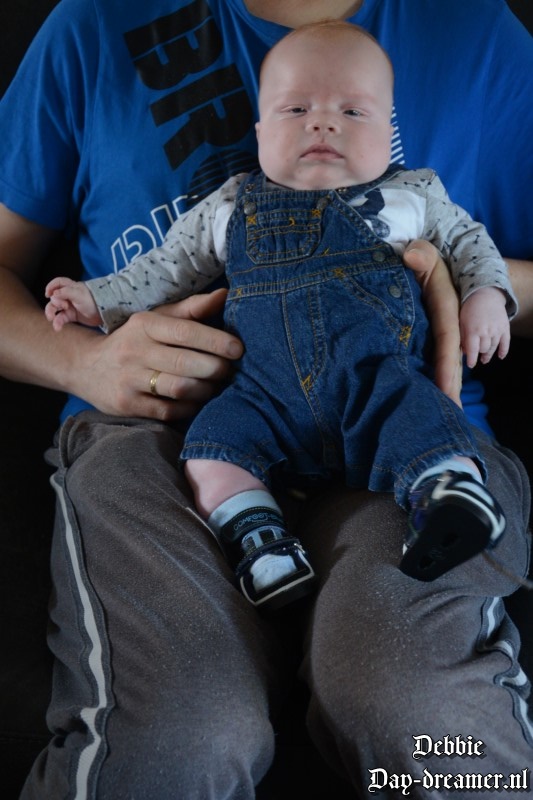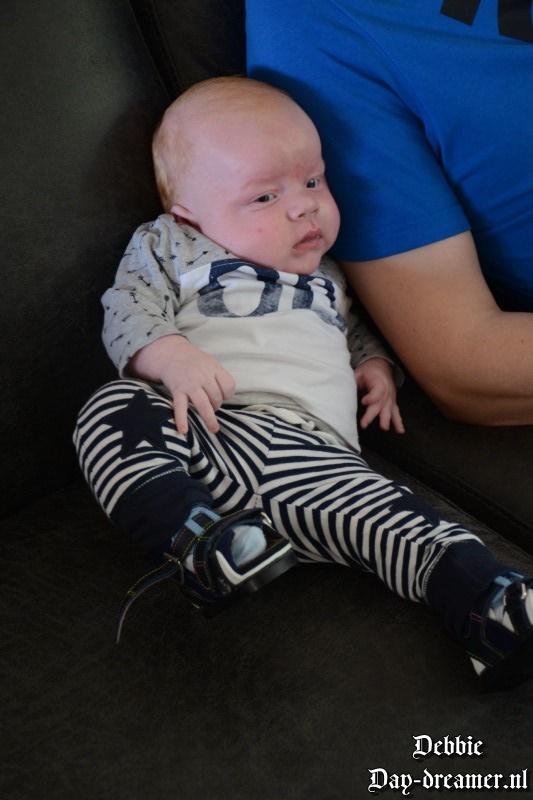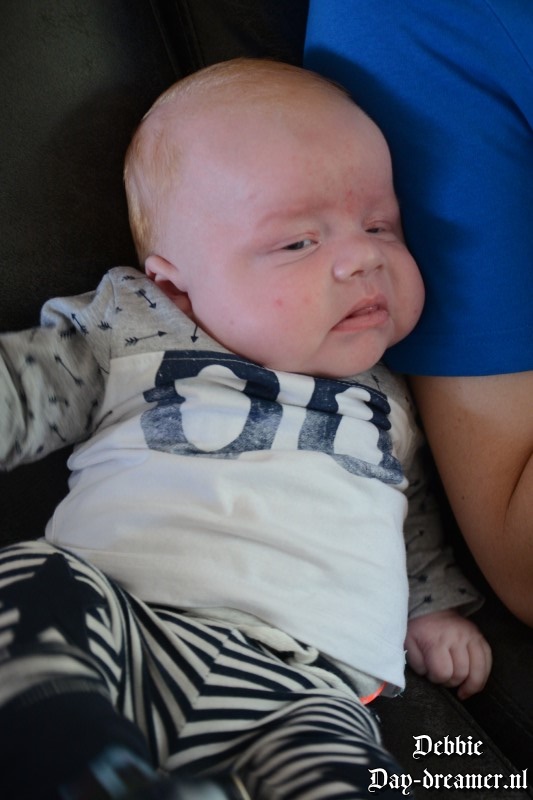 Comments
comments