Hoe neem je afscheid van je kindje
Ik weet dat je niet aan de dood wilt denken als je kindje net geboren is. Maar hoeveel ouders vergeten niet dat het ook fout kan gaan? Je kind kan plotseling overlijden en dan… een uitvaart kost echt een hoop geld. Daarom is het zo belangrijk als kersverse ouders om je baby in te schrijven bij je uitvaartverzekering. Je wilt je kindje toch een mooi afscheid kunnen bieden. Natuurlijk ga je ervan uit dat je kindje jou overleeft, maar toch zou ik zo snel mogelijk je kind bijschrijven. Wat een geluk dat wij dit wel deden. En nee, echt niet alleen omdat Daan met beperkingen geboren is. Als hij als ieder ander kind geboren was, hadden we hem ook meteen bij laten schrijven. Wij konden dus mooi en passend afscheid van hem nemen.
Maar wat kan er nou allemaal op het gebied van afscheid nemen van je kindje? Ouders waarvan hun kindje overlijdt tijdens de zwangerschap of bevalling nemen vaak overhaaste beslissingen, omdat je nog helemaal bezig ben met de geboorte van je kindje. Ik kan me daar niks bij voorstellen, omdat wij nog een paar maandjes voor Daan hebben mogen zorgen. Toch plotseling overleed hij en moet je gaan beslissen of je hem laat begraven of cremeren. Laat je obductie op hem doen, omdat je wilt weten wat er is gebeurd? En mag je hem mee nemen naar huis? Dit zijn allemaal keuzes en vragen waar je niet voor wilt komen te staan. Maar je moet wel.
Fotoshoot
Foto's van je kindje hebben is zo belangrijk voor de verwerking. Voordat Daan geboren was, kwamen wij al in aanraking met iemand die graag foto's van hem wilde maken mocht het mis gaan, of dat hij te vroeggeboren zou worden. Dit wilde ze privé voor ons doen. Make a Memory is een voorbeeld van een stichting die foto's maakt van jouw overleden kindje. Ik vond het van tevoren doodeng. Want wat verwacht je van zo'n shoot? Maar het was zo fijn en mooi, we zijn zo dankbaar dat er nog mooie foto's zijn gemaakt.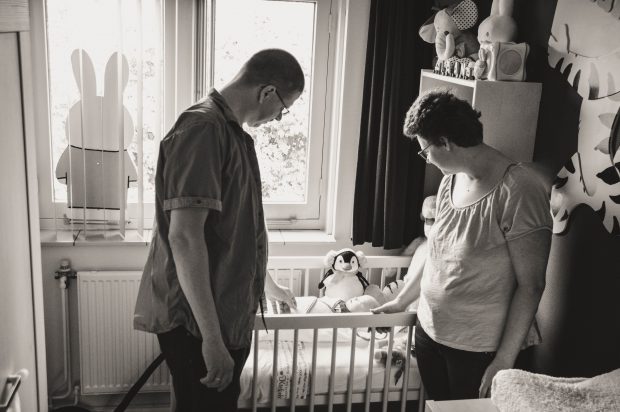 Opbaren
Vaak hoor je dat overledenen opgebaard liggen in een rouwcentrum, maar het kan ook gewoon thuis. Dit geldt ook voor je kindje. Wij hadden al zo'n hectische tijd gehad. Na al dat rennen naar het ziekenhuis wilden we graag in alle rust thuis afscheid nemen van Daan. Ook schrokken we heel erg wat de uitvaartverzorgster zei over het opbaren in het rouwcentrum. Aangezien iedereen ongevraagd zonder ons daar kan komen en dus ook aan je kindje kunnen zitten en het zelfs kan optillen. "Ja echt, het gebeurt," zei ze daar achteraan. Nou, daar kreeg ik zo de rillingen van dat het vastbesloten was Daan thuis op te laten baren en lekker in zijn eigen bedje mocht liggen.
Hij bleef eerst nog even in het ziekenhuis aangezien we kozen voor obductie. De volgende dag kwam hij thuis. Ze hadden hem toen netjes aangekleed met de kleertjes die wij hen hadden gegeven. We hebben een volle week goed afscheid kunnen nemen van hem. Wat ik zo fijn vond was dat hij thuis lag en dat ik naar hem toe kon wanneer ik dat wilde. Al had ik de hele dag bij hem willen zitten, dan kon dat. Wat ik zo graag wilde was Daan zijn eerste boek voorlezen. En dat deed ik ook terwijl hij daar lag. We hebben naar de muziek geluisterd die we zouden afspelen op zijn afscheid en we hebben nog vele foto's gemaakt. Dit was onze laatste kans om al die dingen nog te doen voordat we echt afscheid moesten nemen van Daan.
Begraven of cremeren
En dan moet je de keuze maken om je kindje te begraven of cremeren. Als je voor begraven kiest, kun je op de begraafplaats een mooi plekje uitzoeken en inrichten zoals je wilt. Wij kozen voor cremeren, dan heb je ook nog verschillende opties voor na de crematie. Officieel krijg je een standaard urn waar de as in zit. Wij niet, omdat we zelf al voordat de as werd vrijgegeven een mooie urn hadden laten maken.
Er is zoveel keuze om as in te laten bewaren. Je kunt ook een beetje as in een as-ketting laten doen, of een tattoo laten zetten met een beetje as. Wij kozen ervoor dat onze zoon in zijn geheel bij elkaar bleef in de mooie urn die we lieten maken. Ook met betrekking tot het bewaren van de urn heb je eigen keuzes. Je kunt hem thuis neerzetten, wat ik veel hoor bij ouders van pasgeboren baby's.
Daan hebben wij niet thuis, maar op het crematorium bijgezet. Ook daar heb je weer opties. Of je zet de urn bij in de urnenmuur, maar dit vond ik echt afschuwelijk. Dus daar zijn we snel voorbijgelopen. Of een eigen plekje, dan kun je ook nog kiezen waar. Of tussen alle anderen in of op het kinderhofje, waar alleen maar kindjes liggen. Weet ook dat je natuurlijk de as kunt uitstrooien waar je wilt, ook waar Daan nu staat, op het kinderhofje is een strooiveld. Wij kozen dus voor het kinderhofje, en dan kun je het plekje zelf zo inrichten als je wilt, net als op de begraafplaats. Alleen is het plekje een heel stuk kleiner. Dan is er nog een optie die wij te horen hebben gekregen, maar dit vond ik echt helemaal niks, omdat we juist zo'n mooie urn hadden laten maken. Je kunt een urn laten begraven op het crematorium.
Daan lag opgebaard en in zijn arm had hij een knuffeltje vast. Ik wilde toen weten of die mee mocht met hem. Ja je mag bepaalde spullen mee laten cremeren. Knuffels is zeker geen probleem. Ik vond het een fijn idee dat hij zijn vriendje bij zich had. Ook vond ik het achteraf heel moeilijk, dat dit knuffeltje niet meer als tastbaar bezit aanwezig is, net als zijn kleertjes die hij aanhad. Maar het is goed, hij is gegaan zoals hij was.
Het afscheid
Je kunt je eigen wensen voor het afscheid bespreken met de uitvaartverzorger, en er wordt ook zeker meegedacht. Zo vond onze uitvaartverzorgster het zelf niet zo gepast om zo'n klein kistje te vervoeren in zo'n grote rouwauto. Nou dat vonden wij ook niet zo'n fijn idee. Mijn man wilde alles zelf doen, dit was het laatste wat hij voor hem kon doen. Zelf hem in zijn kistje leggen, zelf het kistje naar de auto dragen. En ja, in onze eigen auto, zodat hij zelf naar het crematorium kon rijden met onze zoon. Ook daar weer zelf het kistje op de plek neerzetten voor het afscheid. Wij kozen ervoor dat mensen nog afscheid van hem konden nemen, terwijl het kistje nog open stond. Daar konden de mensen zelf voor kiezen. Zodra iedereen afscheid had genomen, maakten ik en mijn man samen het kistje dicht. Dit was de laatste keer dat we hem zagen.
Aan dat moment gaan nog zo veel meer keuzes vooraf. Bijvoorbeeld het rouwkaartje. Wat doe je daar mee? En een kistje of mandje uitzoeken. Wat wij heel belangrijk vonden tijdens het afscheid was dat mensen kwamen zoals ze zijn, in hun gewone kleurige kleding. Zeker geen zwart, zo kende Daan hen niet. En we wilden zeker niet dat er bloemen lagen bij zijn afscheid, dus wat was ik blij dat veel mensen een lief knuffeltje mee hadden genomen voor hem. Maar om het echt af te maken, hebben we na de dienst vele kleurige ballonnen opgelaten. Dit was zo mooi. Ook kozen we vier mooie liedjes uit voor de dienst en zelf heb ik gesproken. Een vriendin van mij had een gedichtje geschreven voor het rouwkaartje, en ook zij heeft dit voorgedragen. Je kunt het afscheid dus zelf invullen zoals jij het wilt. Bespreek gewoon jouw wensen met de uitvaartverzorger, er is veel mogelijk.
– Dit artikel is tot stand gekomen door middel van een samenwerking ­­–
Comments
comments