Hulp voor mij postnatale depressie
Ik heb lang getwijfeld en nog twijfel ik of ik hier goed aan doe om het nu op dit moment naar buiten te gooien. Maar aangezien ik nu reacties krijg van zie ik de ernst van de zaak wel in, en laat ik mij wel helpen. Ja natuurlijk weet ik heel goed dat er iets moet gebeuren, en al een hele tijd. Daar heb ik zelf heel erg boven op gezeten. Alleen ik twijfelde het te vertellen tijdens de behandeling die ik nu heb, want kan ik jullie reacties wel aan. Maar goed jullie reacties nu zijn nog steeds moeilijk te lezen, omdat jullie denken dat ik maar wat aanklooi met Max en alleen met hem thuis zit. Nou dat is dus helemaal niet zo.
Hoop geregel
Al weken geleden heb ik al geroepen tegen alle hulpverleners om mij heen dat ik opgenomen wilde worden samen met Max. Dat dit in mijn hoofd de enige oplossing zou zijn voor mijn depressie. En dat ik er thuis voor nu gewoon niet uitkom. Dit wil ik mijzelf niet aan doen, maar Max natuurlijk helemaal niet. Gelukkig ben ik zelf iemand die achter dingen aan gaat, als anderen niet mee willen/kunnen werken. Mijn huisarts stuurde mij naar Lentes, wilde mij zeker niet verwijzen voor opname. Voor Lentes moest ik even wachten tot ik een intake gesprek kreeg, ondertussen kwam dus crisisdienst bij mij thuis. Omdat het gewoon niet goed ging, in die periode heeft mijn partner het even volledig van mij overgenomen. Tijdens het intakegesprek werd er gelukkig positief gereageerd op mijn verzoek voor opname. Zo ging mijn huisarts ook mee in dit plan, al vond hij wel dat het erg ver weg is van ons thuis. Maar dat gaat hem niets aan, dat is een beslissing van mij en mijn partner. En als dit de juiste zorg is voor nu, dan gaan we dat gewoon doen.
Opname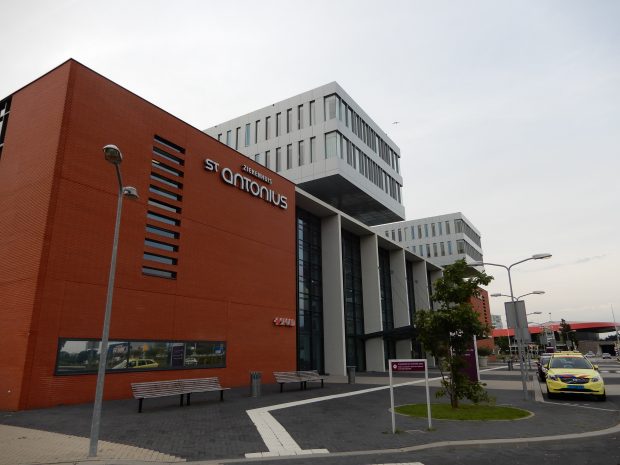 Inmiddels is het mijn tweede week opname voor mijn depressie in het St Anthonis ziekenhuis in Utrecht, op de MBU. Dit is een opname voor moeder en kind, dus Max is bij mij. Er wordt goed voor Max gezorgd door mij en gedeeltelijk door de verpleegkundigen hier. Zelf heb ik een best druk programma met therapieën. De ene dag is wat rustiger dan de andere dag, bijvoorbeeld woensdag staat er alleen PMT op het programma. (Psychomotorische therapie is een behandelvorm voor mensen met psychosociale of psychische problematiek, waarbij op methodische wijze gebruikgemaakt wordt van werkvormen gericht op lichaamsbeleving en het handelen in bewegingssituaties. De psychomotorisch therapeut richt zich op de problematiek zoals die naar voren komt in bewegingsgedrag, lichaamstaal, lichamelijke spanningen, lichaamshouding, lichaamssensaties en lichaamsbeleving. Deze aspecten zijn aandachtspunt in de diagnostiek en aangrijpingspunt voor de behandeling.) Terwijl we donderdag dan weer een heleboel achtereen hebben.
De therapieën die ik krijg:
Activiteitenbegeleiding
PMT
Babymassage
Beeldende therapie
Moeder-kind-groep
Schrijfgroep
Aandacht groep
En dan elke dag hebben we dagopening en dagsluiting.
Ook werken ze met videotraining, dit houd in dat ze bepaalde handelingen met je kindje opnemen en later met jouw rustig gaan bekijken. Hierdoor kan je zelfvertrouwen en het vertrouwen in het moederschap gaan groeien. Dit vond ik eigenlijk wel heel spannend. Er is nu 1 opname gemaakt van mij en Max tijdens het verschonen. Ben dus benieuwd hoe dat eruit ziet als ik het terug mag gaan kijken.
Hoe ik mij voel
Voornamelijk voel ik mij heel erg moe, dit sinds ik ben opgenomen slaap ik heel slecht. Zelfs 1 hele nacht niet geslapen. Ik krijg nu wel medicatie ervoor, maar zo,n succes is het nu nog niet. Toch hoop ik dat ik zeker beter ga slapen. Want door mijn slaapgebrek wordt ik prikkelbaar (wie niet) maar dit is niet goed voor in mijn behandeling en voor de zorg naar Max toe. En ook niet naar mijzelf toe. Want nu reageer ik de boosheid die ik soms heb naar mijzelf, hierdoor kan ik het risico lopen om hier niet te mogen blijven. Het is echt de bedoeling hier rust te vinden in mijzelf en in de zorg voor Max. Ja ik moet zeggen vind het vrij heftig al die therapieën, juist omdat er zoveel boven komt. Alleen ik mag van de psychiater niet te diep in gaan op mijn trauma,s dit haalt me juist uit balans en ik moet hier juist eerst sterker worden voor ik straks thuis aan mijn trauma,s kan werken doormidden van EMDR en traumaverwerking. En dit dan ook in kleine stapjes te gaan doen, zodat ik wel de zorg voor Max en mijzelf en gezin goed kan onderhouden. Dit is natuurlijk best lastig die balans vinden wat wel en wat niet aan te pakken, want veel hangt ook samen met het verlies van Daan. Maar daar zijn dan zo nu en dan gesprekken voor nodig om aan te geven wat ik wel en wat ik niet trek. En op dit moment gaat het echt af en toe meer down dan up. Hoop dat hier snel verandering in gaat komen.
Comments
comments