Let,s Gro Oproepjes live
Zaterdag was het dan zover, we stonden in de Wolkenfabriek met Ohanahome. De Wolkenfabriek is het oude suikerfabriek in Groningen. Wat hebben ze dat mooi en gezellig omgetoverd tot hangplek waar er leuke dingen georganiseerd worden. Rosa werd gevraagd om met haar Oproepjes voor Groningers facebook pagina live te gaan op het evenement Let,s Gro. Wat een werk heeft ze verricht. Er kwamen vele leuke en interessante tafel initiatieven die wat goeds in de wereld willen zetten voor mensen. Denk aan voedselbank, voedselbank voor dieren, moppertafel, mama café en nog zoveel meer.
Wij van Ohanahome kregen een podium waar we een fijn knus hoekje van maakte met kussen, kleden en brandende kaarsen. Wat zag het er gaaf uit. En wat was ik zenuwachtig van te voren, maar natuurlijk achteraf gezien helemaal niet nodig. Wat wel jammer was dat er eigenlijk maar weinig bezoekers zijn geweest. Maar ik heb er echt een geweldige mooie dag aan over gehouden. Prachtige mensen ontmoet en de meest mooie gesprekken gehad. Ik mocht vertellen over Daan en daar onwijs indruk mee gemaakt. Dat was dan ook de bedoeling, want wij bieden hulp aan ouders met langdurig zieke kinderen of waarvan hun kind is overleden.
Voor ons stond een prachtige man die aan reiki doet en daar massages gaf. In eerste instantie moest ik hier niks van weten op deze dag. Ik weet wat reiki met me kan doen, mijn moeder heeft dit jaren gedaan. Dus ik wist bijna zeker dat hij veel emotie los zou maken en dat was niet zo handig op deze dag. Toch ben ik een praatje gaan maken met deze man en gevraagd of hij eind van de dag me even onder handen wilde nemen. Dat wilde hij best doen, en dus kreeg ik een massage van hem. Ja en zoals ik al had voorspeld kwamen er vele tranen. Erg vond ik dit niet, het was weer een fijne ervaring om te delen met deze man. Daarna ben ik wel even een stil hoekje op gaan zoeken om even flink de tranen los te laten. Maar ik was niet alleen, ik hoorde al toen ik langs mijn vriendin liep dat ze even moest kijken of alles oke was met mij. Na dat ik daar heel even alleen heb gezeten stond ze ineens bij me, zo kon ik delen wat er was gebeurd.
Boven stond ook nog een mooi initiatief, waar ik echt even naar toe moest omdat dit helemaal bij mij paste. Haar naam kende ik al uit de bloggers wereld met haar blog Alleen puur. Een fijn gesprek gehad met deze dame en wie weet komen er daar wel samenwerkingen uit.
Ook werd er heerlijk gekookt voor ons, een heerlijk soepje kregen we en daarna nog een heerlijke groente curry met aardappelpuree. De avond sloten we af met een afterparty met muziek van D.J. fonkymonky (Patrick Sanches) Wat heb ik genoten vanaf ons podium, heerlijk relax luisteren naar de muziek en kijken naar de mensen op de dansvloer. Mij niet gezien om te gaan dansen, dat is me iets teveel uit mijn comfortzone. Ondertussen heb ik ook nog een heel mooi onderonsje gehad met mijn vriendin. We zaten aan tafel en hadden alleen even oog voor elkaar, alsof er verder niemand was. Een mooi gesprek gehad, ik voelde en zag bij haar af en toe tranen in haar ogen en dan lichte ze weer op. Ze raakte me diep, heel diep.
Deze dag was gewoon zo mooi en inspirerend, ondanks er voornamelijk alleen maar standhouders waren. Ik had het voor geen goud willen missen.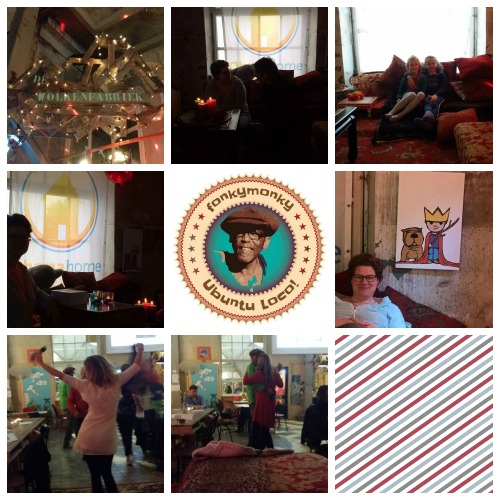 Comments
comments