Nagesprek kinderarts Daan
Huilend zit ik op de afdeling kindergeneeskunde. Aan de ene kant wil ik hier niet zijn maar ook wel weer. Een nagesprek met de kinderarts van Daan. Hoe raar, ik had hier met hem moeten zitten. En me laten vertellen dat het goed met hem gaat. Nu is het een afsluiting hier in het ziekenhuis. Dit kan niet waar zijn toch. Maar het is wel zo. Er is 5 maanden overheen gegaan voor ik op deze afdeling terug kwam om met de kinderarts te praten. Haar aan de telefoon hebben is toch anders dan haar weer zien.
Ik zie haar staan en hoor haar praten. Er komt iemand naar me toe en zegt ze gaat nog even een broodje halen. Ja ik was nogal aan de vroege kant. Omdat ik daar met tranen zat werd me gevraagd of ze nog iets voor me konden doen. Ik zeg nee, waarop ik hoor als er wel iets is hoor ik het wel… Iedereen weet gewoon wat ik daar kom doen. Ik hoor daar is de mama van Daan en de kinderarts geeft me een hand. Wat voelt dat heerlijk als iemand zegt mama van Daan.
Het was een fijn gesprek, blij dat ik ben gegaan. Het is ook fijn dat ook hier in het ziekenhuis Daan niet wordt vergeten. Ze vroeg me of ik foto,s bij had. Kijk haar even twijfelend aan en zeg nee. Waarom had ik daar niet aan gedacht. Nooit verwacht dat ze er naar vroeg. Ik laat het afscheid filmpje zien waar ik foto,s van de fotoshoot en de uitvaart in heb verwerkt. Ze kijkt met bewondering naar de foto,s. Heerlijk om dit te kunnen delen met iemand. Er zijn al zo weinig mensen waar ik deze dingen persoonlijk mee kan delen. Ik vind het moeilijk te weten dat ik steeds een stukje afsluit van dit wereldje. Een wereld met prachtige mensen, een wereld met prachtige kinderen, een wereld zo bijzonder. Het wereldje dat downsyndroom heet. Tot slot laat ze me nog weten ten alle tijden nog te kunnen bellen als er iets is. Al is het over een half jaar mag het nog. Ik beloof haar nog zeker langs te komen om wondertje 2 te komen showen als het zover is. Ze glimlacht en zegt je weet me te vinden. We nemen afscheid.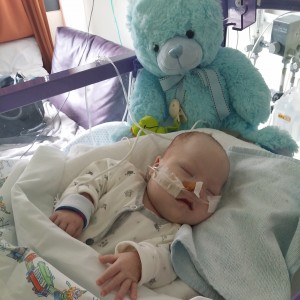 Ik weet dat er een klein D meisje op de afdeling ligt waar Daan* heeft gelegen, maar ze wilde geen bezoek na een heftige vorige dag. Toch besluit ik de afdeling op te gaan. Ik heb een klein knuffeltje gekocht met een lief kaartje erbij. Ik praat wat in de speelkamer met de medewerkster daar. En geeft het pakje af aan haar, zodat ze het bij dit kleine meisje kan brengen. Zo weten ze dat er aan hun gedacht wordt. Daarna loop ik naar het restaurant van het ziekenhuis. Ik had nog een afspraak met een D mama die hier moest wezen met haar zoon. Dus daar was het wachten op. Best wel een tijdje, want ja al die wachttijden voor dat ze zo,n kind zien op het spreekuur. Maar goed ik vermaak me wel met mijn telefoon en muziek. Dan komt er een bekend gezicht op me af lopen, ik had haar al eerder ontmoet. Maar dit keer met zoon. We praten een tijdje met elkaar, vooral over onze kindjes. En de wens voor een 2e kindje. Dan zegt ze we moeten nog even een prikje halen. En we lopen samen richting de ingang. Bij het lab nemen we afscheid, zij gaan bloedprikken en ik ga naar huis.
Het was een lange emotionele dag, dat was wel te merken toen ik s,avonds huilend in bed lag. Zo ben ik dan ook in slaap gevallen. De volgende dag moest ik werken. Maar er kwam weinig uit me handen. Ik voelde me niet lekker, de tranen prikten steeds maar achter me ogen. Wat zo,n dagje al niet emotioneel kan aanrichten bij me. Maar heb zeker geen spijt van het nagesprek, ook niet van het gesprek met die lieve D mama. Maar zwaar bleek het achteraf zeker wel.
Weer een stukje afgesloten, wat eigenlijk heel veel pijn doet.
Comments
comments