Persoonlijke "down" verhalen 5
In deze rubriek komen verhalen voorbij over het accepteren van je kindje met het downsyndroom, over de moeilijke keuze die je misschien heb moeten maken, maar ook de verhalen over het dagelijks leven van deze kindjes en hun ouders. Ik wil laten zien dat het niet veel anders is dan een ander kindje opvoeden, alleen dat dit wat meer zorg en aandacht nodig heeft. In sommige gevallen zal het misschien wel anders gaan dan een "normaal" gezin. Maar wat is nou "normaal"!!!
Wil jij hieraan meewerken mail mij dan op: blog@day-dreamer.nl, Het kan anoniem als je dat wilt.
---
Spelen met poppen, dansen op k3 zo ziet het leven er van ieder kind uit als je een jaar of 7 bent, maar mijn zus Martine doet dat nu nog steeds. Ze heeft namelijk het syndroom van down. Als jullie de blog van Debbie volgen, hebben jullie al vast kunnen lezen dat haar lieve zoontje van 2 maanden geboren is met het syndroom van down. vandaag vertel ik iets over mijn zus die het syndroom van down heeft. Dit is Martine en ze is 20 jaar.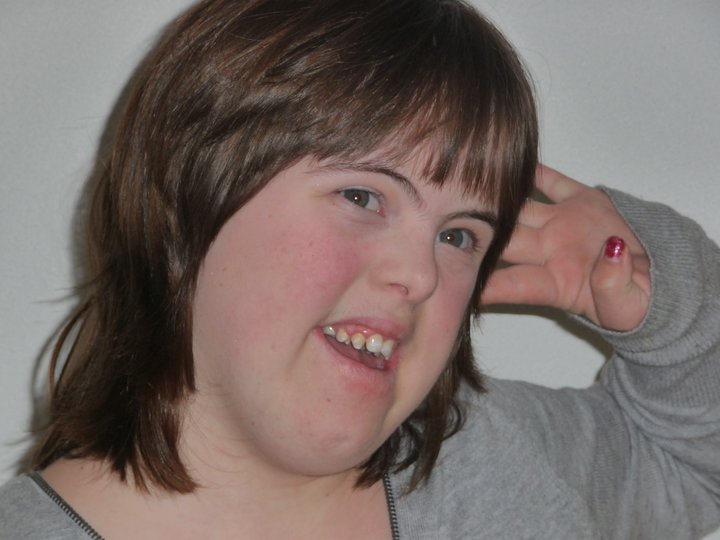 Ze heeft vroeger op een normale basisschool gezeten, en is daarna naar speciale school gegaan,voor kinderen met een verstandelijke beperking of een vorm van autisme. Martine is dus best slim en krijgt iedere week ook bijles in rekenen en krijgt dan ook Engels. Ze is dit jaar van school afgegaan en gaat nu 2 dagen in de week bij spesjaal werken en 2 dagen in de week bij Brownies en Downies in Eindhoven. Spesjaal is een knutsel winkel waar mensen met een verstandelijke beperking werken waar ze kunstwerkjes maken en dan ook verkopen. Brownies en Downies is een lunchroom waar ook mensen met een verstandelijke beperking werken. Ik heb een periode bij Brownies en Downies stage gelopen en daar kun je ( hier ) in mijn eigen blog over lezen.

Martine is een lieve zus, ze is spraakzaam altijd vrolijk en heel lief. We hebben een goede band, als ik het moeilijk heb troost ze me, en als ik ergens mee zit praat ze met me. Ze is bijzonder en ik zou ook geen andere zus willen. Ze weet daarbij ook dat ze down syndroom heeft en dat is wel bijzonder. Soms als mensen haar aankijken zegt ze. :' Nu kijken ze mij aan omdat ik downsyndroom heb.' Dan zeg ik : 'Vind je dat niet erg dat je dat hebt?'. Maar dat vind ze niet erg! Ze mag ook leuke dingen doen zoals iedere maand naar een vrienden groep waar ze met een groep jongeren met het syndroom van down wat leuke activiteiten gaan doen zoals bowlen, de Efteling en dat soort dingen. Als Martine thuis is zit ze vaak op haar laptop naar K3 ,sinterklaas of Ernst en Bobbie te kijken. Ik doe met Martine ook regelmatig activiteiten en vooral shoppen vind ze leuk! Martine is iemand die mijn vriendinnen ook heel gezellig vind en daarom zijn er ook vriendinnen van mij die regelmatig met haar een keer naar de film gaan of een taart met haar gaan bakken. Dat is leuk voor Martine maar ze heeft daardoor ook haar sociale contacten. Martine heeft wel haar extra hulp en zorg nodig maar ieder persoon is uniek,en ieder mens heeft zo zijn goede kwaliteiten en minder goede kwaliteiten, maar ik ben blij dat iedereen een kans verdiend om sterker te worden en dat ze kinderen met down daarbij ook een kans geven!
Jullie hebben nu gelezen hoe mijn band met mijn zus is, maar ik ben ook heel blij met hoe Debbie het doet. Het is niet niks als je een kind met down hebt, en ik zie alleen maar vreugde en trots wat Debbie uitstraalt naar haar zoontje Daan. Het maakt niet uit wat je hebt hoe je eruit ziet of hoe je doet, zolang jezelf maar tevreden bent met wat je hebt en met wat je doet. Ik vond het heel leuk om jullie een artikel te laten lezen over mijn zus en die kun je hier uitgebreid zien op mijn blog!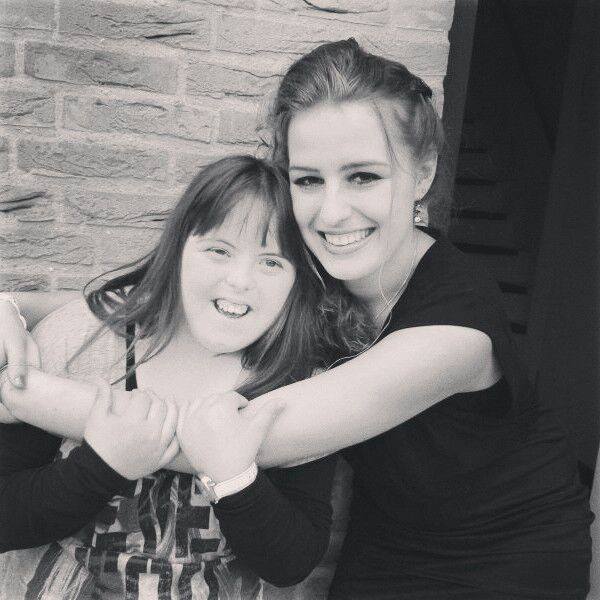 Comments
comments