De boekenkast: Ups & Downs
Op het moment dat ik in mijn zwangerschap erachter kwam dat onze zoon grote kans had dat hij met het syndroom van down geboren zou worden ben ik gelijk op onderzoek uit gegaan. Ik moest een keuze gaan maken of ik wel of niet dit kindje ging laten komen. Maar hoe kan je een keuze maken als je eigenlijk niks weet over down. Ik kwam terecht bij stichting downsyndroom, want wilde graag contact met iemand die ervaring heeft met zo,n kindje. Deze meneer zorgde ervoor dat ik in contact kwam met Aukje een mama met een kindje met dit syndroom. We hebben een aantal keren een paar uur aan de telefoon gehangen. Door haar begon ik minder angst te krijgen voor het kindje wat in me leefde. Door de gesprekken heeft ze me geholpen met een keuze. Dit kindje ging er komen.
Ik werd plotseling opgenomen in het ziekenhuis en ook nog eens overgeplaatst naar Utrecht. Die avond dat ik daar lag stond er een vreemde man in de deur opening. Ik dacht echt wie is dat, maar toen hij dichterbij kwam herkende ik hem van foto,s. Het was de man van Aukje. Bijzonder dat hij me even kwam opzoeken, vlak voor dat Daan* geboren werd.
Later kwam ik erachter dat ze samen een boek hadden geschreven, dit boek kreeg ik van hun. Begon hier pas mee toen Daan* uiteindelijk in het ziekenhuis voor 3 weken lang terecht kwam. Eerder had ik er geen tijd voor. Maar toen overleed hij, ik kon niet meer verder lezen. Het was te moeilijk. In de vakantie was het tijd om verder te gaan met het boek, ondanks ik het nog altijd moeilijk vond.
Ups & Downs
Het jongetje dat volgens sommige niet zou mogen leven.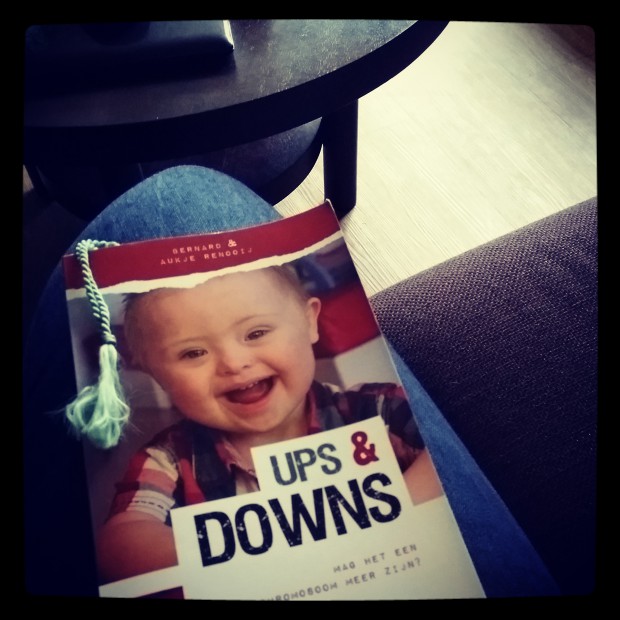 Alleen de titel doet me al verdriet, te weten dat dit mooie jongetje Bernd zo geliefd is. Bernd heeft een moeilijke start gemaakt. Met een ernstige hartafwijking werd hij geboren. Als ik dit lees denk ik zo erg aan Daan* omdat hij dat ook had. Hij heeft gevochten voor zijn leven. Te lezen in het boek dat ze wel een paar keer hebben gevraagd of ze voor dit kindje kozen, of ze zeker wisten het niet weg te laten halen. Boos werd ik hier gewoon van. Moet je zien wat een heerlijk koppie op de foto, dat is iets wat je toch niet wilt missen.
Ik heb gehuild om dit boek, maar ook zeker gelachen. Het boek is ontstaan omdat ze steeds nieuwsbrieven stuurde naar familie en vrienden. Deze nieuwsbrieven staan in het boek en zijn uit naam van Bernd geschreven. Daar heb ik echt heel erg om moeten lachen zulke leuke grappige teksten. Dat je zo positief kan zijn in zo,n zware periode in je leven.
Dankbaar dat ik dit boek heb mogen lezen en deze mensen heb mogen leren kennen.
Stiekem hoop ik dat ik deze stuiterbal (zoals zijn vader zei tegen mij) eens mag ontmoeten met zijn ouders.
Comments
comments