Het is stil zonder jou. Dag draakje
De dag van het echte afscheid is aangebroken. Donderdag 18 september hebben we een super mooie dienst gehad. We zagen er zo erg tegenop.
Die ochtend waren we hier thuis nog met z,n 3en. Daan lag nog altijd in zijn bedje. En we zouden hem samen in zijn kistje leggen. Zonder dat er verder iemand bij was. De dag ervoor heeft de uitvaartverzorgster de koeling uit gedaan en meegenomen. Daan kreeg een schoon bedje en een droge doek om zich heen. Wat was het fijn dat de koeling weg was. Zo zou hij de volgende dag wat minder koud zijn en minder stijf. Dus zou het makkelijker voor ons zijn als we hem nog even wilde vasthouden. En dat wilde ik zeker nog even. Eerst in de ochtend ben ik gewoon nog bij hem gaan zitten. Samen wat muziek geluisterd. En kon alleen maar kijken naar hem. Mijn mooie stoere ventje. Toen ik Bert terug hoorde komen die zijn auto nog even door de wasstraat zou halen, heb ik hem gevraagd te helpen. Hij heeft hem uit zijn bed gehaald en ik heb hem over genomen. Met Daan in me armen ben ik op de bank gaan zitten. Zijn papa naast me. En maar kijken, beetje praten tegen hem. Gewoon nog even genieten van hem. Moeilijk had ik het ermee, als ik eraan dacht dat ik hem los moest laten. Toch werd het tijd hem los te gaan laten. Bert nam het van me over en legde hem netjes in zijn kistje die nu in zijn bed stond. In zijn arm zijn knuffel giraf, die is met hem mee gegaan.
Toen was het eigenlijk alleen maar wachten op het moment dat er mensen kwamen, vreselijk. Rond 13.00 kwam mijn vader met een hele lieve vriendin. Ik wilde haar wat langer bij me hebben, vandaar dat ze al zo vroeg er waren. We hebben een moment samen door gebracht buiten. Gewoon even wandelen, en praten. En veel geknuffeld hebben we die dag. Had haar zo erg nodig. Rond 15.00 kwamen mijn broers en hun vrouwen, mijn mama en haar man. En als laatste kwamen mijn schoonouders en mijn zwager. Wachtend op de uitvaartverzorgster. Ondertussen waren er nog een paar die nog even hier afscheid wilde nemen van Daan.
Het was nu echt tijd om thuis zijn kistje dicht te doen. Bert heeft hem naar beneden gedragen. En in zijn eigen auto hebben we hem vervoerd naar het crematorium. Ons afscheid van onze kleine draakje is echt verlopen hoe wij dit wilde. We hadden gezegd geen bloemen, en die zijn daar ook niet gekomen. Mensen konden nog een laatste keer kijken en er werden nog knuffels bij gezet. Daarna was het onze tijd om echt de kist dicht te gaan doen. Samen hebben we de deksel erop gedaan, en het schoot ineens in me hoofd dat ik een laatste keer vergeten ben door zijn haar te woelen. Maar het is prima zo, heb thuis zo vaak nog door zijn haartje gewoeld. De knopjes die erop gingen zijn vlinders, en niet 1 dezelfde. Ze zijn met de hand gemaakt. Ik was alleen maar bang dat ik ze kapot zou draaien omdat ze zo kwetsbaar zijn. We gingen zitten, en toen kwamen de andere binnen. Het nummer 'He lives in you" werd gedraaid.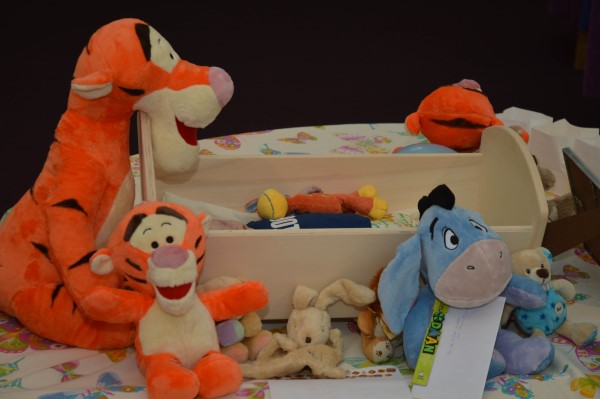 Welkoms woord door de uitvaartverzorgster, wat sprak ze mooi. En toen gaf ze mij het woord. Stond verbaasd dat ik het echt zelf ging doen. Mijn blog die ik hier eerder schreef heb ik voorgelezen. Wat was ik zenuwachtig, maar huilen deed ik niet. Ik las maar door, ja wel met wat haperingen erdoor. Wat was ik blij dat ik klaar was met lezen, het was ook zoveel. Ging weer zitten. En Woezel en pip werd gedraaid met het nummer "ga je mee naar het land van je ogen dicht" Toen brak ik, en hield ik het niet droog. Kreeg een zakdoekje van achteren aangereikt.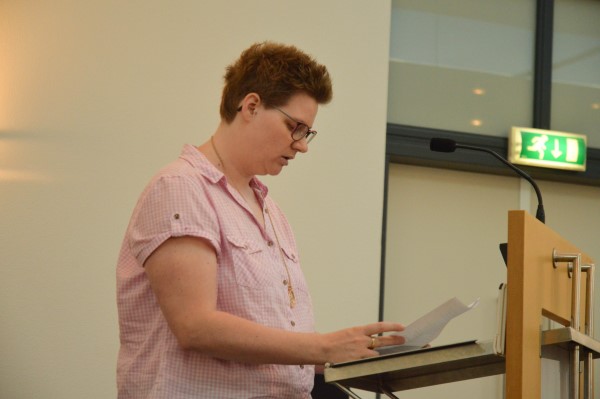 Een lieve vriendin had een mooi gedicht geschreven voor de rouwkaart, wat we haar hadden gevraagd. En ook heb ik gevraagd of ze het wilde voor lezen. Ook dat deed ze. Wat sprak ze mooi. "Vlinders" van Nick en Simon werd gedraaid. Daarna kwam het dankwoord.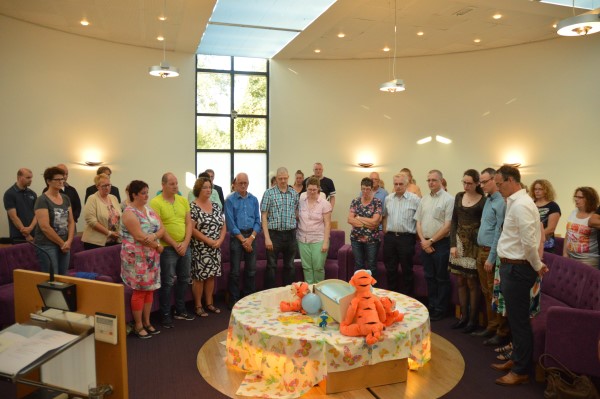 En we wilde graag met een lach afscheid nemen van Daan, daarom kozen we voor een vrolijk nummer. Waar je gewoon van ging stuiteren. " 't aardige van teigertjes" Dat werd een aantal keren afgespeeld. Zodat alle mensen nog een beertje konden pakken en bij het kistje konden zetten. Als laatste waren wij aan de beurt. En gaf Sharmayne onze fotografe voor de dag een beertje mee. Wat voelde dat goed dat ze hier aanwezig was. We liepen met een glimlach weg bij Daan, naar buiten. Iedereen had al een ballon of zelfs meerdere meegenomen. Ik met een hand vol paarse ballonnen. Mijn man en ik gingen in het midden staan. En er werd een heel mooi gedicht voor gelezen. En lieten we daarna de ballonnen los. dat was echt een wauw momentje.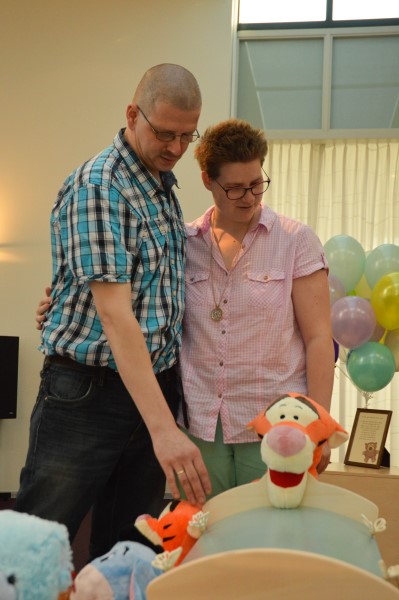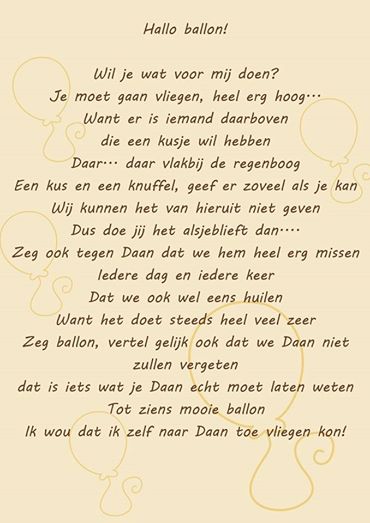 We gingen de koffie kamer in. Iedereen ging zitten en ik ben degene die daar maar stond. Wilde met iedereen even praten. En nam niet echt de tijd om bij te komen.
Alle lieve mensen bedankt dat jullie er voor ons waren, en in deze moeilijke tijd er nog voor ons zullen zijn.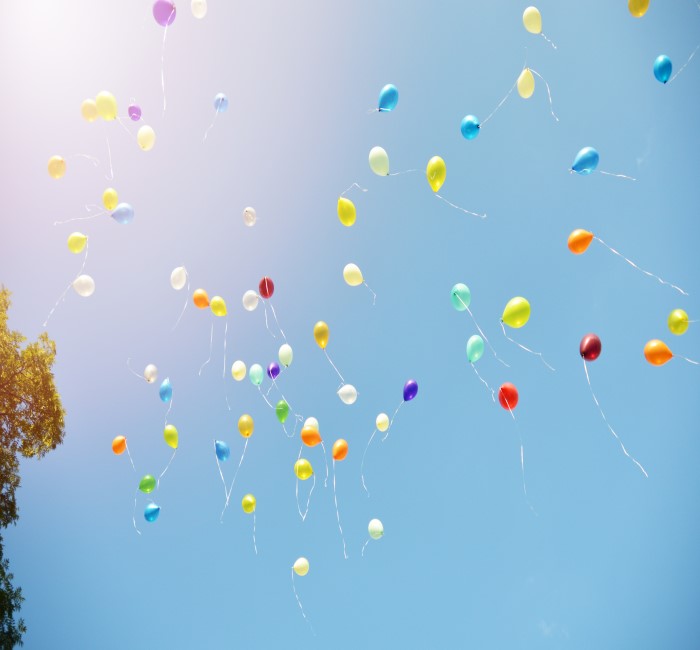 *Ik voel me leeg en verdoofd. Wetend dat ons zo drukke leventje in 1 keer veranderd is naar een lege agenda. Waar eerder nog bijna elke dag wel een afspraak stond. Hoe ik nu mijn dagen ga vullen weet ik nog niet. Zeker weet ik dat ik weer dingen moet gaan ondernemen. Maar zie er zo tegen op. En wil ook graag me verdriet laten gaan, maar dat lukt nog niet echt.*
Alle foto,s zijn gemaakt door Sharmayne Venema
Comments
comments